Mudu Water Town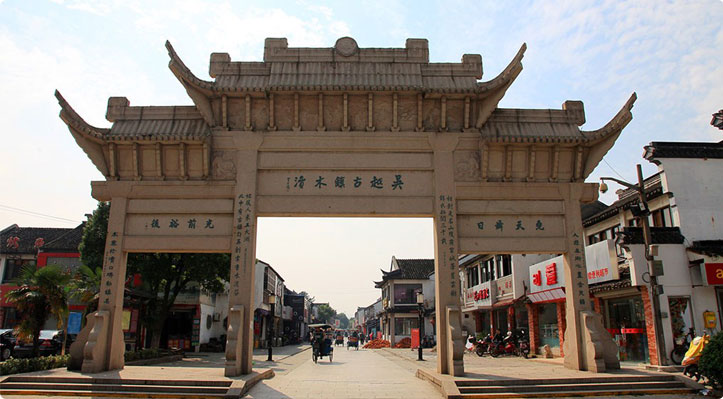 Mudu Ancient Town(Suzhou Mudu Guzhen,??????)

A Brief Introduction of Mudu Ancient Town
Mudu, a historic cultural town south of the Yangtze River, is located at the foot of Linyan Hill in the west of Suzhou. Surrounded by groups of hills and next to Taihu Lake, it has beautiful natural scenery and abundant natural resources. It now covers about 34.5 square kilometers (about 13.32 square miles). With a history more than 2,500 years long, Mudu has witnessed the rise and fall of many dynasties and it is also endowed with plentiful cultural connotations. This is a traditional town and has typical landscape gardens, small rivers and bridges. Unlike the prosperous eastern cities in China, Mudu displays a simple, peaceful image.
History of Mudu Ancient Town
The name 'Mudu' is derived from a story about Xishi, one of the Four Beauties in Chinese history. It is said in the Spring and Autumn Period (773BC-476BC), Fuchai, the king of Wu, obliged workers to build a Guanwa Palace in order to please the Beauty Xishi. Then, considerable wood was carried here so that the river in this area was blocked. This was called 'jimusedu' (which means the accumulated wood blocks the river). So, the town was named 'Mudu'. Early in the Three Kingdom Period (220-280), it had been a crucial town in China both economically and militarily. During the coming Song(960-1279), Ming (1368-1644) and Qing (1644-1911) periods, it still held an important position in Chinese culture and commerce. In the past thousands of years, Mudu has produced many outstanding scholars and wealthy businessmen. Some of their former residences have now become popular sights.Mudu's long history civilization, elegant gardens and well- known legends make it the most valuable place of interest for the people in modern times, who are eager to enjoy relaxation and luxury, developing their interests and appreciation.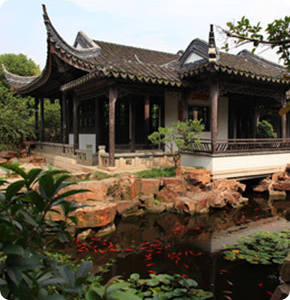 Sights
Yan's Garden: The Yans Garden is the former residence of Mr.Yan jiagan of Taiwan, which occupies 16 mu of land. An ancient magnolia has an extensive crown, blotting out the sun. As the legend goes, the tree was planted by Emperor Qianlong when he put up for the night at Shens Residence on his tour of the south of the Yangtze River. Built in the Ming Dynasty, the Emphasize Virtue Hall --the nanmu hall, with spacious volumes and imposing appearance, is rare in the region. What is even more characteristic is that the Four Seasons Garden has a layout of uneven density, zigzags, and appropriate ups and downs, with some parts exquisite and tasteful, deep and tranquil, graceful and restrained, demonstrating the builders' unique art of construction. Professor Liu Dunzhen, a contemporary renowned architect calls this garden a "classical work of gardens south of the Yangtze River".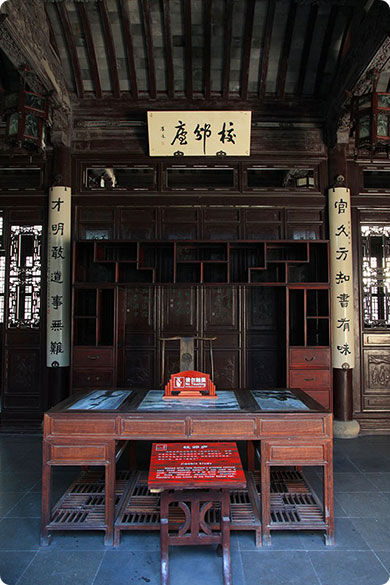 Hongyin Mountain Villa: Hongyin Mountain Villa is sited 200 meters east of Yan's Garden. It is a famous private garden built during 1736 and 1795. The villa has a fantastic landscape of rivers, ponds, pavilioins, blooms and trees. These scenes as a whole form an impressed view for the visitors. Every time the emperor Qianlong visited Mudu town, he would visit the villa to see a play, taste tea and viewing the scenery.
Bangyan Mansion:Sited at the Xiatang Street, Bangyan Mansion was the former house of Feng Guifen, a well-known essayist in Qing Dynasty. The mansion features in three carvings, that is, brick carving, wood carving and stone carving.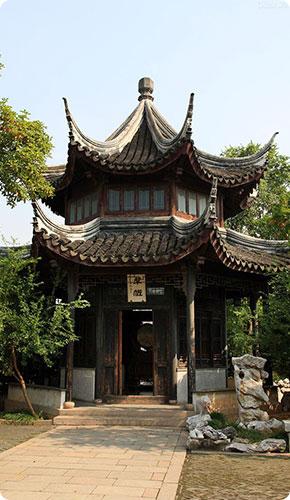 Tianping Mountian: Tianping Mountian is located in the west side of the Mudu Town. The elevation of it is 201 meter. It is called Tianping for it has a flat peak. There are excellent rocks natural springs and aged maples. Especially in autumn, you can appreciate the leaves of maple trees on the mountain. What's more, the tourists could have a panoramic view of the fields woods, woods, mountains and even the Taihu Lake. Tianping in Mountain, along with Xiangshan Park in Beijing, Yuelu Mount in Hunan and Qixia Mount in Nanjing is one of the four famous scenic spots to appreciate the red leaves of maple trees.
How to get to Mudu
- 12 kilometers southwest of Suzhou City
- Take bus No. 502, 38, 63, 64, 65, 69 ,58, 312, ,511, 505, 506, 2, 326, 512 and tourist bus Line 4 within Suzhou City to get off at Mudu Station, The last bus back to Suzhou city: 22: 30pm
Information
1. Admission Fee:
CNY 78 (Yanjia Garden, Hongyinshanfang, Bangyan Mansion, Gusong Garden)
CNY 40 Yanjia Garden (only)
CNY 40 Hongyinshanfang (only)
CNY 20 Gusong Garden(only)
CNY 10 Bangyan Mansion (only)
CNY 5 for Ancient Porcelain Museum of Ming and Qing Dynasties (only)
CNY 10 for boating on Xiangxi River (only)
CNY 60 for White Elephant Ecological Garden (only)
2. Opening Time: 08:00-17:00 (spring, summer and autumn), 08:00-16:30 (winter)
3. Best Travel Time: The four seasons of the whole year in Mudu is suitable for traveling, but the spring and autumn is the best traveling time. After you have seen the beautiful sight of Mudu, You can also go to Taiping Mountain to see the red maple leaves.
4.Address: The Mudu Ancient Town is located 15 kilometer west to the Suzhou city.