Suzhou Dining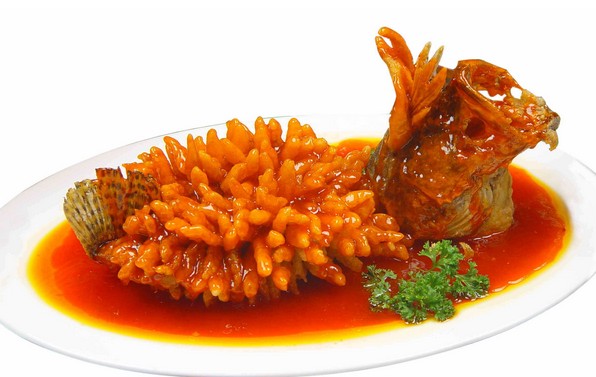 Su Cuisine (Chinese: ??)
Brief Introduction
The Chinese city of Suzhou, about 60 miles from Shanghai, is known best for its gardens and for the network of canals that once earned it the nickname, alongside numerous other Asian cities, of "the Venice of the east". Moreover, Suzhou food has also won fame both at home and abroad. Suzhou has its own culinary style, su bang cai, or Suzhou cuisine which is a branch of Jiangsu Cuisine, or Huaiyang Cuisine (One of the Chinese eight cuisines, the other seven: Shandong, Sichuan,
Guangdong, Fujian, Zhengjiang, Anhui, Hunan).Broadly speaking, Suzhou belongs to the great Huaiyang culinary region in the east, which is notable for its easy climate,plentiful produce and rich artistic and gastronomic culture. Besides traditional local food,Suzhou absorbs various food of other styles, including other cuisines of Chinese food, Western-style food, Japanese dishes, Southeast Asian food etc, which provides tourists diversified choices when dining in Suzhou.
Features of Suzhou Cuisine
Suzhou cuisine gets famous for being sweet and tasteful, as well as fine ingredients used. The cuisine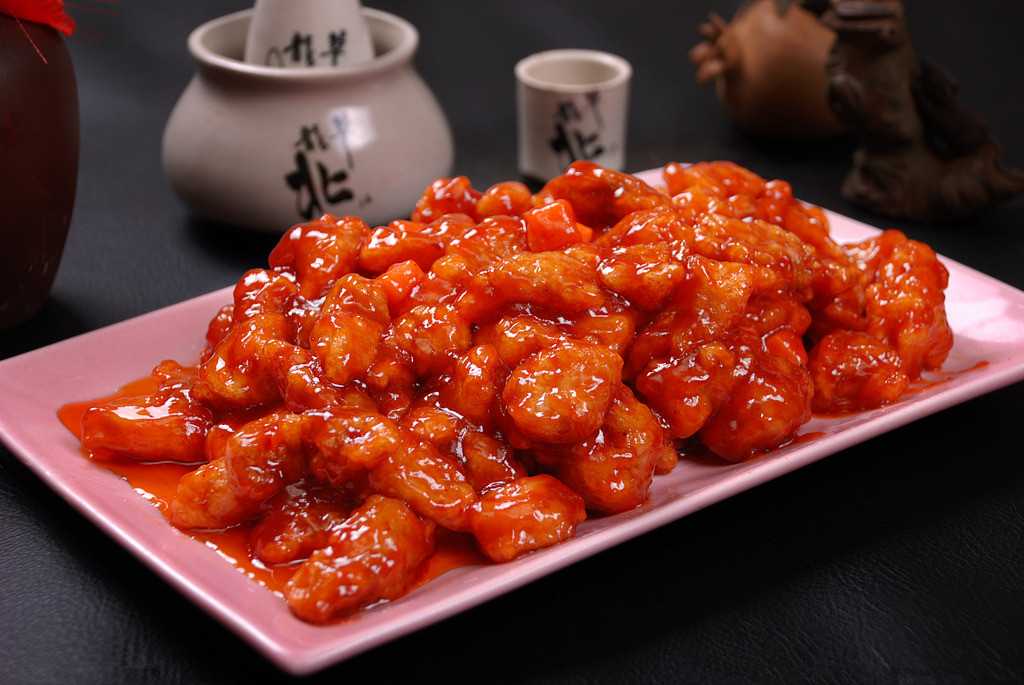 involves stewing, simmering, stewing and frying, and attaches great importance to the stock. It tries to retain the original flavour of ingredients. There are twelve categories under Suzhou cuisine, including dishes, brine platters, noodles, pastries, candies, candied fruits, snacks, pastries, roasted seeds and nuts, signature dishes, pickles, and seasonings. Suzhou cuisine has four main features. Firstly, Suzhou style dishes use fine and fresh seasonal ingredients. The local Suzhou people are known for their eating specific dishes according to the changing seasons, probably due to their plenty of produce, easy climate and rich gastronomic culture. Suzhou has four distinct seasons with different seasonal products. There is fresh tasting food in spring, light food in summer, flavours in autumn and nutritious food in winter. Secondly, Suzhou cuisine requires a range of cooking skills, including slicing techniques and heat control. Thirdly, Suzhou sytle pays great attention to presentation, flavour and taste. The combination of decorations, natural colouring and fragrance results in a fine presentation. Fourthly, Suzhou cuisine is also famous for its diversification of culinary methods.
Seasonal Delicacies in Suzhou
Tasting the best Suzhou food is like a race against time. Local ingredients change every five days and never come again until the following year, according to "Gu Su Zhi" (Annals of Old Suzhou), a classic written in the Ming Dynasty (1368-1644) recording Suzhou's geography and local customs. The reason Suzhou people are so particular about food is largely due to the rich variety of produce in the area and distinctive geography. They are spoiled for choice. The city is located on the shores of Tai Lake in southeastern Jiangsu Province. The fertile region is known as China's "land of fish and rice."
For instance, the local eaters only eat turtle and tang li yu (a kind of river carp) during the first three days that the rape seed flowers blossom in early spring. And some Suzhou food lovers only eat river shrimp in the plum rain season (from mid or late June to early July) because the shrimp at that time contains both roe and eggs and the meat is extremely firm. For those born and raised in Suzhou, the rich meaty smell of fresh wu xiang xiao rou (deep-fried minced pork with five-spice such as anise and cinnamon) sold in food stores indicates the coming of autumn.
From mid-September to mid-October, Suzhou is considered as a gastronomic heaven featuring the widest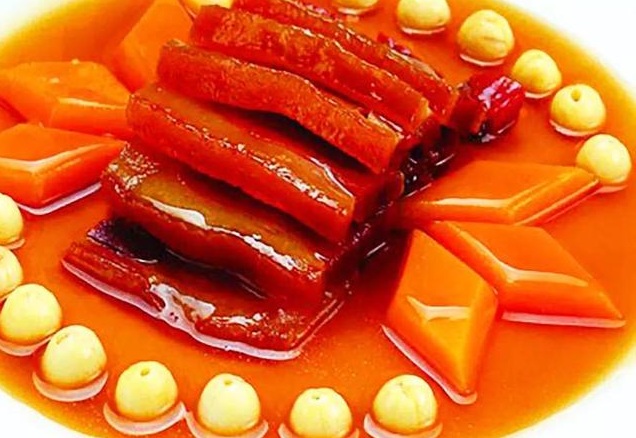 variety of delicacies during the year. Some delicacies are only available around the Mid-Autumn Festival, including famous Suzhou-style mooncake with pork filling and flaky pastry. People can enjoy Jiu niang bing (fermented rice cake with the filling of sweetened rose) only at this time of year. The golden yellow cake with a dusting of pink is soft and fragrant and the filling has a floral taste with a delicate, clean sweetness. Besides, it is only during autumn that chefs prepare "cherry pork", in which pork is cut into pieces the size of cherries and braised in a cherry-colored sauce made from a special kind of fermented rice, with various spices. In terms of water plants, September is the right time for lotus seed, hong ling (a red water caltrop), gorgon fruit and ci gu (literally "benevolent mushroom,") also known as arrowhead due to the shape of its cap.
Famous Suzhou Featured Dishes
Sweet and Sour Mandarin Fish,Taihu Lake Three Whites (Whitefish, White Shrimp, Whitebait), Biluo Shrimp (quick-fried shrimp with biluochun tea), Suzhou Noodle Soup, Braised streaky pork, etc.
Squirrel-Shaped Mandarin Fish
The Squirrel-shaped Mandarin Fish is characterized by its lack of bones and soft meat. The name is derived from the dish's resemblance to a squirrel. The meat of the fish is made to protrude outwards like the fur of a squirrel. The placement of the fish and the red sauce poured over it also adds to its resemblance.
The fish is deep fried to give it a beautiful fragrance, while the meat inside is soft and fresh. The sweet and sour sauce further enhances its flavour, making this a mouth-watering and appetizing dish!
Cracking Eel Paste
Cracking Eel Paste, is another Suzhou dish. The eel paste is made with rice field eels being broiled, stir-fried or quick-boiled. The word cracking refers to the cracking sound of oil still present when the dish is served right out of the kitchen.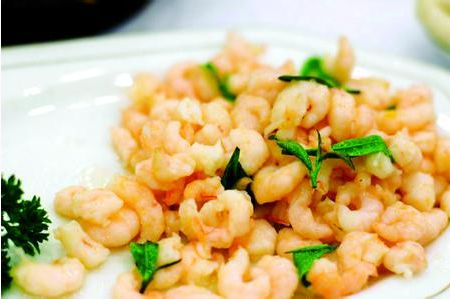 Biluo Shelled Shrimp
Biluo Shelled Shrimp is named after Bi Luo Chun tea. This dish is prepared using tea to flavor the shrimp, allowing for a unique taste.
Watermelon Chicken
The chicken is rich in nutrition and the watermelon is not only a kind of popular fruit in summer but also has the function of clearing the excessive internal heat and inducing diuresis. This is a course of perfect dish with the balance of both fruit and meat.
It is as well a tasty dish. The chicken is so tender and it actually pulls apart at the middle of the watermelon. The chicken soup is very mellow and overall.
Famous Snacks
Green Dumpling Snack
Green Dumpling is a special food during April. It is made from glutinous rice, the green colour is from the juice of bromegrass which takes you a fresh taste, and the filling is made from sweetened bean paste and sugar.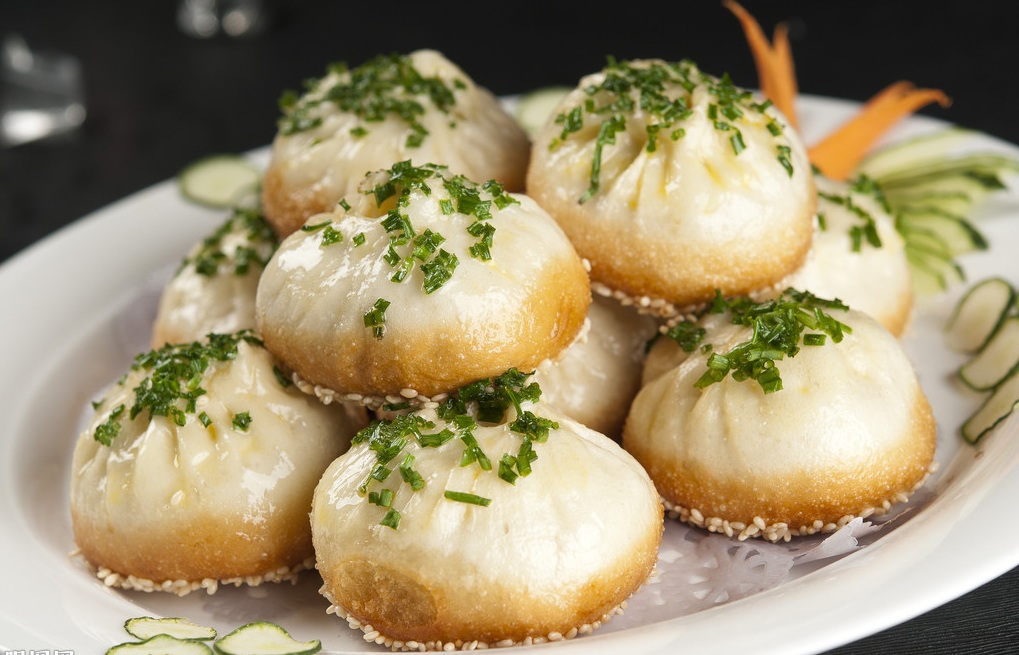 Pan-Fried Steamed Bun
It's classical, fantastic, wonderful, unexceptionable, terrific and awesome. In fact, shengjian mantou (????, Shengjian mantou) is not a kind of steamed bun but stuffed bun. Shengjian mantou is fried on a big pan in shallow oil, so the bottom of shengjian mantou is very crisp and tasty. The most wonderful part is the filling which select and use leg meat of the hog. The secret of the dainty lies in the meat jelly which is mingled with the filling. After the frying, jelly is melted into juice, so it's absolutely tasty.
Tips:
Enjoying the shengjian mantou you need some skills. The mantou just off the fried pan is very hot, you should take care of your mouth and tongue. The right way is use your tooth to tear a small hole on the top and sip off the delicious meat juice carefully, the last step is eating up the mantou.
Districts for delicious Suzhou food
Taijian Lane (Eunuch Lane), Shiquan area, Phoenix Street, etc.
Famous restaurants recommended
Pine Crane Restaurant, Deyuelou Restaurant, Shijia restaurant, etc.