Zhouzhuang Water Town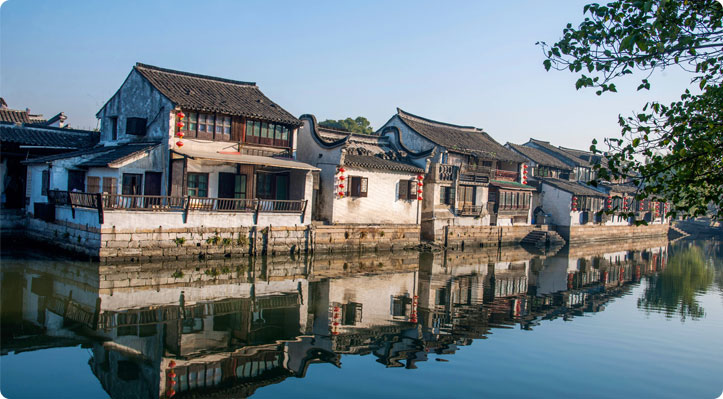 Zhouzhuang Water Town, Suzhou
Breif Introduction of Zhouzhuang
Situated in Kunshan, 30km southerneast of Suzhou, Zhouzhuang is one of the most famous water towns in China. It covers an area of 124 acres, built during Ming and Qing dynasty from 1368 to 1911. At present, Zhouzhuang water town is noted for its profound cultural background, the well preserved ancient residential houses, the elegant watery views and the strong local colored traditions and customs. Taking the most convenient form of transport in Zhouzhuang, a gondola, we will present some of the breathtaking sights one by one.
History of Zhouzhuang
In the Spring and Autumn Period (770 BC-476 BC), Zhouzhuang Suzhou was a part of the fief Yaocheng and called Zhenfengli. After being donated to Full Fortune (Quanfu) Temple by Zhou Digong, a very devout Buddhist, in 1086 during the Northern Song Dynasty(960-1127), Zhouzhuang got its present name.Zhouzhuang is a popular tourist destination, classified as a AAAAA scenic area by the China National Tourism Administration. It is one of the most famous water townships in China, noted for its profound cultural background, the well preserved ancient residential houses and the elegant watery views. It has been called the "Venice of the East"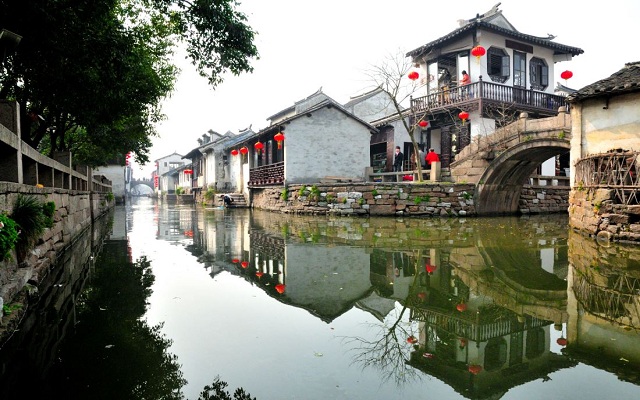 Zhouzhuang Highlights
Shen House
The Hall of Shen's Residence, originally known as Jingye Tang, was built by Shen Wansan's (a legendary tycoon in the south of the lower reaches of the Yangtze River) descendant Shen Benren in the year of 1742. Shen House is divided into three parts. The former part is water gateways and wharves for the locals' daily chores like washing and anchoring. It is typical architecture of water village of the south of the lower reaches of the Yangtze River. The middle part is the hallway, main hall, and tea room. Meetings, funerals, weddings can be held here. The third part is the back hall and some rooms for the locals' living. All rooms and halls are connected by corridors. If travelers are fond of engravings, they can find many masterpieces in Shen House. Having been devastated during the year of 1966-1976, the residence relived after restoration since 1983. And now, as a Major Historical and Cultural Site Protected at Jiangsu provincial level, it enjoys great popularity amongst visitors.
Zhang House
As one of the few architecture of Ming Dynasty style, Zhang House, covering an area of 1800 square metres and boasting over 70 rooms, is listed as a Major Historical and Cultural Site Protected at Jiangsu provincial level. It is said it was construct in the Zhengtong Period (1436-1449) of Ming Dynasty and was sold out to a Zhang's family, thus changing its name from Yishun Tang to Yuyan Tang (commonly known as Zhang Ting). Through five hundred plus years, the Zhang House still remains grand as a dwelling of the well-off. For those who come from metropolises, sauntering inside is by no means seeking sheer thrills, but dissolving frustration or wretchedness in the beauty and peace of the house.
Residence of Shen Wansan
This attraction, based on relevant stories of Shen Wansan, vividly displays how he obtained his wealth, his bumpy experience, legendary lifetime and the daily life of the whole family via bronze statues, brick carvings, carved lacquerware, realistic models, comic strips, clay sculptures and any other means of aesthetic expressions. It is no doubt that it is a human landscape of moment in Zhouzhuang.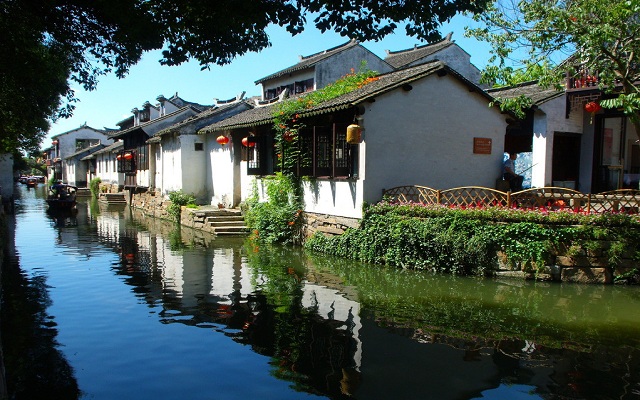 Twin Bridge
Twin Bridge is made up of a stone arch bridge – Shide Bridge and a stone beam bridge – Yong'an Bridge. The locals also refer to it as Key Bridge because of the shape of the two bridge holes, one being round, the other square, much like the keys people use in the ancient times. These two stone bridges was first constructed between 1573 and 1619, and then renovated several times later. Shide Bridge spans 16 metres, 3 metres wide, while Yong'an Bridge is 13.3 metres long, 2.4 metres wide. Every year, numerous art college students will come here to fill their sketch books with drawings of the splendid scenery of Zhouzhuang. Photographers prefer this magic place, too. Finding a vintage point, you can fix your experience with your camera.
Fuan Bridge
Located in the east end of Zhongshi Street, the bridge was originally known as Zongguan Bridge. At first, it was made of bluestones, but after years' of restoration, it is now made of granites. Shen Wansi, Shen Wansan's brother was said to have contributed to the bridge, and the name of the bridge was the best exemplification of his wish for wellbeing when he became rich. Since the year of 1988, four bridge houses had been repaired where tea house, souvenir shops are available. Not only can travelers take some rest, but also appreciate and shoot pictures of the water village. If you are carefully enough, you can discover pieces of Wukang stone, which is the positive proof of the long history of Fuan Bridege.
Mi Building
Standing along Zhenfeng Bridge, built in the Guangxu Period (1871-1908), the building was once called De Ji Hotel. Actually, at that time, Zhouzhuang had already been a commercial port where pyramids of stores were set up and De Ji Hotel can remain to be an outstanding one is owing to its ideal location. Besides, the founders of Nan She, a cultural organization in modern and contemporary Chinese history, Liu Yazi, Chen Qubing once wrote a hundred more poems in the building, which were compiled as An Anthology of the Mi Building.
Quanfu Lecture Temple
Built in 1086, the main architecture was Hall of Mahavira, in which the Buddha was enshrined, guarded by Maju?ri and Samantabhadra. The mere sight of the grand temple inspired a calligrapher Li Xiangen of Qing Dynasty to inscribe "Buddha Kingdom in Water" on the horizontal board. However, in the 1950s it was converted into a grain depot with most figures of Buddha and invaluable items destroyed. Fortunately, with the reform and opening-up policy, the new Quanfu Lecture Temple was completed. The erstwhile magnificence and exquisiteness are unfolding just before your eyes.
Nanhu Park
Laying on the south of Zhouzhuang village town, Nanhu Park is also known as Nan Bai Dang. One third of it belongs to Zhouzhuang, the other to Wujiang City. Nanhu Park, covering 8.9 acres, is divided into four scenic areas, namely, Spring, Summer, Autumn, and Winter. The Spring scenic area and Summer scenic area feature water and hill garden; architecture in the style of the ancients can be found in the Autumn scenic area; the Winter scenic area has a concentration of religious architectural complex, drawing countless devotees every year. For your information, cruises are available; the price is 40 yuan per boat for sightseeing, 80 yuan for surfing; each boat is limited to six persons.
Pailou and Quanfu Pagoda
On the junction of the new and old town on the south end of Quanfu Road stands a mock-Ming Dynasty pailou. It is so solemn that it looks like a gate of the village town. On the west, there stands a pagoda called Quanfu Pagoda. Built in 1987, 33 metres tall, the pagoda has five tiers. Seen from atop, the vista of the town will shock you! No wonder it has become an emblem of Zhouzhuang. Besides, some festivals or events are often held around pailou and Quanfu pagoda. Most travelers will commemorate the moment in a photo as long as they are in Zhouzhuang.
Zhenfeng Bridge
Connecting Xiwan Street and Zhenfeng Alley, the Zhenfeng Bridge is a stone arch bridge, 12.2 metres long, 2.8 metres wide. It takes its name from the former name of Zhouzhuang –Zhen Feng Li.
Ancient Opera Stage
Zhouzhuang is a wonderful choice for opera lovers, with talented opera performers singing Kunqu Opera, one of the oldest forms of Chinese opera, at Zhouzhuang Ancient Opera Stage. There visitors are also able to enjoy Suzhou Pingtan, a kind of storytelling and ballad singing in the Suzhou dialect.
Quietly melodious singing, and magnificent apparel and accessories make the stage a magnet for many a weary travellers to take the weight off and immerse themselves in the ancient water town's local culture.
Adobe workshop
Adobe is a type of brick made of mud and straw. Visitors are able to admire original brick-making tools at the workshop located on the Zhenfeng Cultural Street. Those that are lucky enough, may even spot the shop owner, an elderly brick artist surnamed Zhang, teaching his young apprentices how to make bricks.
Tofu Mill
The tofu mill on the Zhenfeng Cultural Street in Zhouzhuang has been run by the same couple for years and years. Their delicately produced handmade tofu contains a supple mix of shrimps, pickles and seaweed. The mill also makes the traditional breakfast staple of youtiao, or deep fried bread sticks.
Carton King Creativity Park
Zhouzhaung Carton King Creativity Park, unlike what the name suggested, is not really a "park". Instead, the Carton King Creativity Park is a nice little garden decorated with things made by corrugated paper. Inside the garden, there is a themed restaurant, cafe and souvenir shop for the patrons.
Here the Carton King has created a world out of paper. In the paper-made Shen House stands a large paper carving of Shen Wansan, a legendary businessman during the early Ming Dynasty and was the first ever millionaire to live in Jiangnan, the region around the south Yangtze River delta encompassing cities such as Nanjing, Shanghai and Hangzhou.
"Memory of Hometown", which depicted the Twin Bridges, by notable painter, Chen Yifei, has been transformed into a 3D paper carving in the park.
References
"AAAAA Scenic Areas". China National Tourism Administration. 16 November 2008. Retrieved 9 April 2011.
Information
Admission Fee: 100RMB
Location: 30km of Southeastern Suzhou
Opening Hours: 08:00-21:00

PS: There is an organized boat ride down the narrow canal. It costs 40 yuan per head, or 100 yuan for a boat, which can be used by 1-6 people. The boat ride lasts 20 minutes. Note that the boat ride service lasts until 8pm, so you may consider a ride in the evening after the other attractions have closed. The day trip (before 4pm) and night trips (4-8pm) have different routes.
Transportation
---- From Shanghai
Get on the tourist special line at Shanghai Stadium (????????), which takes about 90 minutes. Get on tourist special line at Shanghai Hongkou Stadium (???????), which takes about 120 minutes.
----From Shanghai Hongqiao Long Distance Bus Station
Take bus from Shanghai Hongqiao Long Distance Bus Station located near the Hongqiao Airport to Jiangze, and then walk around 5 minute to the west gate of Zhouzhuang
----From Huaqiao Railway Station
Take Shanghai Subway Line 11, get off at Huaqiao Station and then change Tourism Bus No.7 to get to Zhouzhuang Bus Station.
----From Zhejiang
Get on tourist special line at Hangzhou Dragon Sports Centre (?????????), which runs at 08:00 every Saturday.
-----From Nanjing
Get on tourist special line at No. 400 Zhongshan South Road (????400?), which runs at 06:30 every Saturday and Sunday.
----From Suzhou
Get on tourist special line at Suzhou North Bus Station (??????), which will take you about 90 minutes.
----From Kunshan
Get on tourist special line at Kunshan Bus Station (?????), which will take you about one hour.
Most Recommended Suzhou Tours including Zhouzhuang Water Town
Shanghai to Zhouzhuang Water Town Day Tour
Full Day Zhouzhuang Water Town Tour
Suzhou and Zhouzhuang Water Town Day Tour From Shanghai By Train
Two Days Impressive Suzhou Gardens Tour With Zhouzhuang Water Town
Private One Day Trip of Zhouzhuang and Jinxi Water Towns from Shanghai