Luzhi Water Town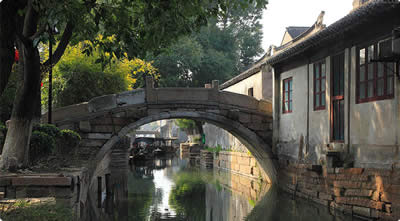 Luzhi Water Town(???, Luzhi Town)

A brief introduction of Luzhi Water Town

Located to the east of Suzhou, Luzhi water town is one of six famous water towns in China. Luzhi was also known as Puli, but in the Qing Dynasty it was officially re-named Luzhi. Luzhi water town is one of the best preserved old towns in China with a history of more than 1400 years, along with its old canals and streets. Luzhi town is noted for several historical and cultural sites, such as Baosheng temple, the Wansheng Rice Company and the White Lotus Flower Temple of the North Song dynasty. The town's most notable features are its numerous quaint stone bridges, which were built in the Song, Yuan, Ming, and Qing dynasties. Due to this, Luzhi has the reputation of being the "Museum of Ancient Chinese Bridges". A walk in the ancient town Luzhi is said to be a walk into history frozen in time, tranquil and serene.
The Ming Dynasty poet Gao Qi poem 'Scene of Puli' is still an accurate description of the scenery in the ancient town Luzhi today. It reads, 'Long bridge short bridge with willows; Front stream rear stream with lotus; People watching banner over wine store risen; Seagulls escort boat to home of fishman.' It is quite worth a visit.
History of Luzhi
Luzhi Town was named after a Tang Dynasty recluse poet Lu Guimeng who retired in this town. Lu Guimong had a pseudonym: Mr. Pu-li. At that time, Puli consisted of two districts: Puli and Liuzhi. Liuzhi meant that there were six straight rivers in the town. In the Suzhou dialect, "liu" was pronounced as "lu", pronounced as Luzhi. At the end of the Qing Dynasty, Puli was changed to Luzhi town ship of Yuanhe County. Luzhi is one of the best preserved old towns in China, along with its old canals and streets. In 2003, Luzhi together with Tongli and Zhouzhuang were listed in the tentative list for UNESCO World Heritage Sites. With the rapid modernization of China, large number of historical towns disappeared under the bulldozers, with only a handful of well-preserved historical townships remaining today. In 2004, Luzhi was also awarded a Township Preservation Award by UNESCO.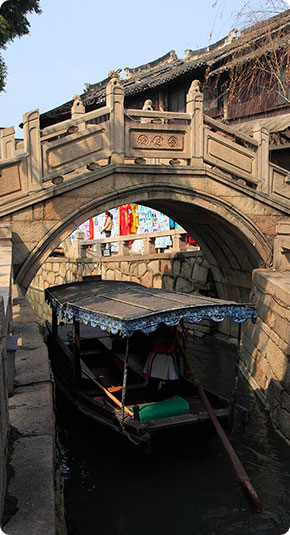 The special feature of the town is its numerous bridges. The one square kilometer (0.38 square miles) town proper once had 72 stone arched bridges built in Song Dynasty, Yuan Dynasty, Ming Dynasty and Qing Dynasty. Forty one of these still exist, each with its own unique style. You will find large multi-arched stone bridges, small single span stone bridges, spacious arched bridges, narrow level-decked bridges, etc. Visiting Luzhi is actually very much like visiting a museum of ancient bridges. There are even more bridges for the area here than in Venice!

Zhengyang Bridge
Built in the Wanli era of the Ming Dynasty (1368-1644), Zhengyang Bridge is the biggest stone arch bridge in Luzhi town. It is known for being the first to receive sunshine in the early morning. Moreover, this old bridge is a vantage point for viewing the whole fascinating landscape of the water town.
Dongmei Bridge
Located on the eastern side of town, Dongmei Bridge is most famous for its unique structure and many Buddhist designs, which are listed in the history of Chinese bridges. It is a completely round bridge, half of which rests above the surface of the water and half of which lies below. The combination of Buddhist engravings and unique circular design makes this a very rare bridge that is definitely worth visiting.

Baosheng Temple
The Baosheng Temple, built in 503 AD, is an ancient temple with a history of over 1500 years. It is home to nine well preserved Buddhist clay sculptures made in Tang Dynasty, some 1000 years ago.

Wang Tao Memorial Hall
This Hall is a Qing style home which celebrates Tao Wang who is a local resident of some notable importance. Wang was known to be at first a translator for english speakers and later came Editor-in-Chief of the Shanghai Post. His story is an interesting one and the building itself is also reasonably nice. The exhibitions found in the memorial hall do not include a lot of information in English but the garden at the back of the property is quite nice. On the two occasions it has been visited, it has been quiet and peaceful here.
Women's Costume Culture
Suzhou Luzhi Water Town Women's Costume is the product of the water rice agriculture periods of Wu region for thousands of years, and the outstanding representative of the Han nationality's dress of China. Suzhou Luzhi Water Town women's costume are featured by "significant", "Pretty" and "Ingenious", and can be of a must by virtue of the appliable "white". On May 20th, 2006, the Luzhi Water Town women's costume was approved by the State Council and announced to be the first batch of state-level intangible cultural heritage.

Wansheng Rice Shop
Built in 1910, Wansheng Rice Store is an old-established rice shop that was once operated by two wealthy businessmen and now serves as the rice distribution centre for Luzhi and nearby towns. Many quaint antique agricultural tools are displayed for travelers to view.
The Former Resident of the Shen
The Former Resident of the Shen's is the former home of Shen Bohan, who is a famous educator and a rice man in town. The house was built in 1873.
Xiao's Mansion
Xiao's Mansion is a small mansion that can be found close to the Wang Tao Memorial Hall off Sangtang Jie. The downstairs rooms are kept in traditional style with the upstairs rooms kept for a small museum for former Luzhi resident Xiao Fangfang. One thing that can stated is many sites like this tend to deify that said character but they have managed to tell us her many achievements in a rather understated way. I hope that many other museums learn from this example - at least when looking from a Western perspective. I do need to remember that translations can at times significantly change the story itself. On a side note - this location at one stage was also a stable for horses which is also interesting in it's own right.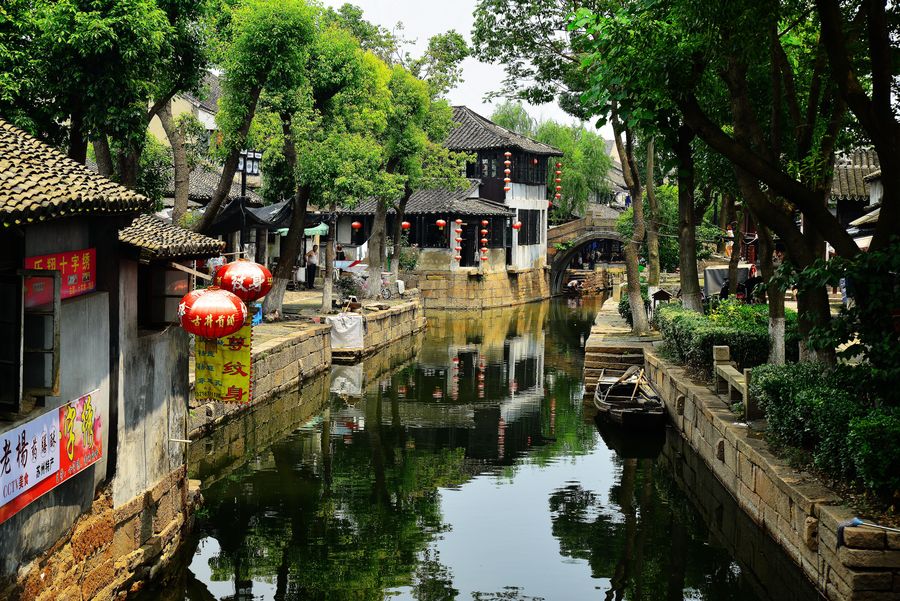 Luzhi History Museum
Luzhi History museum which includes good english explanations along with some geological and anthropological exhibitions. Some of the exhibitions be of interest to some people - but they were not that interesting to me. As such - if you are stuck for time it might be worth giving this attraction a miss.
Luzhi Radish (????) – a pickled radish prepared according to a Qing Dynasty recipe. Puli Trotters and Puli duck: Two dishes in Luzhi township are Puli trotters (???) and Puli duck (???). They are said to be prepared according to the recipe of poet Mr. Pu-li; he often treated guests with these two dishes.

Information

Admission Fee: CNY 78
Address: 21 Xiaoshi Road, Luzhi, Wuzhong District, Suzhou
Tel: +86 512 65010067, 65019410
Opening Hours: 8:00 - 17:00
Transportation

How to get to Luzhi water town
From Suzhou:
From Fengmen: take bus No. 18 and get off at Luzhi Bus station
From Wuzhong Bus station or Suzhou South bus station: take bus No. 52 and get off at Luzhi Bus station
From Suzhou train station or Suzhou North Bus station: take bus No. 518 and get off at Luzhi Bus station
other options: Bus No. 521, 563 and 525
From Shanghai:
1. Bus route: Take a bus from Shanghai Zhongshan Bus Terminal to Luzhi water town. The bus departs about every one hour from 06:10 to 16:50
2. Train route: Take bullet train to Suzhou, then take bus No. 518 and get off at Luzhi Bus station
From Hangzhou:
1. Take a bus from Hangzhou East Bus Station to Suzhou South Bus Station, and finally take bus 52.
2. Take a train from Hangzhou train station, after arrive at Suzhou train station, take bus No. 518 and get off at Luzhi Bus station
From Nanjing:
1. Take a bus from Nanjing Bus Station to Suzhou Bus Station, before taking bus 52.
2. Take a train from Nanjing Railway Station to Suzhou North Railway Station or Kunshan Railway Station, and then take a taxi to Luzhi Ancient Town which will take approximately 25 minutes.
Most Recommende Suzhou Tours including Luzhi Water Town
Luzhi Water Town Day Tour From Shanghai
Suzhou to Luzhi Water Town Day Tour