Yuantouzhu Park Wuxi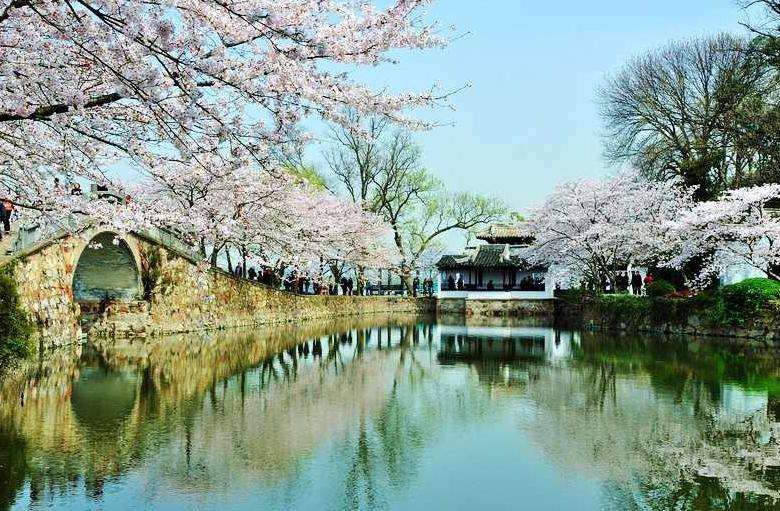 Yuantouzhu Park, Wuxi
Yuantouzhu Park

Yuantouzhu, also named "Turtle Head Isle", is a popular tourist resort which lies on the northwestern shore of Lake Tai, near Wuxi. Yuantouzhu is named after its unique topographic features: a land surrounded by water on three sides, resembling the head of a huge Asian giant softshell turtle stretching out of the water. The natural endowments provide visitors with a tranquil atmosphere surrounded by green hills and crystal-clear water. Tourist ferries leave from Yuantouzhu to the Sanshan Islands, which were opened to tourists in the mid-1980s. Seagulls follow the boat and like to be fed by tourists on boat.
The Yuantouzhu park is famous for its tourism especially during the spring season from March to April when hundreds of cherry blossom trees start to bloom. Two gates are open for tourists which are Chongshan gate and Dushan main gate. During the season, there are also at least eight ancient fishing sailboats in the lake. The lake and mountain under the light of the setting sun and the fishermen's songs at night always create a poetic atmosphere.
At the park, visitors can enjoy the sheer scale and magnificent beauty of Taihu Lake, the third largest freshwater lake in China. Surrounded by hills, the lake takes on an ethereal quality in particular when it is covered by mist, or lit under the setting sun with the poetic songs of ancient fisherman ringing in the air. Travelers who come to Wuxi should pay a visit to Taihu Lake and those who visit Taihu Lake must take a visit to Yuantouzhu. You can enjoy leisure cruise time on Taihu Lake just as Fanli did thousand years ago, you can enjoy a light walking along the shore of Yuantouzhu, or immerse in the fantastic scenery which praised by a well-known Chinese modern poet Guo Moruo "The superb view of the Taihu Lake, after all, lies in the Turtle Head Peninsula"
Highlights
Yuanzhuchuntao Scenic Area
Yuantouzhu is a garden more naturally formed than man-made. In history, numerous refined scholars and poets came to Yuantouzhu for they regarded it as peach garden far away the madding crowd. During the Republican period, many celebrities came and built private gardens which they learn from the design of imperial garden in North China, making the unique example of the garden style in Jiangnan area.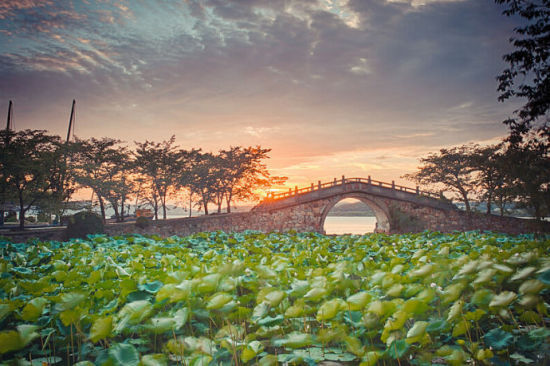 Entering into Yuantouzhu, you won't miss the Taihu Lake Memorial Archway decorated in classical style with glazed tile roof and on which was inscribed the poem of Guo Moruo "The Super View of Taihu Lake". Pass through Ever-Spring Bridge which looks like the Yudai Bridge of Summer Palace, have gorgeous view of lotus blossom in Ouhua Shenchu, walk to Turtle-head Peninsula in the Spring Waves to fully appreciate Taihu Lake scenery. Visit the old Guangfu Temple which was first built in Six Dynasties (222~589 AD) to have a basic understanding about Buddhism; enjoy about 180 kinds of orchid in Jiangnan Orchid Garden with tall bamboos and clear stream flowing, enjoy beautiful flowers and trees along Ten-mile Fragrant Lane, or even climb up at the top of Luding Hill to have panoramic view of Taihu Lake. Besides, there are more surprises waiting for you to explore.
Fairy Island
It will be a good experience to take a sightseeing boat tour at the Turtle Head Isle Dock to enjoy the scenery of Taihu Lake. There are 72 Peaks around Taihu Lake and the Studios of the Three Kingdoms. You may enjoy the combined scenery of the mountains and the water on the Fairy Island. It will be impressive. The boat will sail slowly on Taihu Lake that you can have a sight of Yuantouzhu and Taihu scenery on the water. The boat journey takes about 20 minutes. The last boat from Fairy Island to Yuantouzhu is at 17:55 and please arrange your visiting time properly in order to catch a ferry back to Yuantouzhu. On the Fairy Island, you can take a view of the memorical archway, Huixian Bridge, Matchmaker's Cave, Heavenly Street, Taiyi Temple of Heaven, Lingxiao Palace, Dajue Bay, Buddha's Cave, etc.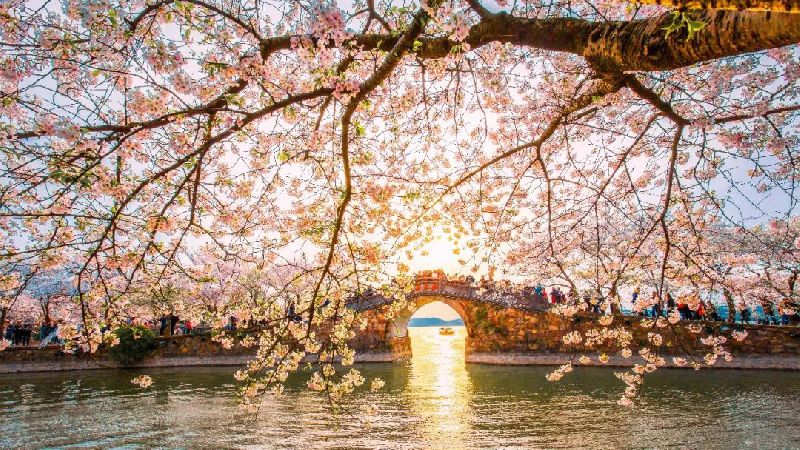 Events
Cherry Blossom Festival
Dubbed one of the world's three greatest places to enjoy cherry blossoms, Turtle Head Isle is China's largest single area of cherry blossoms, with more than 30,000 of the plants in 67 different varieties. The annual Wuxi Taihu International Cherry Blossom Festival attracts many tourists each year, with domestic and overseas visitors arriving to view the panoramic sightseeing attractions, distinctive night-themed activities and culture demonstration events.
To celebrate the 100th anniversary of Turtle Head Isle, a whole range of cherry blossom-themed events have been organized at the scenic spot throughout year, including an event featuring 10,000 dancers, a catwalk show featuring clothes and fashion from the Han and Tang dynasties, a cultural innovation salon, a bell-hanging prayer ceremony and an interactive and immersive "rain zone".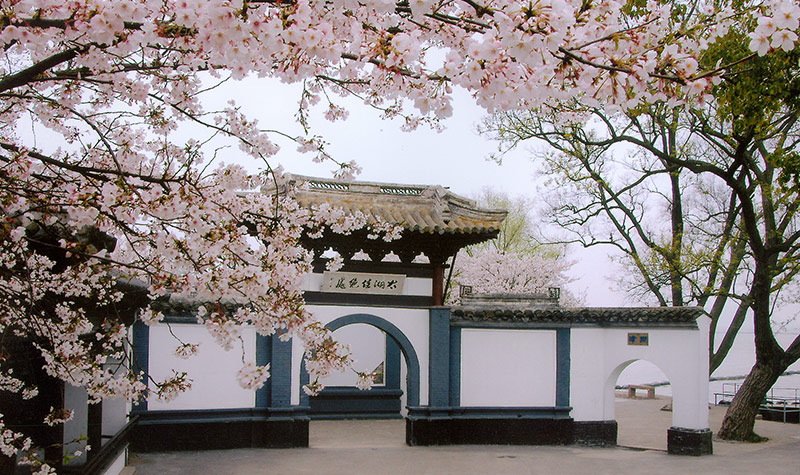 How to get to Yuan Tou Zhu Park

Bus routes:
Line K1: Railway Station-Chongshan Gate of Turtle Head Isle Scenic Area
Line K87: Railway Station-Dushan Gate of Turtle Head Isle Scenic Area
Travel Guide:
Admission Fee: CNY 105
Address: No.1 Taohua Road, Mashan Town, Binhu District, Wuxi
Opening Hours: 08:00-17:30 (summer time)
08:30-17:00 (winter time)
Best Seasons: March to October, especially in March and April for the International Cherry Blossom Festival
Recommended Visiting Time: Half day
Tel: +86 510 8568 0600