Suzhou No.1 Silk Mill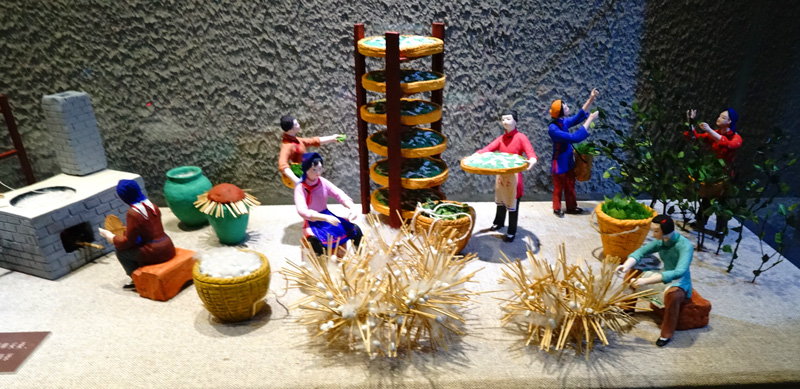 Suzhou No.1 Silk Mill, Suzhou attraction
Brief Introduction
Suzhou No.1 Silk Mill, also named Suzhou Silk Factory, which was founded in 1926, it is a near one hundred year old state-owned factory in Suzhou, the silk city in China. This Suzhou Silk Factory gains a good reputation in China silk for its traditional skills to make silk and the exhibitions of culture and history of silk in China, it has been a leader in local silk production. A complete silk manufacturing facility, the No. 1 Silk Factory handles every facet of production from raising silkworms and cocoon boiling to reeling and packing.
The Suzhou Silk Factory is also open to travelers now. Visit this Suzhou Silk Factory, travelers can get the knowledge of the whole life of a silkworm, the process of silkworm breeding, how the silkworm spinning silk, how the silk make into various kinds of stuffs and appreciate various kinds of silk scarves, bedding and other items.
This Suzhou Silk Factory consists several hall, it is the best place for traveler to get close to China silk and the real life of silkworm. When you visit the Silk factory, traveler should be ushered into a small conference room where a representative will give you a lecture about the process to visit the Suzhou Silk Factory.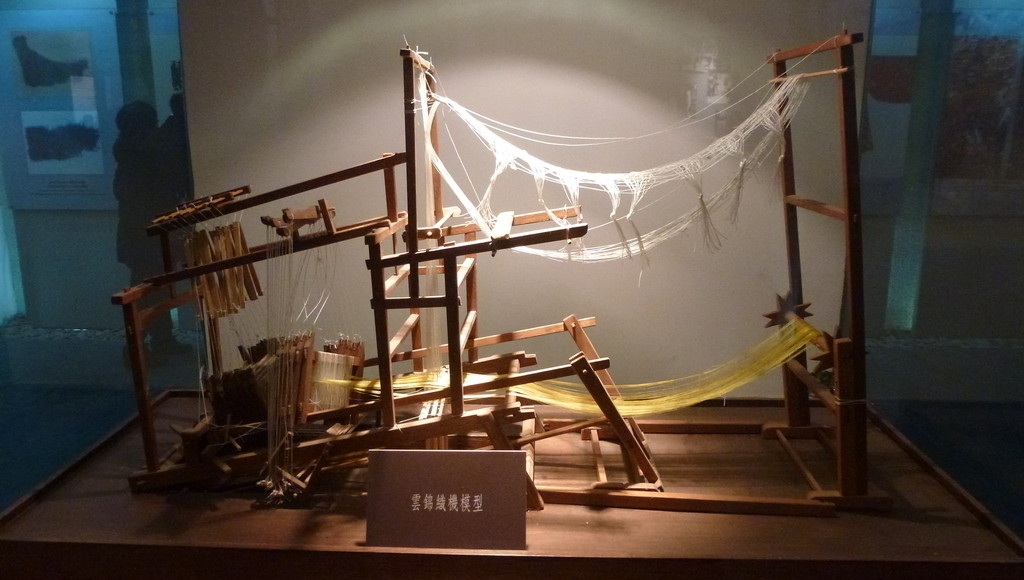 Suzhou Silk Culture
Suzhou is a city with the history of over 2,500 years, in additional to its stunning gardens and flowing canals, Suzhou is regarded as silk capital in China with Hangzhou. Delve into the ancient techniques and fine craftsmanship of Suzhou's most famous export, Suzhou Silk enjoyed a worldwide reputation from as early as the Tang and Song Dynasty, because of its historical association with riches and royalty, what's more, silk was the material of choice for the garments of ruling classes, cultivation of silk has been an important branch of Suzhou's past. That's why Suzhou has had a major part to play in the prosperity of China's silk trade for centuries, even now.
Suzhou abounds in natural gifts, abundant sunshine, plentiful rainfall and rich soils, which offer a pleasant environment for rich cocoons and high qualities of silk.
Suzhou remains a hub of the national silk industry and to see how specialized local expertise has advanced production methods, visit the No.1 Silk Factory. Founded in 1926 as a state-owned factory, you'll get an insight of how established practices of harvesting silk have been blended with modern methods. Workers still unravel the cocoons by hand, making the manufacture as delicate as it was 1,000 years ago.
Main Highlights
Brief introduction of silkworm
Silkworm, also named Bombyx mori, the larva or caterpillar of the Bombyx mori moth. It takes an important role of making silk, silkworms eat Mulberry leaves and after spinning the silk, on longer lives in the world. And for the Female silkworm, it will lays eggs on the leaves of mulberry trees, after that they will die since it does not eat anything. There is a legend about silkworm. It's said that an ancient queen called Leizu is the first person find silkworm's silk. It said in the 13th century, she was drinking tea under a tree when a cocoon fell into her tea. She picked it out and as it started to wrap around her finger, she slowly felt something warm. When the silk ran out, she saw a small cocoon. Then she realized that this cocoon was the source of the silk. She taught this to the people and it became common.
How the silkworm become cocoon
After the silkworm lays eggs on the leaves of mulberry trees. The eggs are covered with gelatinous secretion by which they stick to the leaves. The eggs are kept in a cool place so that it can be stored for a long time. In a favorable condition, they hatch into silkworm. It takes about two weeks from eggs to silkworm in a temperature of 18-25centi degree. Here you can see a lot of silkworms eating mulberry leaves on the round bamboo sieves. After 35 days, the silkworms begin spinning cocoons. Can you image it, a single cocoon can produce a continuous silk filament measuring approximately 1000m.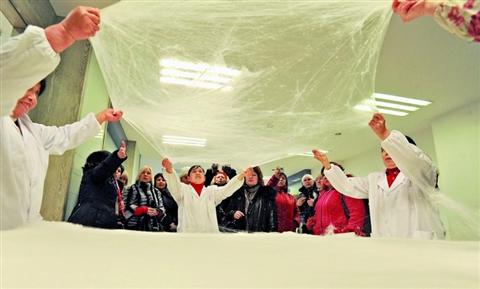 The process to make Silk
After silkworm spin the silk and become a cocoon, the workers will put the cocoons in a heating oven and kill them, but not damage the silk in the cocoon. After killing them, you will see many machines working in the workshop. The workers use machines make silk cocoon of different shapes, colors, sizes are for diverse usages while selecting cocoons. In the workshop, you will see the whole process how the workers make silk products.
How to get to Suzhou No.1 Silk Factory
Bus Route: take bus No 40, 89 and you will reach there.
Travel Guide
Admission Fee: Free
Time for Visit: 1-2 hours
Address: No. 94, Nanmen Rd
Tel: 0512-65208807
Recommended Suzhou Tours including Suzhou No.1 Silk Mill
1. Suzhou Classic Day Tour with Suzhou No.1 Silk Mill
2. Private Suzhou Tour of Silk Culture