Songhelou Restaurant in Suzhou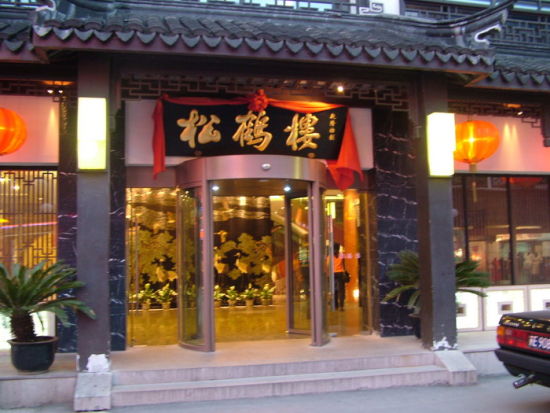 Songhelou Restaurant (???,??)
Breif Introduction
Songhelou Restaurant is the most famous local restaurant offering Suzhou local dishes. It is located in the busiest area of Suzhou city. Songhelou restaurant is regarded as one of the four most famous restaurants in China, together with Quanjude Roast Duch restaurant in Beijing, Fu Chun Hua Yuan restaurant in Yangzhou and Lou Wai Lou restaurant in Hangzhou. One of the highlights of Songhelou restaurant was the fresh ingredients. Menus changed with the seasons and local produce was delivered straight from farmers daily. Song He Lou's delicate and precise cooking techniques showcased these ingredients in the brightest light
Background & History
Songhelou restaurant is one of the time-honored restaurant in Suzhou has the history of 200 years old, which was founded in 1737 as a noodle restaurant, has been in operation ever since, despite numerous ups and downs. It is said that Emperor Qianlong of the Qing Dynasty (1644-1911) would frequently come to the restaurant each time he visited Suzhou. During 1875 to 1908, the restaurant reached its first resplendence. While in 1918, it was facing the brink of falling down for some reasons. After the comparatively advanced operating method, Songhe Lou revived the glory through offering the typical Suzhou Dishes. It said that Chinese ancients take the picture of crane (we call songhe in Chinese) as its the symbol of longevity. Hence the name, which is also for such a nice wish.
Special Dishes
Songhelou restaurant use the freshest of seasonal ingredients. Among all the dishes, Songhelou's most popular dishes are freshwater fish and shrimps, including sweet and sour mandarin fish, fried snails with shrimps, and braised eel. The sweet mandarin fish was a favorite of Qing Emperor Qianlong, who dined here every time he visited Suzhou.
Squirrel Fish
The unique food created by Songhelou is named Squirrel Fish (Songshu Guiyu in Chinese), which is known nationwide. It is a fried fish completely deboned and dressed with sweet and sour sauce to resemble a squirrel. The fish is filleted into sections and then deep fried creating the "fluffy" result. Each tender morsel of fish was encased in a crispy shell, a perfect balance of textures.
Guoba(??)
Guoba is one of traditional dishes in Suzhou, the burnt rice that forms at the bottom of a pot when steaming rice. The rice becomes crispy (almost like puffed rice) and takes on a toasted flavour. Once the guoba arrived, a sweet and sour sauce was poured on just before serving.
Cracking Eel Paste
Cracking Eel Paste, a dish made from rice field eels stir fried and served in hot oil. The eel was freshly butchered, and the meat incredibly soft.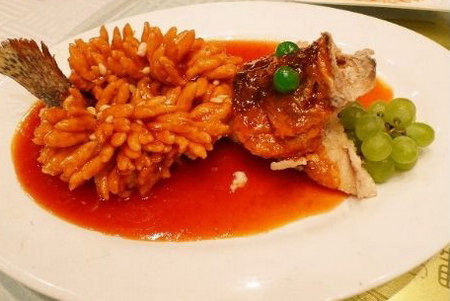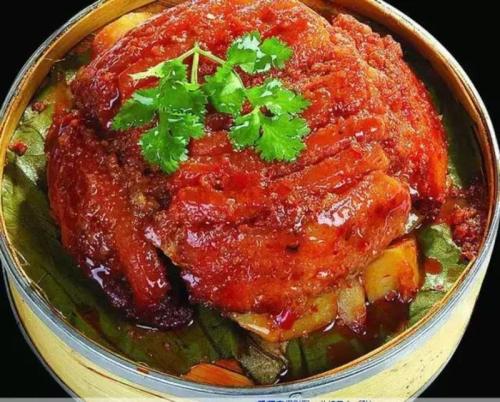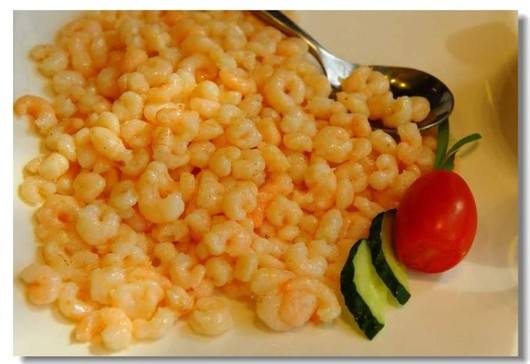 Dining habit
Songhelou restaurant have an open dining area and floors of private rooms. You can make reservation for a private room and rooms are booked for the entire evening. If dining in the room, it will began with a selection of cold dishes, BBQ pork, pork terrine, drunken chicken, pickled baby cucumbers, duck tongue simmered in rice wine. Cold dishes are served at the beginning of a meal and meant to drum up appetites. The BBQ pork, pork terrine and drunken chicken were all delicate in flavour and lightly seasoned. Duck tongue may not be for everyone, but they're actually similar in taste to chicken wings. The organ is covered in fatty skin that surrounds crunchy cartilage. We also had a platter of offal, which included braised tripe and tongue. Then you can enjiy the hot dish was Dongpo Pork, a variation of red braised pork from Hangzhou, Suzhou's southern neighbour. The pork belly was sweet, creamy and melted apart, etc.
How to get there:
Take Bus No. 101, 102, 146, 112, and 307
Information:
Location: No. 141 Guanqian Street, Gusu district, Suzhou (Oldest Branch, Suzhou)
Tel: 0512-67700688, 0512-67272285
Opening hours:11:00-13:30 and 17:00-20:30 (advance bookings recommended)
Price per person: 150RMBp.p