Shantang Street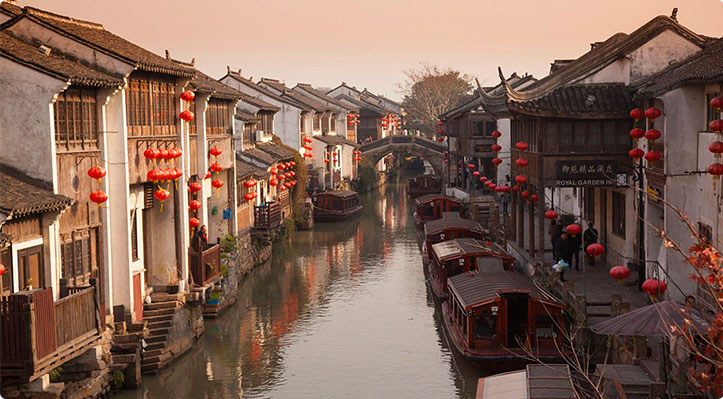 Shantang Street
Brief Introduction of Shantang Street
Shantang Street, also called Seven-mile Shantang is located in the northwest of Suzhou, linked with Changmen in the east where aristocracies pursued pleasures, Huqiu in the west, "the No.1 place of interest in the Wuzhong District",and the total length of it is about seven li (3.5 kilometers). Shantang Street in Suzhou attracts many tourists from home and abroad. Most of them prefer traveling along the canal, enjoying beautiful scenery.
History of Shantang Street
t was built by digging the river and constructing dams in 825 A.D. when Bai Juyi, one of the most famous poets in Tang Dynasty, took the post of Suzhou Cishi (feudal prefectural governor). Owing to its distinguished geographic location and convenient water and land transportation, Shantang Street was one of the streets which trade and culture were most highly developed in Ming and Qing dynasties, regarded as "the No.1 Ancient Street in China". The renovated Shantang Street becomes the place which shows the essence of natural views and human landscapes of Suzhou, which is rated as "the miniature of old Suzhou and the window of Wu culture". The Shantang Street parallels with the waterway. Along the street stand a good many stores and halls which have delicate and graceful styles and scatter properly. All of above present the street's prosperity again. There is a folk song, singing "There is a paradise in heaven, but there are Suzhou and Hangzhou on the earth. Hangzhou has the West Lake while Suzhou has Shantang. Both are good places with boundless sceneries", which is the vivid image of Shantang.
References
Vernacular Dwelling
Ancient Architectures
Famous streets of China
Historical Culture Street in China
"AAAA Scenic area"
Transportation
Bus routes:
- To Huxiu and Hupi bridge: bus 946, tour bus 1,2. to Bantang bridge bus 6?10?40?317?324?529.
- To Guangji bridge bus7?34?54?64?70?161?204?304?311?406?415?501?522?622?921
Information
Admission Fee: Free
Opening Time: 8:30-17:00
Time for Visit: 2 hours