Guanqian Street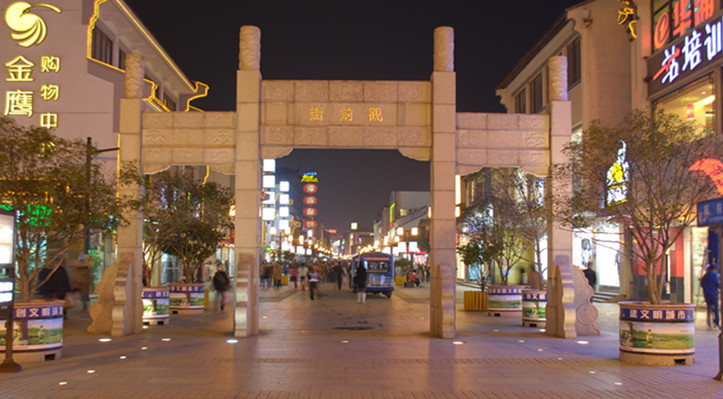 Brief Introduction of Guanqian Street
Guanqian Street is a pedestrianized shopping street in Suzhou, Jiangsu Province, China. The street is located in the Suzhou city centre, an area covering 0.52 square kilometres, the commercial part of the city. After one-century ups and downs, Guanqian Street has been becoming a commercial, cultural, religious and travel center with rich local color, sound traffic network, perfect infrastructure, rational overall commercial arrangement and excellent investment environment. Besides, the street has been honored as the one of the Four Most Famous Walking Streets in China (other three: Nanjing's Fuzimiao, Shanghai's Cheng Huang Miao and Beijing's Tianqiao).
History of Guanqian Street
Guanqian Street is an old street consisting of a Grand Taoist Building group, which has a long history of more than 1300 years. The Temple of the Lord has 9 rooms and its name is Sanqing Temple. Besides, there are about ten temples along the street. The street is named for a temple—Xuanmiao Temple, which is on the street, because it is in front of the temple. Since the Qing Dynasty, all sorts of shops with different brands and dozens of department stores were gathered here. This street has existed since 1930 and has been renovated many times since then. On June 1982, the street was designated by the municipal authority as a "walking street"and a new night market was established. In year 1999, Suzhou Municipal Government reconstructed this famous street, which infused this ancient street with fresh blood. The present Guanqian Street remains the original style expect that it is more prosperous.
What to see
Layout
Guanqian Street is located in the city center of Suzhou with a length of 760 meters from east to west, covering an area of 0.52 square kilometers. The street itself is several hundred metres long, but the Guanqian Jie shopping area actually extends far beyond the street itself. The street can be divided into three sections: east section, middle section and the west section. The eastern part is filled with historical ancient buildings. The middle is mainly the temples. There are fashionable shops throughout the western part.There are a bunch of time-honored shops like Songhelou, Caizhizhai, Sanwanchang, Deyuelou and Huangtianyuan. A slew of fashionable stores, chic shops and quality restaurants line the street. The street has become a pastime, a must see attraction in Suzhou.
Features
Catering street
Its catering street, which is located between Taijian Lane and Bifeng Lane, is well-known for Suzhou-style Dishes. A lot of the tourists visiting Guanqian Street just come to enjoy the delicious food. The Pine and Crane Restaurant, Cai Zhi Zhai and Huang Tian Yuan are all located here. Others, including Lu Gao Jian, which is noted for its unique meat products, and Sheng Chun Yang, which sells high-quality hams, are also famous in the city. If food is not on your shopping list, you can visit the Heng Fu Silverware Shop, which was founded in the Qing Dynasty (1644-1911) and enjoys an excellent reputation in China
Traditional goods
The street is home to many time-honored brand stores operating the traditional cakes, tea and silk, which gain an international reputation. Chinese silk embroidery and Suzhou's fabulous brocades are of particularly high quality, the most famous among them patterned after a style prominent during the Song Dynasty. Handcrafted silk fans carved out of sandalwood are another Suzhou local product, as are decorative writing brushes. Many cities in southern China have a local form of tea for which they are well-known, and Suzhou is no exception- keep your eye open for biluochun tea – the Kangxi Emperor loved it, and it's priced accordingly! Precisely, the existences of those century-old shops that make the Guanqian Street not only become a class commercial street, but also reflect the culture and history of Suzhou.
Shopping area
Shopping in Suzhou would be happy things to do for travellers. Whether you're looking to buy a silk dress, some tacky souvenirs or a new laptop battery, the best place for shopping in Suzhou is Guanqian Street. Starting off downtown, Guanqian Jie has long been lauded by locals as Suzhou's main shopping area. In a way that's true, but it's mostly for tourists. The notable places that are worth the visit are the stationery store on the second floor of the sports clothing store, at the middle entrance of Guanqian (near the train ticket office), and the oddly named Moman, and underground collection of shops selling gifts and accessories. You can find the staircase leading down to it in a small park across from U-Town, the main electronics market downtown. For fashionable clothing, the Golden Eagle Shopping Center, located at No.1 Guan Qian Street, is your best choice. Sofitel Hotel and Youngar Hotel are nearby and provide pleasant accommodation.
Transportation
Bus Routes: All buses to downtown. You can bus it since there are numerous bus lines running past Guanqian Street: Tourist Bus line Bus 1, 2, 4; Public Bus 1, 101, 102, 103, 33, 38, 313, 146 and the list could be much longer.
Taxi Routes: Take a taxi to downtown.
Walking Routes: Walk to Guanqian Street which is walking distance within the city proper of the old Suzhou city.
Information
1.Opening Time: All day, night market in the evening,all seasons, year around.
2.Admission Fee: Free access
3.Address: Downtown of the city, Suzhou, Jiangsu, China