Day 1
Place&Transport: Arrive in Suzhou
Today's Activities: Lingering Garden, Suzhou Museum, Panmen Gate, Shantang Street, Kunqu Opera Museum
Accommondation: 4 Stars Hotel in Suzhou (Can be customized)
Meal: N/A
Pick up service is arranged at Suzhou train station or the lobby of your hotel, you will find a welcome signage "Suzhou Private Tour".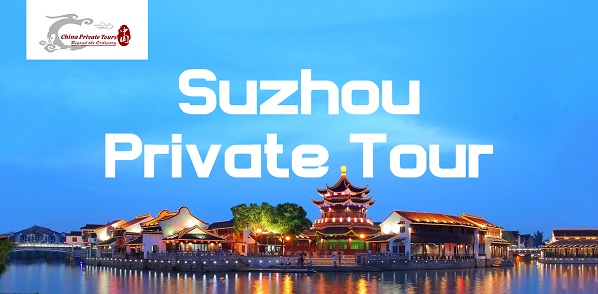 Our pick up sign" Suzhou Private Tour"
Your day tour starts at the Lingering Garden, a UNESCO World Heritage Site and one of the city's finest classical gardens. It has been listed as one of the four most famous national classic gardens together with the humble administrator's garden, the Summer Palace and Mountain Summer Resort in Chengde are called China's four largest gardens. Landscape architectural space processing is very exquisite, using a variety of artistic techniques, built a unique space system, becoming one of the world civilization examples of architectural space art processing. Wander through the trails and portals of this delicately-planned garden that carefully combines traditional Chinese architecture with natural beauty.A good place to let your mind and body rest.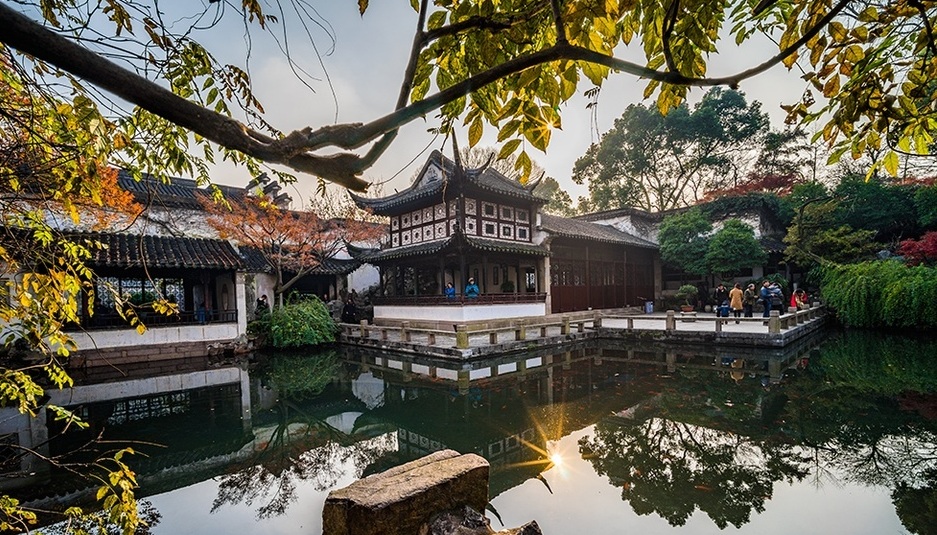 Then visit the Suzhou Museum, which is founded in 1960 and originally located in the national historic landmark, Zhong Wang Fu palace complex, Suzhou Museum has been a highly-regarded regional museum with a number of significant Chinese cultural relics. The new Suzhou museum designed by world famous architect I.M.Pei was completed in October 2006.
After lunch at a great local restaurant, continue your tour to the Panmen Gate. 'water gate'- small forts that opened for both land and water tariff. And it is the oldest one preserved in China today.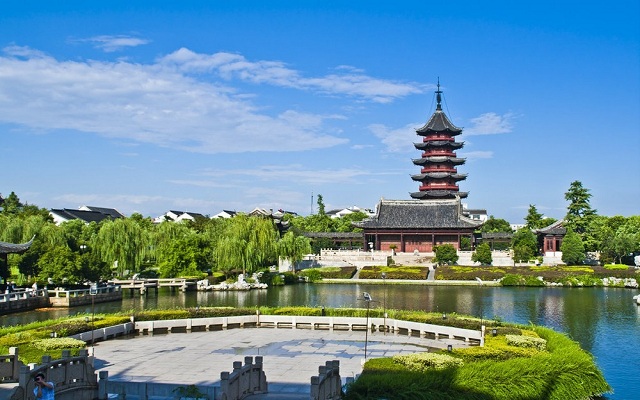 Then visit Shantang Street, it also called Seven-mile Shantang, is located in the northwest of Suzhou, and the total length of it is about seven li (3.5 kilometers). Shantang Street in Suzhou attracts many tourists from home and abroad. Most of them prefer traveling along the canal, enjoying beautiful scenery. Owing to its distinguished geographic location and convenient water and land transportation, Shantang Street was one of the streets which trade and culture were most highly developed in Ming and Qing dynasties, regarded as "the No.1 Ancient Street in China". The renovated Shantang Street becomes the place which shows the essence of natural views and human landscapes of Suzhou, which is rated as "the miniature of old Suzhou and the window of Wu culture". There is a folk song, singing "There is a paradise in heaven, but there are Suzhou and Hangzhou on the earth. Hangzhou has the West Lake while Suzhou has Shantang. Both are good places with boundless sceneries", which is the vivid image of Shantang.
Kunqu Opera Museum, Kunqu is one of the oldest extant forms of Chinese opera, which said to be the "ancestor of all operas" in China. It evolved from the Kunshan melody, and dominated Chinese theatre from the 16th to the 18th centuries.
Drive you back to your hotel in Suzhou.
Day 2
Place&Transport: Suzhou
Today's Activities: Tiger Hill, The Master of Nets Garden, Boat Ride on Grand Canal, No.1 Suzhou Silk Mill
Accommondation: 4 Stars Hotel in Suzhou (Can be customized)
Meal: N/A
After breakfast, you will take in the sights at famous Tiger Hill, which boasts impressive rocks, deep dales, 3 matchless scenes, 9 suitable occasions for enjoyment, 18 scenic spots,and changing scenery at all times.
Take in the sights at The Master of Nets Garden, a UNESCO World Heritage Site and well-renowned garden. It is the smallest of the Suzhou residential gardens, yet it is the most impressive because of its use of space which creates the illusion of an area that is much greater than its actual size. The garden is divided into three sections: a residential section, the central main garden and an inner garden. It also boasts an impressive garden and nightly Kunqu opera performances, but it's best known for its architectural splendor. The garden is especially fancied by overseas visitors and is praised as the most ornate and intact private gardens in Suzhou.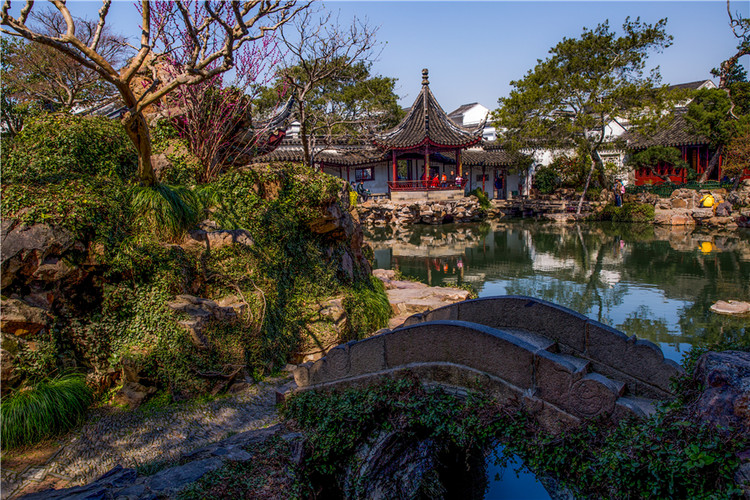 Then you will have a chance to take a private cruise on the Grand Canal. It also known as the Beijing-Hangzhou Grand Canal), a UNESCO World Heritage Site, is the longest canal or artificial river in the world and a famous tourist destination. Starting at Beijing, it passes through Tianjin and the provinces of Hebei, Shandong, Jiangsu and Zhejiang to the city of Hangzhou, linking the Yellow River and Yangtze River. The canal is a communication artery connecting north and south China, it is the oldest and longest artificial waterway in the world. The Grand Canal Suzhou Section refers to the part from Wuqi Bridge (the border of Suzhou and Wuxi) to Yazi Ba (the border of Suzhou and Zhejiang Province), which covers around 82.35 km. Suzhou Section is the essential part undertaking freight transport on the canal. The Grand Canal in Suzhou, with wide surface, abundant and crystal clear water, has been the best part of the Grand Canal for shipping. The old canal is about 35km long from Hushu Pass to Wujiang City, running through the centre of town and there is a network of smaller canals and passageways. It is a wonderful example of a waterside town with whitewashed and black-tiled-roof houses and small bridges.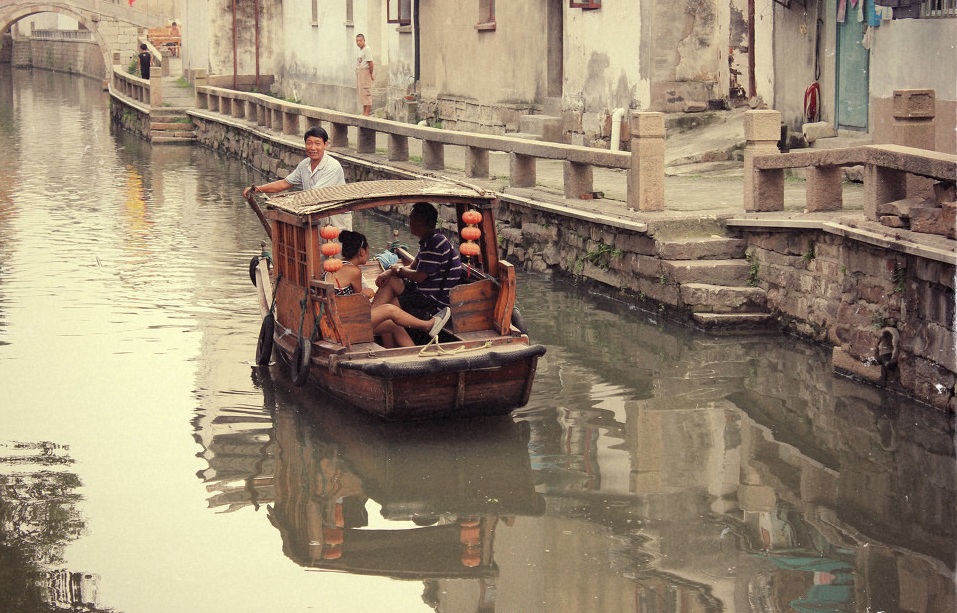 Visit the Suzhou No. 1 Silk Mill. Suzhou has a long and rich history of silk culture, including mulberry tree and silk worm cultivation and turning raw silk into beautiful fabric. The Suzhou No. 1 Silk Mill more like a museum which shows you how the silk is made from cocoons from the beginning and the whole silk process. Not to be missed
Drive you back to your hotel after the tour
Day 3
Place&Transport: Suzhou
Today's Activities: Humble Administrator's Garden, Hanshan Temple, Canglang Pavilion
Accommondation: 4 Stars Hotel in Suzhou (Can be customized)
Meal: N/A
Your tour will start with Humble Administrator's Garden, a UNESCO World Heritage Site and one of the finest gardens in southern China. The art of the Humble Administrator's Garden has a prominent position in the history of China's garden creation. It represents the historical characteristics and achievements of south-east China's private gardens.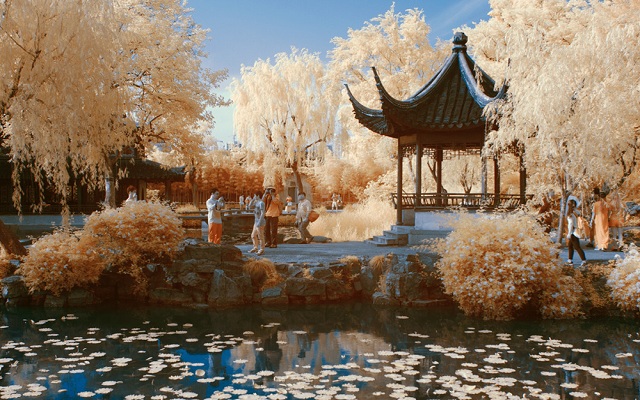 After Lunch, pay a visit to Hanshan Temple (Cold Mountain Temple) near the town of Fengqiao. Made famous in a poem by Tang Dynasty poet Zhang Ji, this Buddhist temple is known for its large bells, unique black roof and domed bridge. Take a wander around its halls, pavilions, corridors and well-maintained gardens. A good place to let your mind and body rest.
Continue your tour to Canglang Pavilion, which is variously translated as the Great Wave Pavilion, Surging Wave Pavilion, or Blue Wave Pavilion, is one of the Classical Gardens of Suzhou that are jointly recognized as a UNESCO World Heritage Site. It is the oldest among the existing classical gardens in Suzhou and also one of the four most famous gardens in the city -- the others being the Shizilin (Lion Grove), Zhuozhengyuan (Humble Administrator's Garden) and Liuyuan (Lingering Garden). Situated in the southwest quadrant of the city, it is located directly to the west of the Confucian temple. The garden underwent numerous renovations in the centuries to follow, but retains its essential form.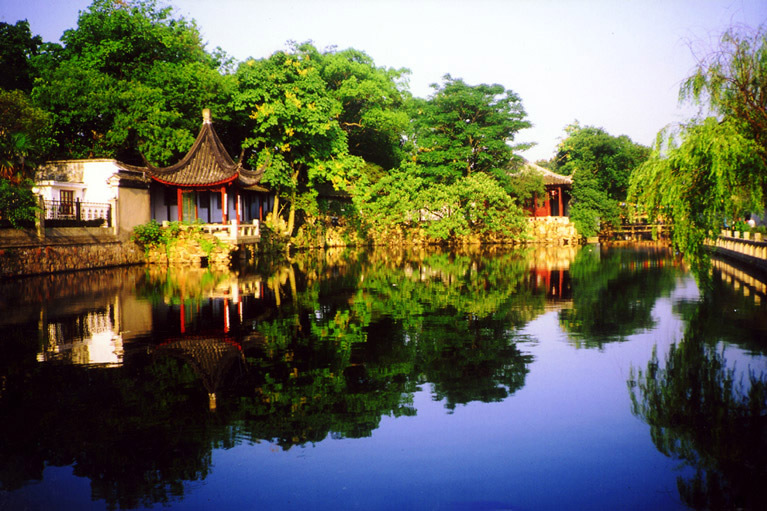 After finished that, your 3-day tour in Suzhou come to the ends and you will be taken back to your hotel in Suzhou or Suzhou train station.
Price Per Person in US Dollars