Tour Itinerary
Place&Transport: Suzhou
Today's Activities: Jinji Lake, Ligong Causeway, Ferris Wheel Amusement Park, Moonlight dock, Culture and Art Center, "The gate of East"
Accommondation: N/A
Meal: N/A
In the morning, you will be picked up at your hotel lobby in Suzhou downtown or meet you at the public bicycle service with a welcome signage "Suzhou Private Tour", then rent a bike.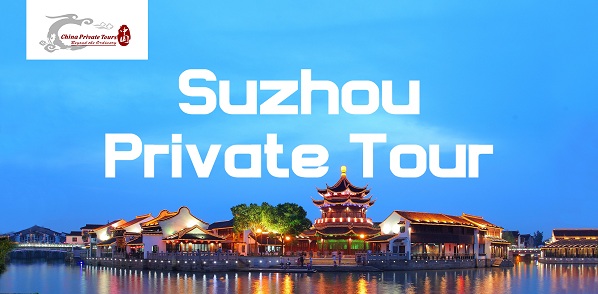 Our pick up sign "Suzhou Private Tour"
The tour start directly to the scenic Jinji Lake. Jinji Lake, also refer to Golden Rooster Lake. It is the fresh water lake located in the central part of Suzhou Industrial Park. It occupies an area of 7.18 square kilometers with an average depth of about 2.5 to 3 meters, and is the largest inland city lake in China. Located in Jinji Lake are two man-made islands, Peach Blossom Island and Exquisite Island.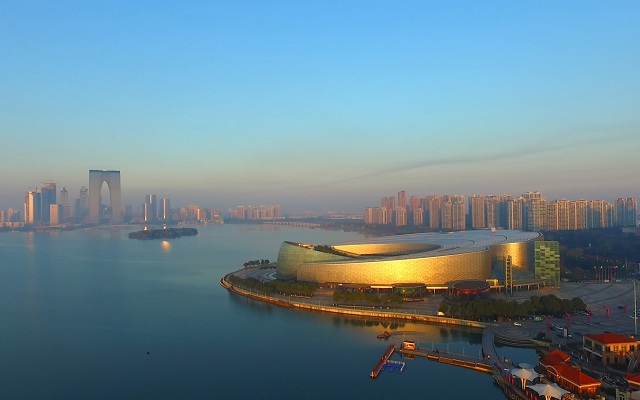 Today you will pass by Ligong Causeway, here you will see the locals doing morning practice, like Taiji, it's a walking road, very relaxed. Then you will pass the Ferris Wheel Amusement Park, which is close to Time Square where you canfind local shopping mall, try local authentic, delicious food and get into the Ferris Wheel Park for fun. Next, cycling to the Moonlight dock, there are many fancy hotels, it's a popular place for locals hold weddings, have a break here enjoy the beautiful scenery and you may see wedding couples if you are luck, aha. Besides, around the Jinji Lake, you will see Culture and Art Center, the architecture is amazing also here you will have a chance to see the future Suzhou new landmark--"The gate of East".
Returns to the bikes and drop you off your hotel lobby or the place where you meet with the guide and your tour ends.
Remark: Prepare Sun Cream, comfortable sneakers and gloves.
If you visit Suzhou from Shanghai, there are some useful Tips for you to Puchase Train Ticket:
From Shanghai to Suzhou:
Option 1: G7104 Shanghai Hongqiao Station to Suzhou Station: Depart at 08:54AM and arrive at 09:30AM
Option 2: G7006 Shanghai Station to Suzhou Station: Depart at 09:00AM and arrive at 09:25AM
Please choose one of the above options according to your hotel location
From Suzhou to Shanghai
Option 1: G7119 Depart at 17:56 from Suzhou Station and arrive at Shanghai Hongqiao Station at 18:32
Option 2: G7243 Depart at 18:02 from Suzhou Station and arrive at Shanghai Station at 18:27
There are some popular Biking Routes in Suzhou as below:
1. ??????
Route: Yangchenghu Dadao-Yangchenghuan Road-Chongyuan Temple-Ciyun Road-Lianchihu Road-Cycle Track (Chinese: ?????--????--???--???--????--??????)
As one of the greatest cycling routes in Suzhou, this cycling track is well-designed. Check out Yinxian Lake Park, Lianchi Lake Park as well as Yunshan Lake Park along the way, all for free.
How to get there
Bus route: Take No. 127, 129, 161, 169, 176, 238 and get off Jinlin Road stop (????).
2. Dongshan Tai Lake ??????
Route: Wuzhong Dadao-Hubin Road-Qi Garden-Dongshan Roundabout
(Chinese: ????--????????--????--??????)
The gorgeous scenery around Tai Lake is unbeatable. On the 20km roundabout, you can enjoy the landscape, ancient buildings and a hidden Zijin Nunnery.
3. Xishan Tai Lake ??????
Route: Suzhou Amusement Park-Mudu-Xikou-Tai Lake-Jinting-Yuyang Mountain-Taihu Sanqiao-Xishan Roundabout
(Chinese: ????--??--??--????--????--?????--????--??????)
Taihu bridge is the highlight of this route. Shigong Shan Scenic Spot, Mingyue Wan Historic Town and Piaomiao Summit are also worth exploring.
How to get there
Bus route: Take No. 69 and get off Xishan stop.
4. Suzhou Old District ??????
Route: Pingjiang Road-Humble Administration Gardon-Suzhou Museum-Beita Towel-Taohua Wu-Chang Gate-Shantang Street-Huqiu Road
(Chinese: ???--???--?????--???--???--????--(???)???--???)
The most accessible and convenient route, where you will pass by the most familiar tourist attractions and observe them from another perspective. If you go cycling at night, the experience would be even more special.
5.Shu Mountain and Yang Mountain ??????????
Route: downtone-Suzhou Amusement Park-Fengqiao Huashan Road-White horse Alley-Taihu Dadao-Dongyangshan Road-Shanshenwan Road-Guanshan Road West-Shushan Village
(Chinese: ??--????--?????--????--????--????--????--?????--???)
This is another route that will make you feel close to nature. White Horse Alley is great for tulips and Sushan Village is famous for its pear blossom.
Price Per Person in US Dollars