Tour Itinerary
Place&Transport: Suzhou
Today's Activities: Suzhou Silk Museum, Suzhou Museum, Guanqian Street, Pingjiang Historical Road
Accommondation: N/A
Meal: N/A
In the morning, our tour guide will pick you up at the exit of the Suzhou train station, you'll find a welcome signage "Suzhou Private Tour". Day trip from Shanghai to Suzhou includes the following attractions and activities. (We provide priavte transfer from your Shanghai hotel to Shanghai train station as well, feel free to let us know if you have any requirements, this tour is very flexible for you.)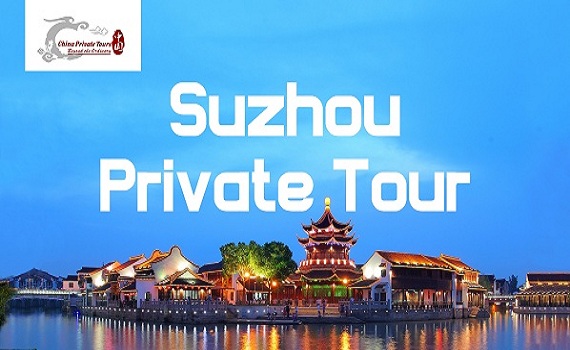 Our Suzhou Pick Up Sign "Suzhou Private Tour"
Your adventure will begin with Suzhou Silk Museum. Suzhou is not only famous for Chinese classic gardens, also reknowned as the home of silk. Suzhou has been the center of silk products in China; and in Ming (1368~1644) and Qing (1644~1912) Dynasties, most of high quality silk fabrics for royal families were made in Suzhou. Hence, Suzhou is called "the City of Silk". Suzhou Silk Museum is the first museum that specializes in silk in China which well demonstrates the thousand years' Chinese silk history, displays silk relics, fragments, garments, tapestry, brocade and shows traditional silk-weaving skills in the silk weaving workshop. You'll have a full understanding about Chinese silk in Suzhou.
Art of Silk
Su Embroidery: Su embroidery derives its name from the abbreviation for Jiangsu Province, wichi is also the "Su" in the provincial capital Suzhou. Su embroidery is categorized into Preand Post Ming Dynasty, when Su embroidery was influenced by both Japanese and Western art, absorbing these and changing forever. Su embroidery features rich colors, inspiring designs, refined needlework, smooth finish and realistic presentation. It is also known for its characteristic stitching techniques and use of split silk threads. For instance, Su embroiderers usually split a hair-thin silk thread into two to 16 thinner threads. Different thread thicknesses are used for different parts of a subject in embroidery to create subtle shades, smooth color transition and a lifelike effect.
Song Brocade
Song Brocade, as its name implies, is a kind of brocade developed during the Song Dynasty, it's mainly produced in Suzhou, hence the name. Song Brocadeis used for picture mounting or to make court costumes. It reached it peak from 14th to 19th century. Unlike any other silk fabric, Song brocade is very wear-resistant and it can be washed repeatedly. It is applied to make curtains, clothes, bedding, purses, scarves, ties, handcrafts and etc.
Suzhou Song Brocade is characterized by it bright color, exquisite patterns, and solid but soft texture, and has been acknowledged as one of the three types of celebrated brocade in China, together with Yun Brocade of Nanjing and Shu Brocade of Sichuan.
Next to Suzhou Museum. Suzhou Museum is located in the national historic landmark, Zhong Wang Fu Palace complex, it has been highly-regarded regional museum with a number of significant Chinese art, ancient Chinese paintings, calligraphy, and handmade crafts. The new Suzhou Museum designed by world famous architect I.M.Pei who was Chinese-born American architect noted for his large but elegantly designed urban buildings and complexes. The design of the museum takes its cues from the rich vocabulary of Suzhou's traditional architecture, with its whitewashed plaster walls, dark grey clay tile roofs and intricate garden architecture. However these basic elements have been reinterpreted and synthesized into a new language and order, one that is contemporary and forward looking and hopefully one that is a possible direction for the future of Chinese modern architecture
Continue your tour to Guanqian Street. There are numerous of time-honored resturant on this street. Such as Caizhizhai. Founded in Qing Dynasty, Caizhizhai is famous for its Suzhou-style traditional food, together with Beijing cuisine, Guangdong Cuisine, are the most famous cuisins in China. The traditional products of Caizhizhai including Five sets: Suzhou-style sweets, pastries, roasted nuts and seeds, Suzhou-style candied fruit and salted products, more than 300 varieties. Many of them, especially the crunchy candy, sesame pastry, pyramid-shaped candy made by Caizhizhai had already been the well-known Suzhou local products. Our guide will give you good recommendations on spot.
Your last stop is Pingjiang Road. For an authentic taste of city life in old Suzhou, a stroll down Pingjiang Historic Street, which is a great way to get acquainted with the local vibe. Quiet, leafy and slow-paced, the street is lined with old Chinese houses as well as restaurants and teahouses serving traditional foods and drinks. Here you guide will take you to the local tea house where you could enjoy the Kunqu opera & Pingtan show. Suzhou is the cradle of Kunqu Opera. Aimed at the protection and promotion of Kunqu Opera, the Chinese Kunqu Opera Museum mainly serves as a platform for the collection, research, exhibition and performance of Kunqu Opera, where not only the cultural relics and documents of Kunqu Opera are displayed, but also the performance of Kunqu Opera is presented. Pingtan refers to storytelling and ballad singing in Suzhou dialect. It is a traditional form of monologue storytelling in Suzhou dialect, and is representative of Suzhou dialect.
After your tour ends, drive you to your hotel or Suzhou train station.
Some useful tips for you to purchase train tickets between Shanghai and Suzhou:
From Shanghai to Suzhou
Option 1: G7104 Shanghai Hongqiao Station to Suzhou Station: Depart at 08:54AM and arrive at 09:30AM
Option 2: G7006 Shanghai Station to Suzhou Station: Depart at 09:00AM and arrive at 09:25AM
Please choose one of the above options according to your hotel location
Suzhou to Shanghai
G7119 Depart at 17:56 from Suzhou Station and arrive at Shanghai Hongqiao Station at 18:32
G7243 Depart at 18:02 from Suzhou Station and arrive at Shanghai Station at 18:27
Price Per Person in US Dollars