Tour Itinerary
Place&Transport: Suzhou
Today's Activities: Shushan Mountain, Could Spring Temple
Accommondation: N/A
Meal: N/A
In the morning, our Suzhou local guide will pick you up at your hotel lobby in Suzhou downtown or Suzhou train station, you will find a welcome signage "Suzhou Private Tour" and drive you to Shushan mountain and celebrate the Shushan Pear Festival with locals.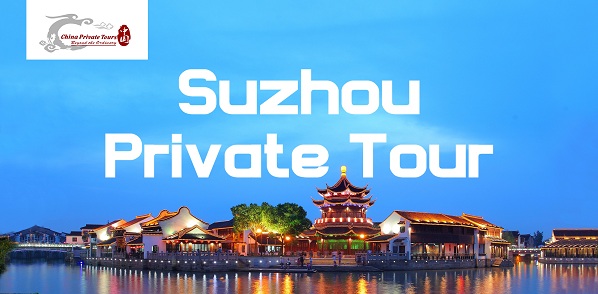 Our Suzhou pick up signage"Suzhou Private Tour"
Overview
Shushan, located in Shushan village, Tongan town, Gaoxin district, Suzhou. It's regarded as one of the most beautiful fileds and gardens. The whole village endowed with rich resources, profound culture and plenty of historical heritage, which attracts many visitors come for a visit. The Shushan Pear Culture Tourism Festival will be held here every year on 24th Mar to 30th Apr.
Shushan Pear Culture Tourism Festival is featured with the local characteristic of painting and calligraphy art industry and attracts visitors to participate in the group to find out humanistic connotation, themed as Shushan Mountain, Pear, Hot Spring and Tea with the combination of ecological environment, leisure, health and culture and other elements. The pear filed in Shushan covers an area of 1,600 acres, during spring, the pear blossoms on time, as white as snow, pure and elegant, has the fame of "The Sea of Pear", the view is very fascinating, really worth to go.
The activities during Shushan Pear Culture Tourism Festival
1. 7km of Musical Running Activity
Time: 24th Mar
Address: 7KM running path
This is the first large-scale anime music of running activities, besides there are COSPLAY contest, seven types of fashion music and other activities.
2. Suzhou Casks Folk Custom Culture Tour
Time: Whole Year
Address: Shushan commercial street tourism center
Today you will have a chance to learn how to use the Suzhou typical barrels and the local folk custom by the real construction. There are plenty of pictures to show you the craftwork to make the traditional barrel and the function.
3. Enjoy hot spring, tasty food and farm stay
Time: 24th Mar—30th Apr
Address: Shushan Village
Enjoy the banquet themed as pear in the farm stay, talk with locals and get close to the local's life, after lunch, go to the fascinating hot spring to relax.
4. Bless Could Spring Temple
Time: 24th Mar—30th Apr
Address: Cloud Spring Temple (Yunquan Temple),Shushan village
There are three pujas in total during the festival, buddhists and visitors will copy the scribe and pray for their familys in such peaceful place.
5. Could Spring Vegetarian Market
Time: 24th Mar—30th Apr
Address: Could Spring Temple
There are various of food made of vegetarian diet offerred by the vegetarian team from Chongyuan Temple.
After finished that, drive you back to your hotel in Suzhou downtown or Suzhou train station and your tour ends.
If you visit Suzhou from Shanghai by train
There are some useful Tips for you to Puchase Train Ticket:
From Shanghai to Suzhou:
Option 1: G7104 Shanghai Hongqiao Station to Suzhou Station: Depart at 08:54AM and arrive at 09:30AM
Option 2: G7006 Shanghai Station to Suzhou Station: Depart at 09:00AM and arrive at 09:25AM
Please choose one of the above options according to your hotel location
From Suzhou to Shanghai
Option 1: G7119 Depart at 17:56 from Suzhou Station and arrive at Shanghai Hongqiao Station at 18:32
Option 2: G7243 Depart at 18:02 from Suzhou Station and arrive at Shanghai Station at 18:27
You can ask your hotel help you book it or you can book it online by yourself. (Ctrip is ok)
Note: Plz book the train ticket in advance in case sold out, especially on weekend or public holiday
Price Per Person in US Dollars