Tour Itinerary
Place&Transport: Suzhou
Today's Activities: Taijian Lane, Shiquan Street, Shantang Street
Accommondation: N/A
Meal: N/A
In the morning, our guide will pick you up at your hotel lobby in Suzhou or Suzhou train station with a welcome signage "Suzhou Private Tour". One day tour in Suzhou includes the following activities: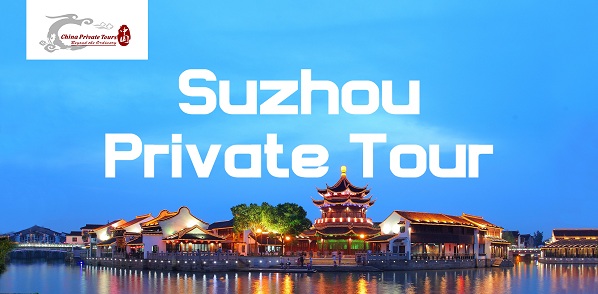 Our pick up sign"Suzhou Private Tour"
Taijian Lane(Eunuch Lane): You will start your tour with Guanqian Street, the most bustling street in Suzhou, there is Taijian Lane, with a length of more than 200 meters. Historical records reveal that two eunuchs of the Ming Dynasty once lived here, hence the name. Now the lane has become a famous food street in Suzhou with more than 10 renowned restaurants, such as Songhe Lou Restaurant, Deyue Restaurant, Wangsi Restaurant, Wufangzhai Restaurant and Zhuhongxing Restaurant. A local saying goes: "Suzhou is a paradise on earth, and Taijian Lane provides the best food".
Shiquan Street: There strew many Ming-and-Qing-Dynasty-style architectures including characteristic restaurants and craftwork shops, such as restaurant dealing in fish-head soup, teahouse featured culture and catering of Wu ,mountain-city chaffy dish with west China flavor, Japanese Restaurant, Korean Restaurant, Korean barbecue, Guangzhou-style dish,Huaiyang-style dish, etc, which are scramble for by both home and oversea travelers
Phoenix Street: Phoenix Street borders Ganjiang Road that runs from the east to the west of Suzhou in the north, and Shiquan Street which features hotels, teahouses and arts and crafts. Less than 1,000 meters long, Phoenix Street has several dozens of restaurants, which serve mainly Su-style cuisine, as well as Sichuan and Zhejiang cuisines. The restaurants are small in size, with several to more than 10 tables. All the restaurants pay particular attention to preparing home-style dishes and keep promoting meticulously prepared seasonal dishes with small containers, making customers feel at home while tasting delicious food.
Famous restaurants recommended:
1、Pine Crane Restaurant: Song He Lou (The Pine and Crane Restaurant) built in 1737 with a history over 250 years of history. It is the equivalent of Hangzhou's Louwailou and Beijing's Quan Ju De. Both household and upscale Suzhou traditional dishes are served here. In 2007, the famous wuxia writer, Jin Yong, at the age of 84 visited Song He Lou again and tasted the local cuisine. He inscribed for this old restaurant – This time-honored restaurant still looks young though experiences a lot, and looks like the evergreen pine trees and the cranes with a capacity of longevity. Here are the five most popular signature dishes in the restaurant: Squirrel-Shaped Mandarin Fish, Qingchao Xiaren (fried shrimp meat), Xiangyou Shanhu (stir-fried mud eel), Yinyu Chuncai Tang (silver fish and water shield soup) and Xiehuang Doufu (bean curd with crab roe).
2、Deyuelou Restaurant: This restaurant specializes in the traditional Suzhou style of simmering, braising and stewing, but its menu features more than three hundred dishes all year round. Famous spring dishes include turtle stewed in clear soup, preserved and fresh pork simmered with crisp bamboo shoot, cherry-flavored pork; summer dishes include chicken steamed in a water-melon, steamed hilsa herring, and pork steamed with rice flour wrapped up in a lotus leaf; autumn dishes include crucian carp stewed in clear soup, sweet-and-sour mandarin fish braised in the shape of a squirrel; winter dishes include spicy marinated meat and black carp braised in fermented rice,
If you visit Suzhou from Shanghai by train. There are some useful tips for Puchasing Train Ticket:
Shanghai to Suzhou:
Option 1: G7104 Shanghai Hongqiao Station to Suzhou Station: Depart at 08:54AM and arrive at 09:30AM
Option 2: G7006 Shanghai Station to Suzhou Station: Depart at 09:00AM and arrive at 09:25AM
Please choose one of the above options according to your hotel location
Suzhou to Shanghai
Option 1: G7119 Depart at 17:56 from Suzhou Station and arrive at Shanghai Hongqiao Station at 18:32
Option 2: G7243 Depart at 18:02 from Suzhou Station and arrive at Shanghai Station at 18:27
Price Per Person in US Dollars