Summary
When mentioning Suzhou, most people generally think of classical Chinese gardens and historical water towns. In fact, Suzhou is no longer a small water town, having already developed into a dynamic modern metropolis. When visiting Suzhou, a simply visit to the gardens would miss out everything else the city has to offer. You could visit the industrial park or the new developed area to experience the other side of the city. Or you could do as the locals do and take a trip to Suzhou Amusement Land, Lake Tai or Jinji Lake for a fun or relaxing time. Suzhou New City Day Tour is designed for travellers who are interested in the modern highlights of Suzhou.
Tour Itinerary
Place&Transport: Suzhou
Today's Activities: Jinji Lake, Ligong Causeway, Zhongshuge Book Store, Suzhou Culture & Arts Center, Ferris Wheel
Accommondation: N/A
Meal: N/A
In the morning, our local Suzhou tour will pick you up at your hotel in Suzhou downtown or Suzhou train station, you will find a welcome signage "Suzhou Private Tour". And your Suzhou tour start as below: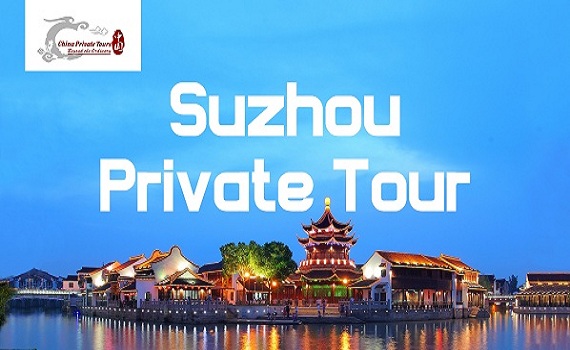 Our Suzhou Pick Up Sign "Suzhou Private Tour"
Your first destination is Jinji Lake. Jinji Lake is located in the central part of Suzhou Industrial Park, Jiangsu, China, it was once a part of vast Taihu Lake. Now Jinji Lake has become China's largest urban lake and park and a symbol of a "new paradise on earth" in the city of Suzhou. It is 1.8 square kilometers larger than West Lake in the city of Hangzhou, covering an area of 7.18 square kilometers and its average depth is about 2.5 to 3 meters. There are two man-made islands in the lake. Design work on the lake area was done by EDAW, a United States architectural firm that has worked with Disney theme parks, there are some scenic spots with its own unique characteristics and charming.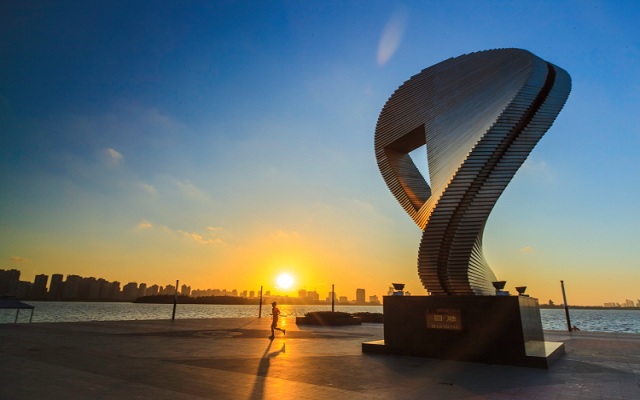 Then take a leisure walk to Ligong Causeway. Ligongdi, or Ligong Causeway, the scenic historical causeway, with a total length of 1,400-meter-long dike built along the famed Jinji Lake, got its name after the family name "Li" of its creator Li Chaoqiong, during the reign of Emperor Guangxu of the Qing Dynasty (1644-1911). It is a main waterfront leisure and entertainment area with various tourist resources and prosperous streets of catering and bars, has become one of the most important landmarks in Suzhou.
On the way, you can see pink walls, black tiles, clear water and white waves. The courtyard buildings are standing row upon row, and the charm of water town is expressed through the combination of the layout of ancient Suzhou-style gardens and different patterns of ancient covered bridges and stone bridges.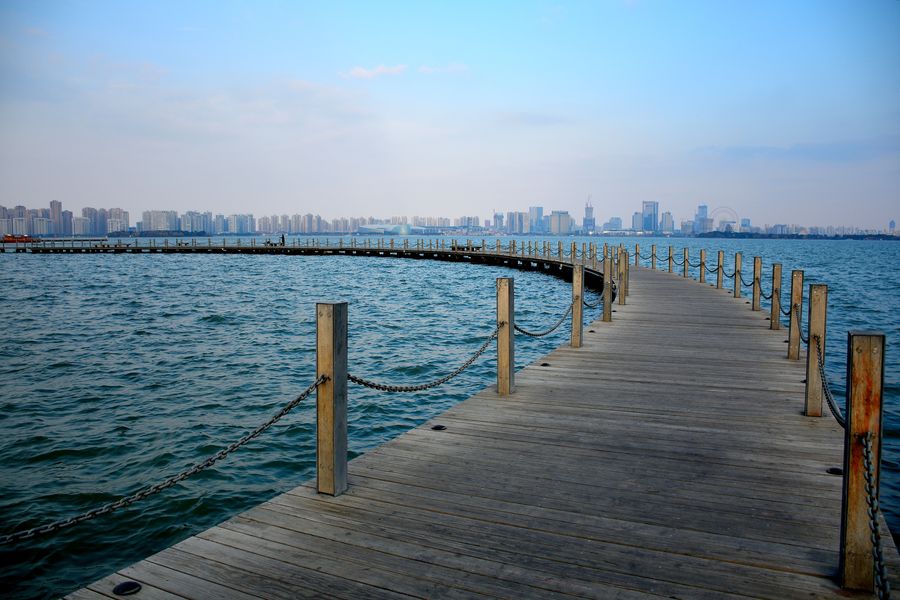 Next to Zhongshuge Book Store. Zhongshuge Book store has put its new branch in Suzhou into trial operation on September 7. With its one-of-a-kind, exploratory designs, China's Zhongshu bookstore chain extends the voyage of discovery beyond the covers of its stock. Its latest outing, in Suzhou, is a rainbow wonderland spanning 1380 sqm across four colourful zones. It is divided into four main zones and several subdivided zones: The Sanctuary of Crystal for new arrivals; The Cave of Fireflies for recommendations; The Xanadu of Rainbows for reading room; The Castle of Innocence for children books. Zhongshu Bookstore now is one of the most beautiful bookstores in China.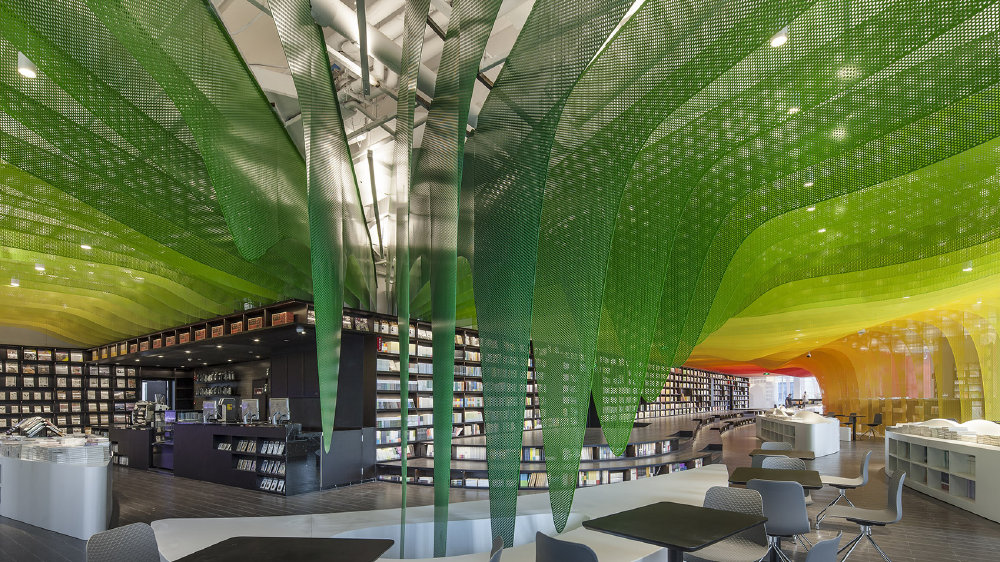 Move on to Suzhou Culture & Arts Center. Suzhou Culture and Arts Center, formerly known as Suzhou Science and Culture Arts Center. It is located to the east of Jinji Lake at Suzhou Industrial Peak, Suzhou, Jiangsu. Covering an area of 138,000 square metre, and its total gross floor area is 150,000 square metres, the center is built near to the water, the building of the center is designed by Paul Andreu, who is a famous architect in the world, the core design philosophy of the building is "a pearl, a wall and a garden". Suzhou Culture and Arts Center is a top place for leisure, shopping, eating and becomes a new landmark of culture and arts.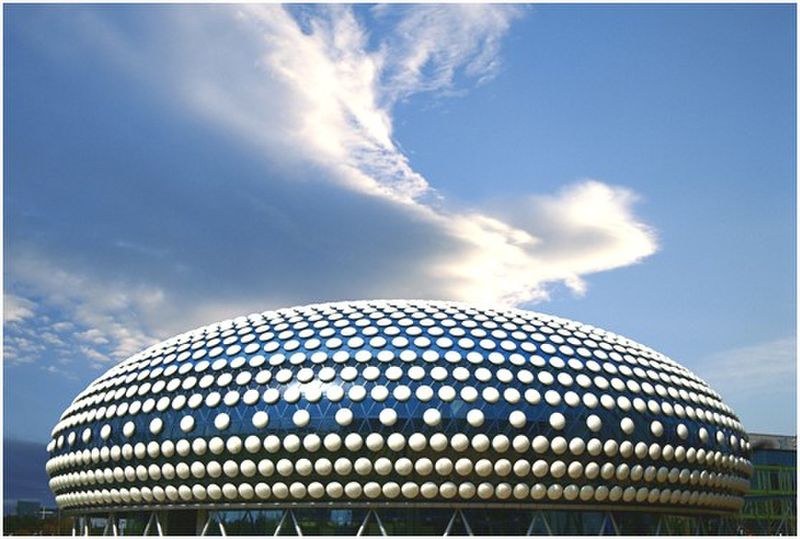 Your final stop is Ferris Wheel. The Ferris wheel is a 120-metre tall giant Ferris wheel on the east bank of Jinji Lake in Suzhou, Jiangsu, China, which is the largest Ferris wheel in Asia. It has 60 passenger cabins, every cabin can be available for six people that make this Ferris wheel very suitable for family tours, the Ferris wheel has the maximum capacity of 300 passengers. It has unique shape and the wonderful flashy lighting effects make it the "Eye of Jinji Lake". Here visitors will find a Huge circular LED screen, which is praised as the "World's No.1 Screen. The Ferris wheel was completed in 2009 and operated immediately until now.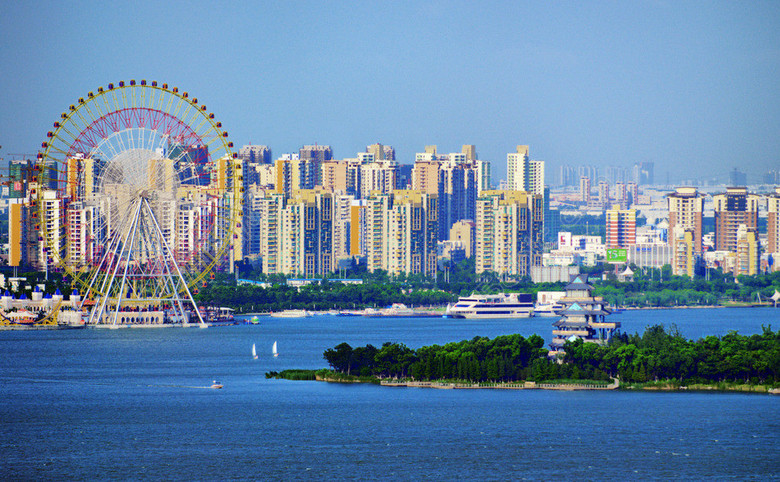 After the tour ends, our tour guide will take you back to your hotel in Suzhou downtown or Suzhou train station. Have a pleasant trip.
There are some useful Tips for you to puchase train ticket if you visit Suzhou from Shanghai:
From Shanghai to Suzhou:
Option 1: G7104 Shanghai Hongqiao Station to Suzhou Station: Depart at 08:54AM and arrive at 09:30AM
Option 2: G7006 Shanghai Station to Suzhou Station: Depart at 09:00AM and arrive at 09:25AM
Please choose one of the above options according to your hotel location
From Suzhou to Shanghai
Option 1: G7119 Depart at 17:56 from Suzhou Station and arrive at Shanghai Hongqiao Station at 18:32
Option 2: G7243 Depart at 18:02 from Suzhou Station and arrive at Shanghai Station at 18:27
You can ask your hotel help you book it or you can book it online by yourself. (Ctrip is ok)
Note: Plz book the train ticket in advance in case sold out, especially on weekend or public holiday
Price Per Person in US Dollars