Summary
Day 1 Arrive in Shanghai
Day 2 Shanghai: Shanghai Museum, Nanjing Road, The Bund, Jinmao Tower, Boat Cruise on the Huangpu River
Day 3 Shanghai: Yuyuan Garden, Zhujiajiao Water Town
Day 4 SHanghai--Huangshan by bullet train: Tunxi Ancient Street
Day 5 Huangshan: Mount Huang
Day 6 Departure Huangshan
Day 1
Place&Transport: Arrive in Shanghai
Today's Activities: N/A
Accommondation: N/A
Meal: N/A
Welcome to Shanghai! Upon your arrival in Shanghai, our Shanghai local tour guide will pick up you at the exit of Shanghai international airport holding with a welcome sign "Shanghai Private Tour" and escort you to your hotel directly. The rest of the day is free on your own to explore Shanghai, which is one of the biggest city in China.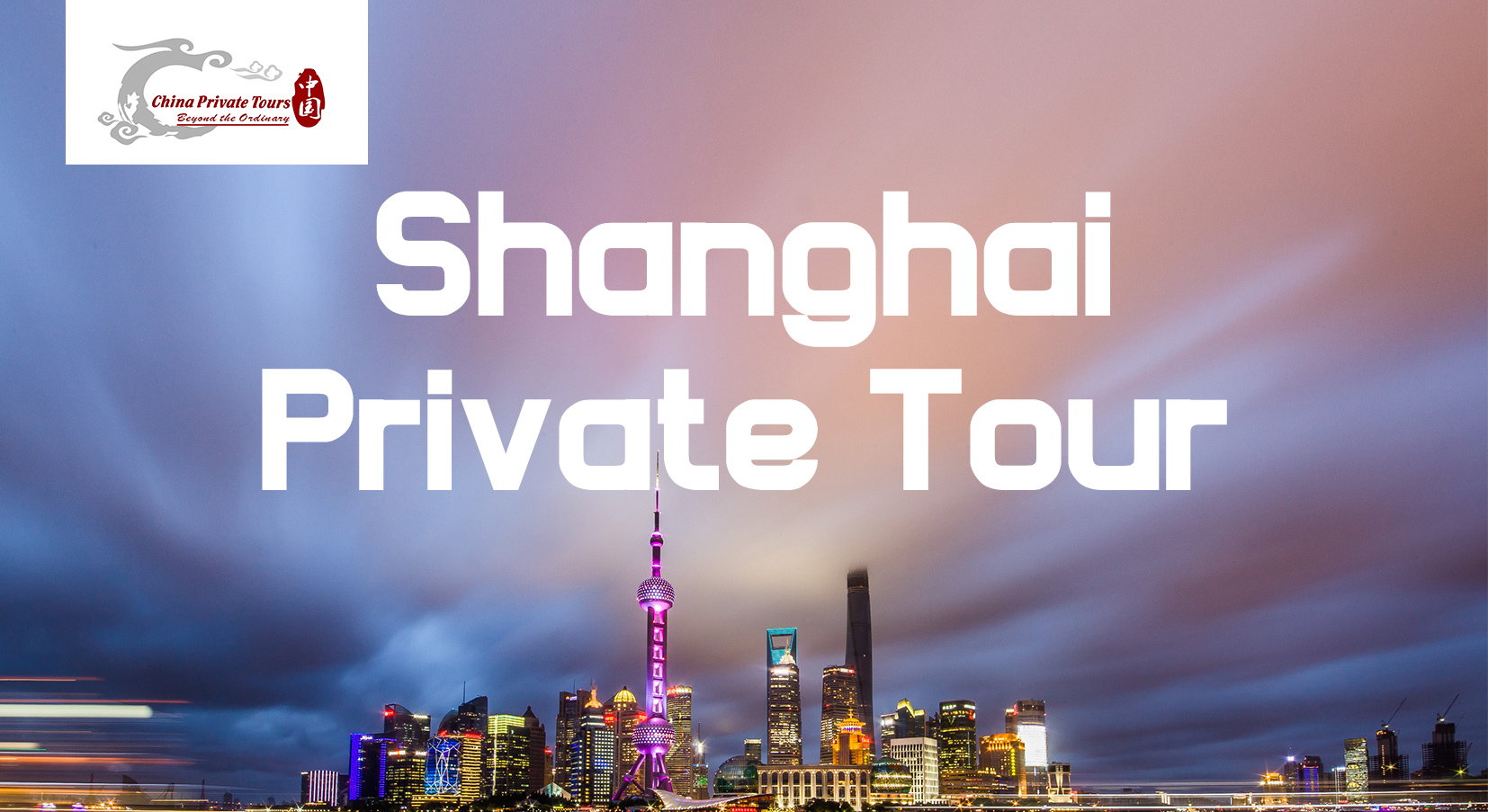 Our Pick Up Sign "Shanghai Private Tour"
Day 2
Place&Transport: Shanghai
Today's Activities: Shanghai Museum, Nanjing Road, The Bund, Jinmao Tower, Boat Cruise on the Huangpu River
Accommondation: N/A
Meal: B, L
In the morning, our Shanghai local guide will meet you at your hotel lobby.
The first stop for the tour is Shanghai Museum, it is a museum of ancient Chinese art, situated on the People's Square in Shanghai. The museum was founded in 1952 and was first open to the public in the former Shanghai Racecourse club house, now at 325 West Nanjing Road,rebuilt at its current location in 1996, it is considered one of China's first world-class modern museums. The museum has a collection of over 120,000 pieces, including bronze, ceramics, calligraphy, furniture, jades, ancient coins, paintings, seals, sculptures, minority art and foreign art.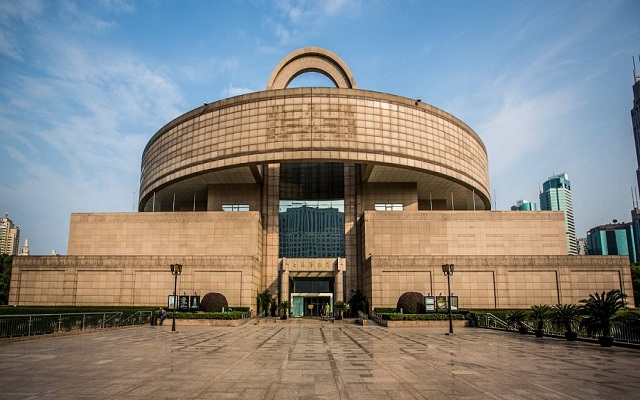 Shanghai Museum
Then proceed to visit the "Pedestrians only" Nanjing Road, a walking bustling street that is always packed with people waching other people. When people mention Shanghai's Nanjing Road, they're probably talking about East Nanjing Road, a pedestrian shopping street running for blocks between the northeast corner of People's Square and the Bund. Nanjing Road, 5.5 km in full length, enjoys the reputation as China No. 1 commercial center. It was the earliest commercial street in Shanghai since the city opened to the outside world.
After that move on to The Bund, which is a waterfront area in central Shanghai. The area is in the eastern part of Huangpu District centers on a section of Zhongshan Road, which runs along the western bank of the Huangpu River, facing the high, modern skyscrapers of Pudong,Traditionally, the Bund begins at Yan'an Road in the south and ends at Waibaidu Bridge in the north, The Shanghai Bund on which you can embrace the best cityscape, feast on the rich architectural fashions ( Gothic, Baroque, Rome, Renaissance, Classic and Mixed Eastern and Western style, etc.)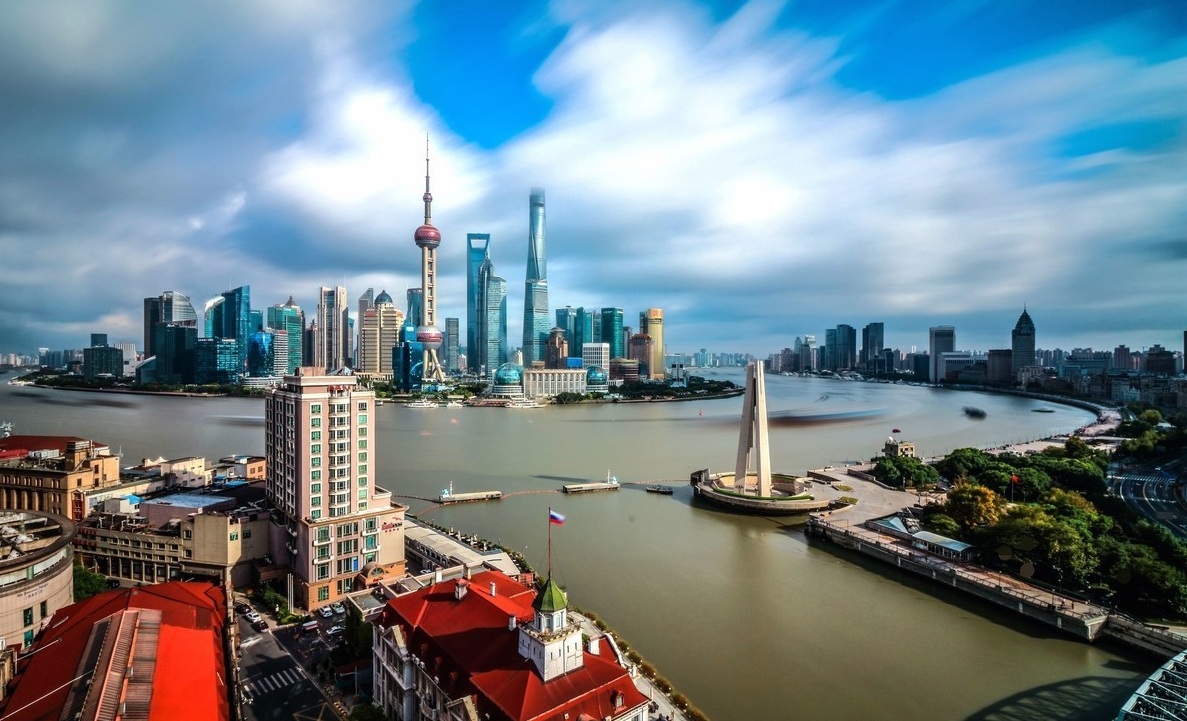 Shanghhai Bund
You will have lunch at local restaurant, where you can enjoy some authentic Shanghai food.
After lunch, drive you to the Lujiazui Area and visit the famous Jinmao Tower to have an eye-bird's view of Shanghai city. Jin Mao Tower is located in the center of Lujiazui Finance and Trade Zone in Pudong.The 88-stories Jin Mao Tower was completed in 1999. It is 420.5 meters (almost 1,380 feet) tall and covers an area of 2.3 hectares (5.68 acres). The architect, Adrian D. Smith, of this skyscraper ingeniously combined the elements of traditional Chinese culture with the newest architectural styles of the time, which makes it one of the best-constructed buildings in China.
Finally, you will take a boat cruise along the Huangpu River, which is the mother river of Shanghai.When you come to Shanghai, do not miss this cruise. The cruise lasts around 1 hour. After the tour, you will be taken back to your hotel.
Day 3
Place&Transport: Shanghai
Today's Activities: Yuyuan Garden, Zhujiajiao Water Town
Accommondation: N/A
Meal: B, L
After breakfast, you will visit Yuyuan Garden. It is largest ancient garden with Ming and Qing architectural styles decorated by beautiful pavilions, miniature lakes, bridges and rockeries. The garden was finished in 1577 by a government officer of the Ming Dynasty (1368-1644) named Pan Yunduan. Yu in Chinese means pleasing and satisfying, and this garden was specially built for Pan's parents as a place for them to enjoy a tranquil and happy time in their old age.
And then, drive you to Zhujiajiao Water Town. It takes around 1 hours from Shanghai city center. Upon on your arrival, you will have an authentic lunch at water town, you can taste what local people daily food.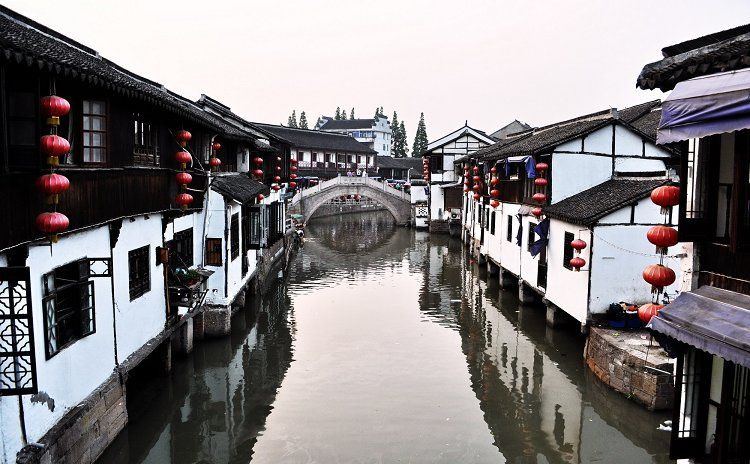 Zhujiajiao Water Town
Zhujiajiao is an ancient water town also known as the Shanghai's Venice. Zhujiajiao is full of the old buildings combined with the water canals, really authentic water village which represent the old Shanghai. A boat trip down the river and then walk through the small shopping streets, cross the amazing bridges, visit the beautifully laid out gardens and old houses. There are great opportunity for some great photographs.
After finished sightseeing, you will be taken back to your hotel.
Day 4
Place&Transport: Shanghai to Huangshan by Bullet train
Today's Activities: Tunxi Ancient Street
Accommondation: N/A
Meal: B
In the morning, oue driver will pick you up at your hotel and drive you to Shanghai train station for your train to Huangshan. Once you arrived, our Huangshan local tour guide will pick you up at the exit of train station with a welcome signage "Huangshan Private Tour". And start your tour directly.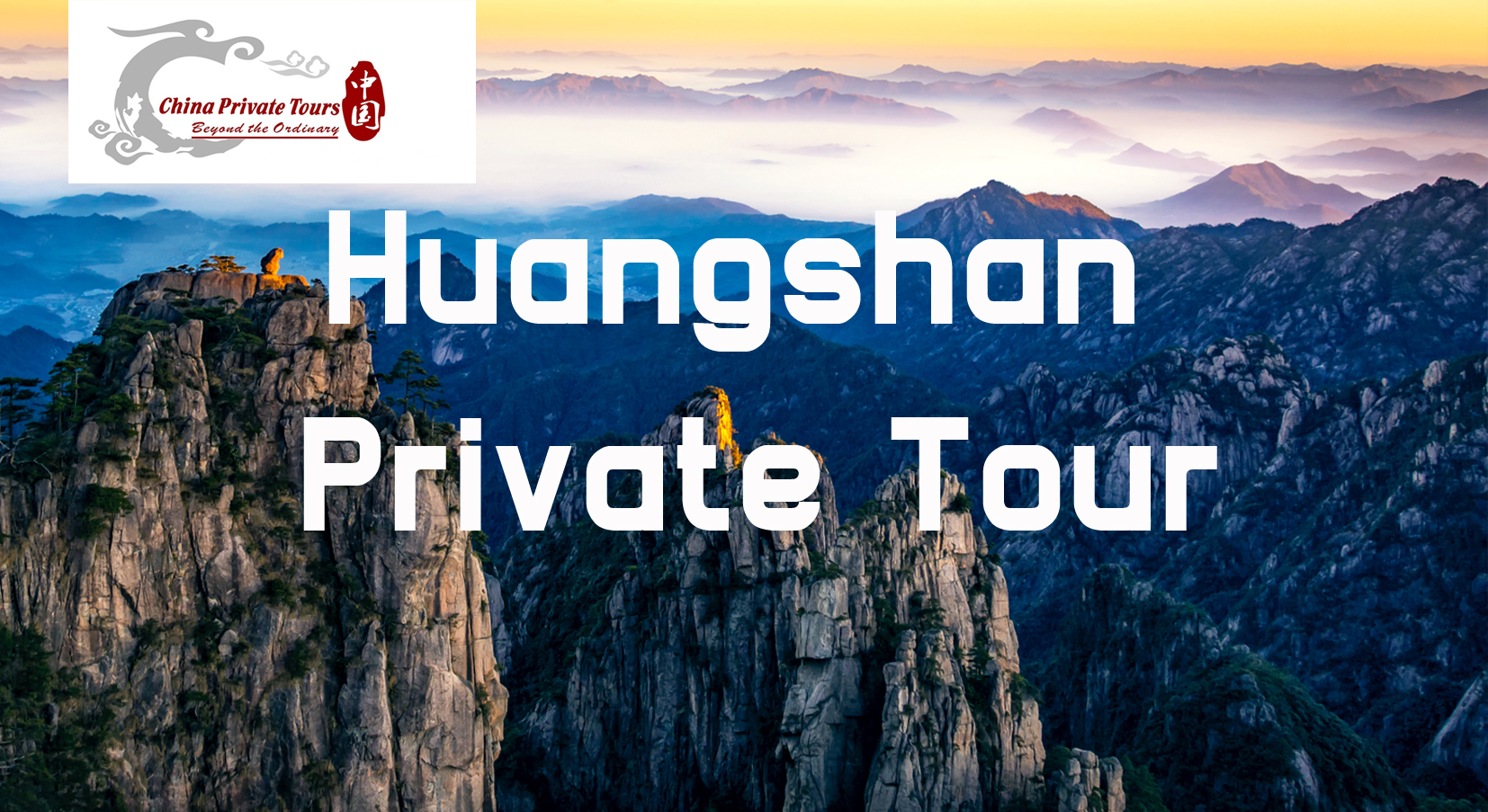 Our Huangshan Pick Up Sign "Huangshan Private Tour"
Firstly, our tour guide will take you to a local Chinese restaurant that serve authentic dishes.
Then drive you to Tunxi Ancient Street. You will have a relaxing stroll on the 900-year-old Tunxi Ancient Street to appreciate authentic old Huizhou-style architectures. Next comes an interesting visit to Hu Kaiwen Ink-stick Factory to find out how ancient Chinese people produce ink sticks (major item used to write and paint in ancient time).
After the tour ends, drive you back to your hotel.
Day 5
Place&Transport: Huangshan
Today's Activities: Mount Huang
Accommondation: N/A
Meal: B, L
In the morning, our Huangshan local guide will meet your at your hotel lobby and head to Huangshan Scenic Area, about 1.5hours driving, 80km away from downtown Huangshan City. You will take a cableway to upper beautiful sightseeing area of Huangshan Mountain – North Sea Scenic Area which is famous for marvelous precipitous peaks, beautiful giant pine trees and far-reaching vision.
You will have lunch at Yellow Mountain Scenic Area to taste local cuisine.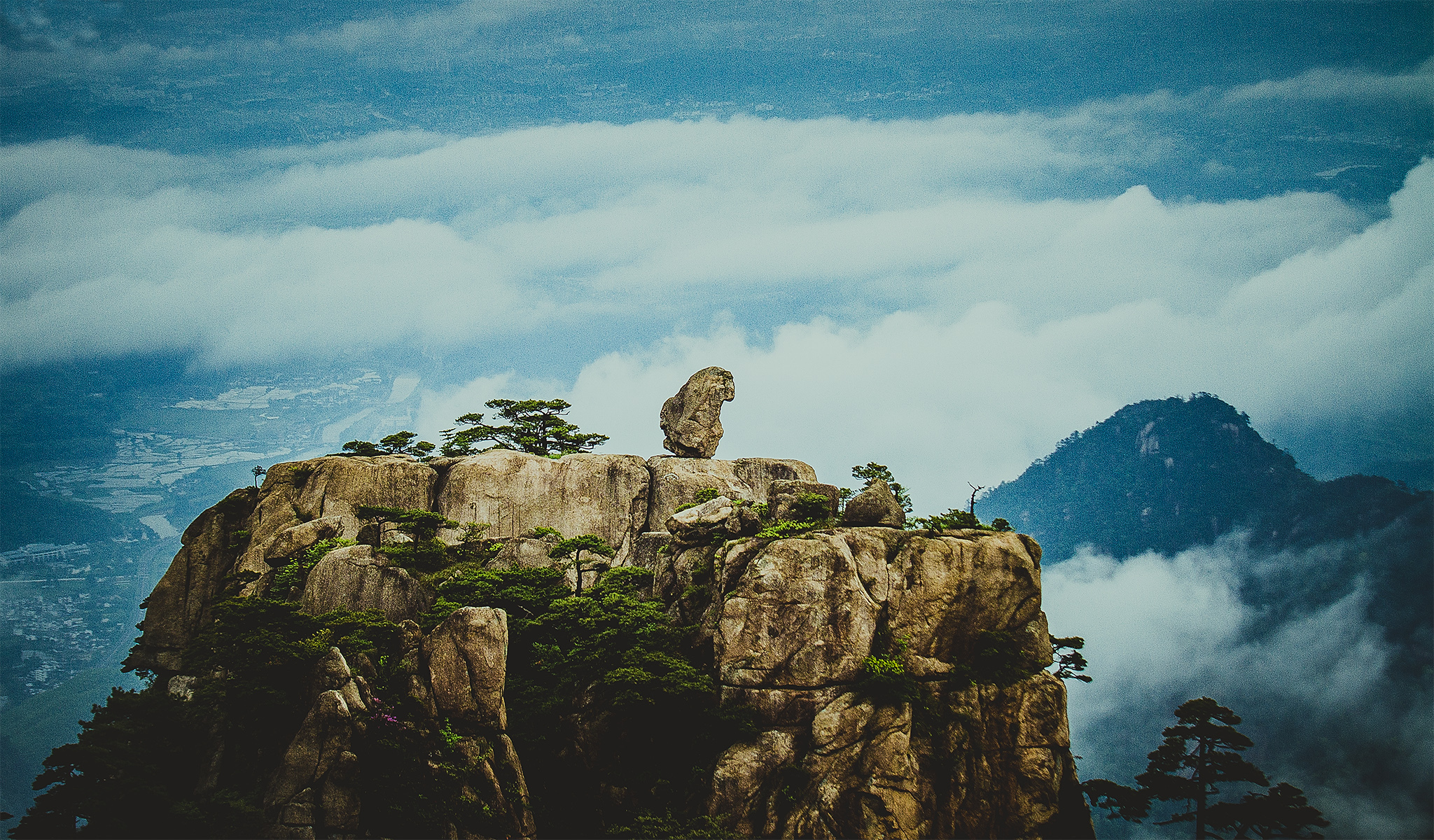 Yellow Mountain
After lunch, walk to lofty Begin-to-Believe Peak (1668m) to stretch your eyesight over cloud seas to far distance, and then hike about 40 minutes to Dispelling Cloud Pavilion to look down the Dreamland - West Sea Grand Canyon. Walk down along the stone steps to the bottom of the canyon while enjoying the Avatar-like rising rock peaks, unfathomable cliffs, bizarre stones and tenacious pine trees. For the nature lovers, who wants to hiking, it takes about 3 hours for energetic hiker to hike from the Dispelling Cloud Pavilion
Stay overnight at the top of mountain, you have a chance to enjoy sunset.
Day 6
Place&Transport: Mount Huangshan to Shanghai by bullet train
Today's Activities: Huangshan Scenic Area
Accommondation: N/A
Meal: B, L
If weather permits, get up early to enjoy the magnificent sunrise view. The best place for watching sunrise is from Refreshing Terrance, it is also closest spot from your hotel. In good-weather days, you can see clearly the golden light of the sun piercing the mists, and rocky peaks rising above the frothy, ever-changing sea of white clouds. After the sunrise, get back to your hotel for breakfast.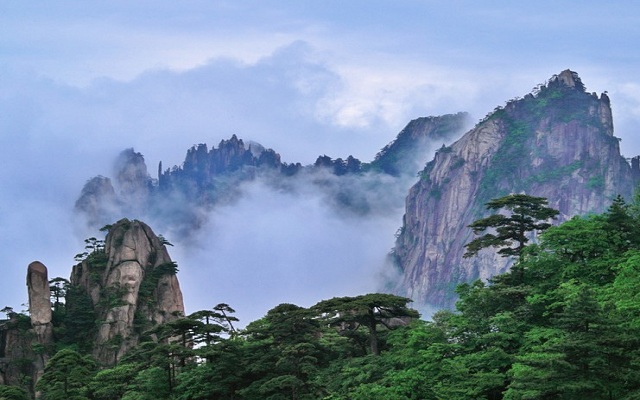 Yellow Mountain
After breakfast, continue on your wonderful sightseeing on the Yellow Mountain to see the famous Dawn Pavilion, Stone Monkey Watching the Sea on the Lion Peak (1690m). Then walk along the wood path to the cable station to take a cable car to exit the mountain. Your driver is ready at the mountain foot to transfer you back to Huangshan City for lunch.
After lunch, you will be taken to Huangshan train station and take train back to Shanghai. Upon arrival, our Shanghai local driver will take you back to your hotel in Shanghai or Shanghai train station. Enjoy your trip!
Price Per Person in US Dollars