Day 1
Place&Transport: Shanghai
Today's Activities: Bund, Yu Garden and Shanghai Bazaar, Shanghai Museum, Nanjing Road,
Accommondation: N/A
Meal: N/A
In the morning, our tour guide will pick you up at your hotel lobby or Shanghai train station, you will find a welcome signage "Shanghai Private Tour". And your tour start.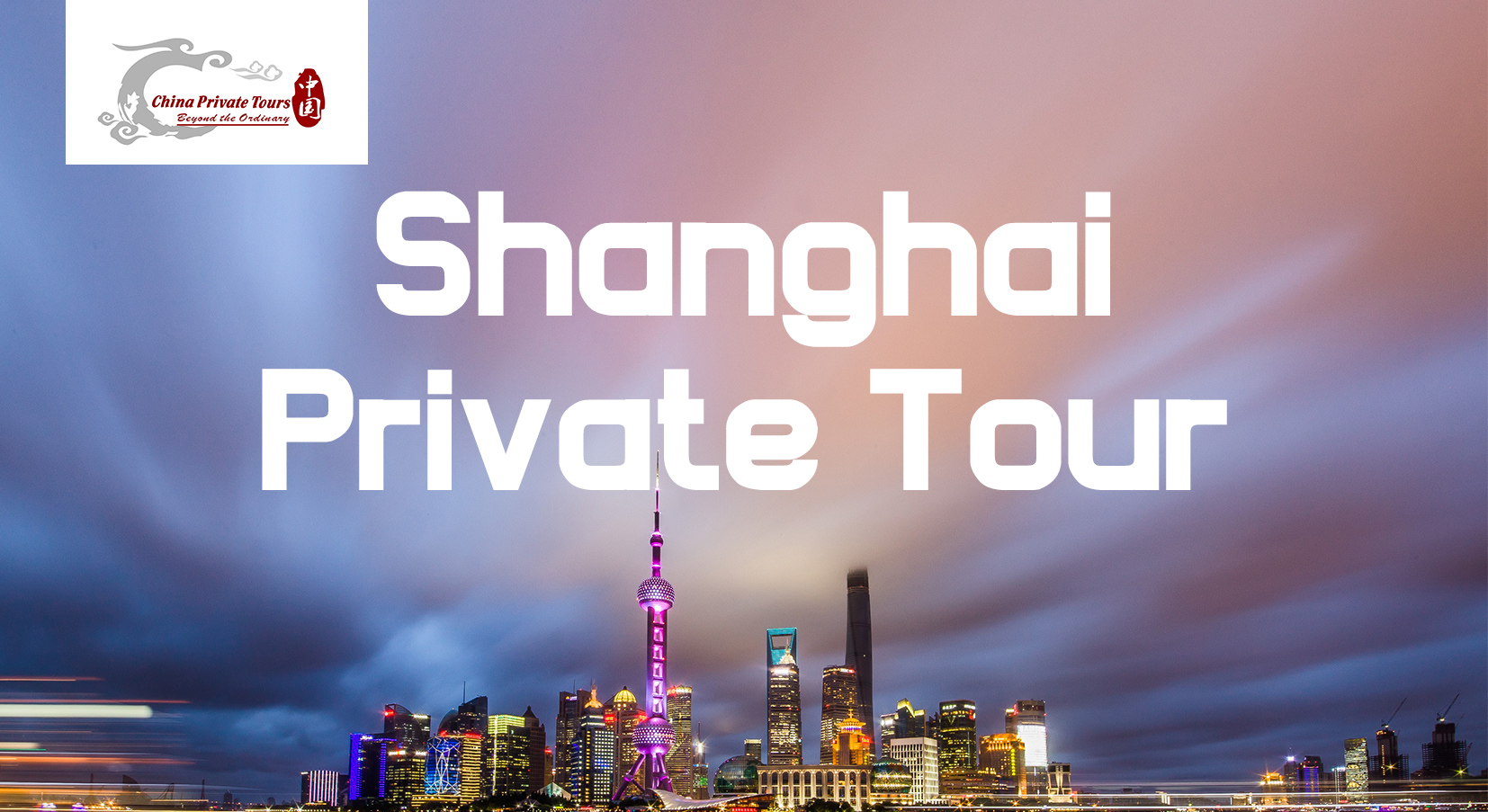 Our pick up sign "Shanghai Private Tour"
You'll start the day with you will visit the Bund. The Bund is a waterfront area in central Shanghai. The area is in the eastern part of Huangpu District centers on a section of Zhongshan Road ,which runs along the western bank of the Huangpu River, facing the high, modern skyscrapers of Pudong, traditionally, the Bund begins at Yan'an Road in the south and ends at Waibaidu Bridge in the north, The Shanghai Bund on which you can embrace the best cityscape, feast on the rich architectural fashions ( Gothic, Baroque, Rome, Renaissance, Classic and Mixed Eastern and Western style, etc.) and know why Shanghai is glorified as "Paris of the East". There are a number of attractions in the area, such as Shanghai World Financial Center, The Oriental Pearl TV Tower, Century Park, Century Boulevard, Jinmao Tower etc. It is one of the most famous tourist destinations in Shanghai.

Next to Yuyuan Garden and Shanghai Bazaar, Yuyuan Garden is an extensive Chinese garden located beside the City God Temple in the northeast of the Old City of Shanghai. This garden which is a must for visitors from the foreign countries represents the past of Shanghai. The pavilions, halls, rockeries, ponds and cloisters in the garden all have unique characteristics. Yu Garden was first built in 1559 during the Ming Dynasty by Pan Yunduan as a comfort for his father. Yu Garden occupies an area of 2 hectares (5 acres), and is divided into six general areas laid out in the Suzhou style: Sansui Hall, Wanhua Chamber Dianchun Hall, Huijing Hall, Yuhua Hall, Inner Garden.
Continue your tour to the renowned Shanghai Museum, The Shanghai Museum is a museum of ancient Chinese art, situated on the People's Square in the Huangpu District of Shanghai, The museum has a collection of over 120,000 pieces, including bronze, ceramics, calligraphy, furniture, jades, ancient coins, paintings, seals, sculptures, minority art and foreign art. The Shanghai Museum houses several items of national importance, including one of three extant specimens of a "transparent" bronze mirror from the Han Dynasty.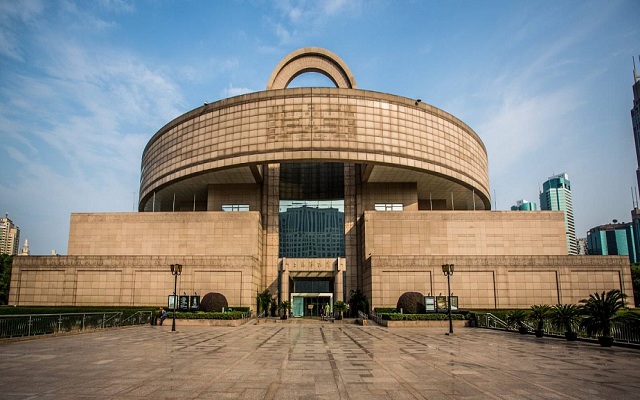 The last stop is Nanjing Road, No.1 shopping street in China. Thousands of shops there welcoming the visitors from afar. Over 50 famous old brand shops which have at least 100 years history can be seen in this street. And you can have a dinner to enjoy the characteristic local dishes in the restaurants along the road.
After finished, drive you back to your hotel.
Day 2
Place&Transport: Suzhou from Shanghai by Train
Today's Activities: Lingering Garden, Hanshan Temple, Panmen Gate, Pingjiang Historic Street, Suzhou No.1 Silk Mill
Accommondation: N/A
Meal: N/A
In the morning, our driver will take you to Shanghai train station for your train to Suzhou. Upin arrival, our local Suzhou tour guide will meet you at the exit of Suzhou train station with a welcome signage "Suzhou Private Tour". And your tour in Suzhou starts.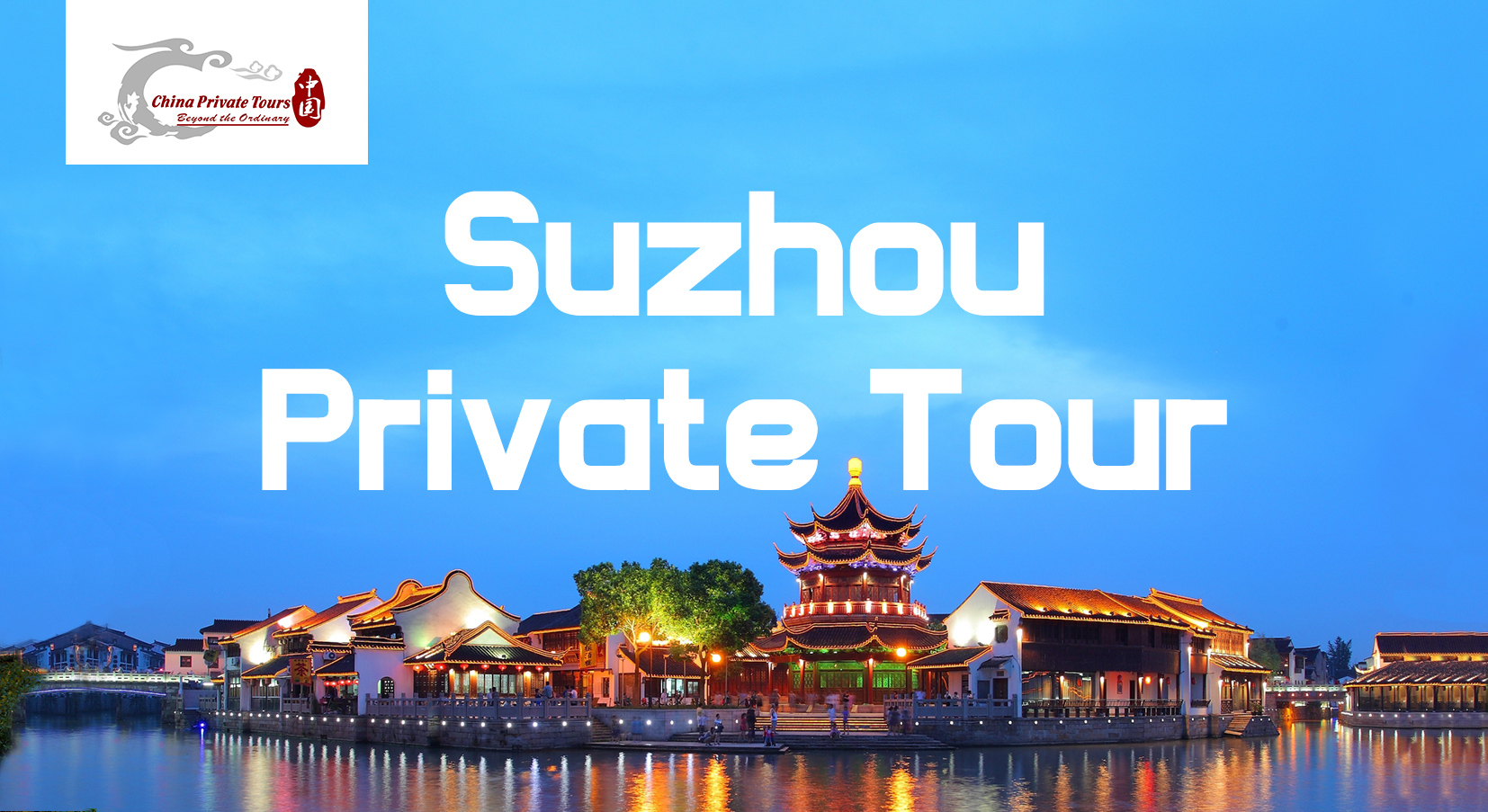 Our pick up sign"Suzhou Private Tour"
Your day tour starts at the Lingering Garden, a UNESCO World Heritage Site and one of the city's finest classical gardens. It has been listed as one of the four most famous national classic gardens together with the humble administrator's garden, the Summer Palace and Mountain Summer Resort in Chengde are called China's four largest gardens. Landscape architectural space processing is very exquisite, using a variety of artistic techniques, built a unique space system, becoming one of the world civilization examples of architectural space art processing. Wander through the trails and portals of this delicately-planned garden that carefully combines traditional Chinese architecture with natural beauty.A good place to let your mind and body rest.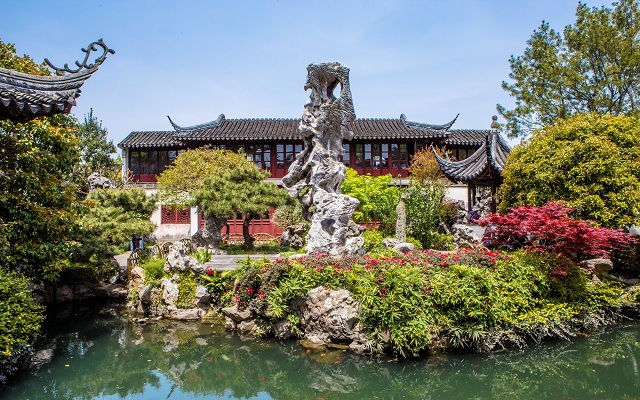 Next agenda is Panmen Gate. The history of the Panmen Gate dates back to 514 AD. Built by Wu State during the spring and autumn period, Panmen is the only ancient city wall still intact in Suzhou.
Enjoy lunch at a local Chinese restaurant, our guide will give you good recomendations on spot, feel free to let your tour guide know your requirement.
After lunch, pay a visit to Hanshan Temple (Cold Mountain Temple) near the town of Fengqiao. Made famous in a poem by Tang Dynasty poet Zhang Ji, this Buddhist temple is known for its large bells, unique black roof and domed bridge. Take a wander around its halls, pavilions, corridors and well-maintained gardens. A good place to let your mind and body rest.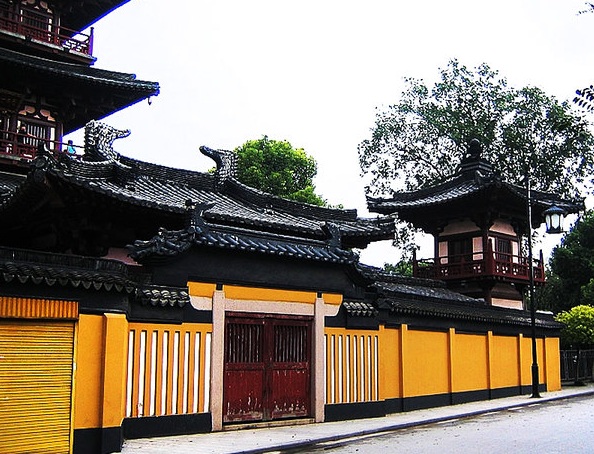 For an authentic taste of city life in old Suzhou, a stroll down Pingjiang Historic Street, which is a great way to get acquainted with the local vibe. Quiet, leafy and slow-paced, the street is lined with old Chinese houses as well as restaurants and teahouses serving traditional foods and drinks. What's more, there are a variety of upscale cafes catering to the chic crowd at each corner. You can taste a few traditional Chinese snacks while your guide tells you more about the history of the street.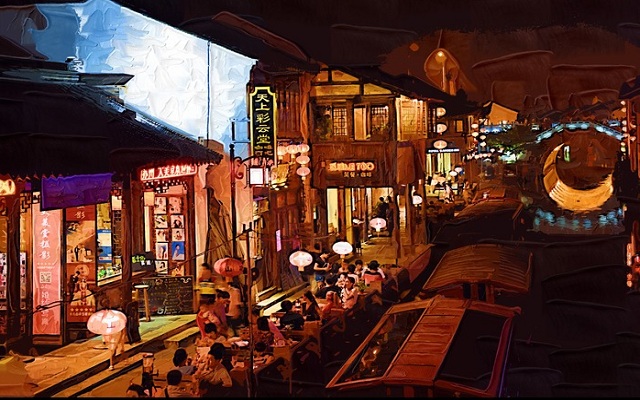 The last stop is Suzhou No. 1 Silk Mill has a long and rich history of silk culture, including mulberry tree and silk worm cultivation and turning raw silk into beautiful fabric. Suzhou's climate and soil are perfect for silk production, and the city has been a center of China's silk trade for many centuries. The Suzhou No. 1 Silk Mill has been a proud steward of this heritage for over 80 years. It's more like a museum which shows you how the silk is made from cocoons from the beginning and the whole silk process. Not to be missed.
After the tour ends drive you back to Suzhou train station, then our driver in Shanghai will drive you back to your hotel.
Day 3
Place&Transport: Hangzhou from Shanghai by train
Today's Activities: West Lake, Guo Garden, Meijiawu Tea Plantation, Bamboo lined path at Yunqi, Qinghefang Street
Accommondation: N/A
Meal: N/A
After breakfast, our driver will meet you at your hotel lobby and drive you to train station, you wil take train to Hangzhou. Our tour guide in Hangzhou will pick you up the exit of Hangzhou train station with a welcome signage "Hangzhou Private Tour". Your Hangzhou tour includes the following attractions.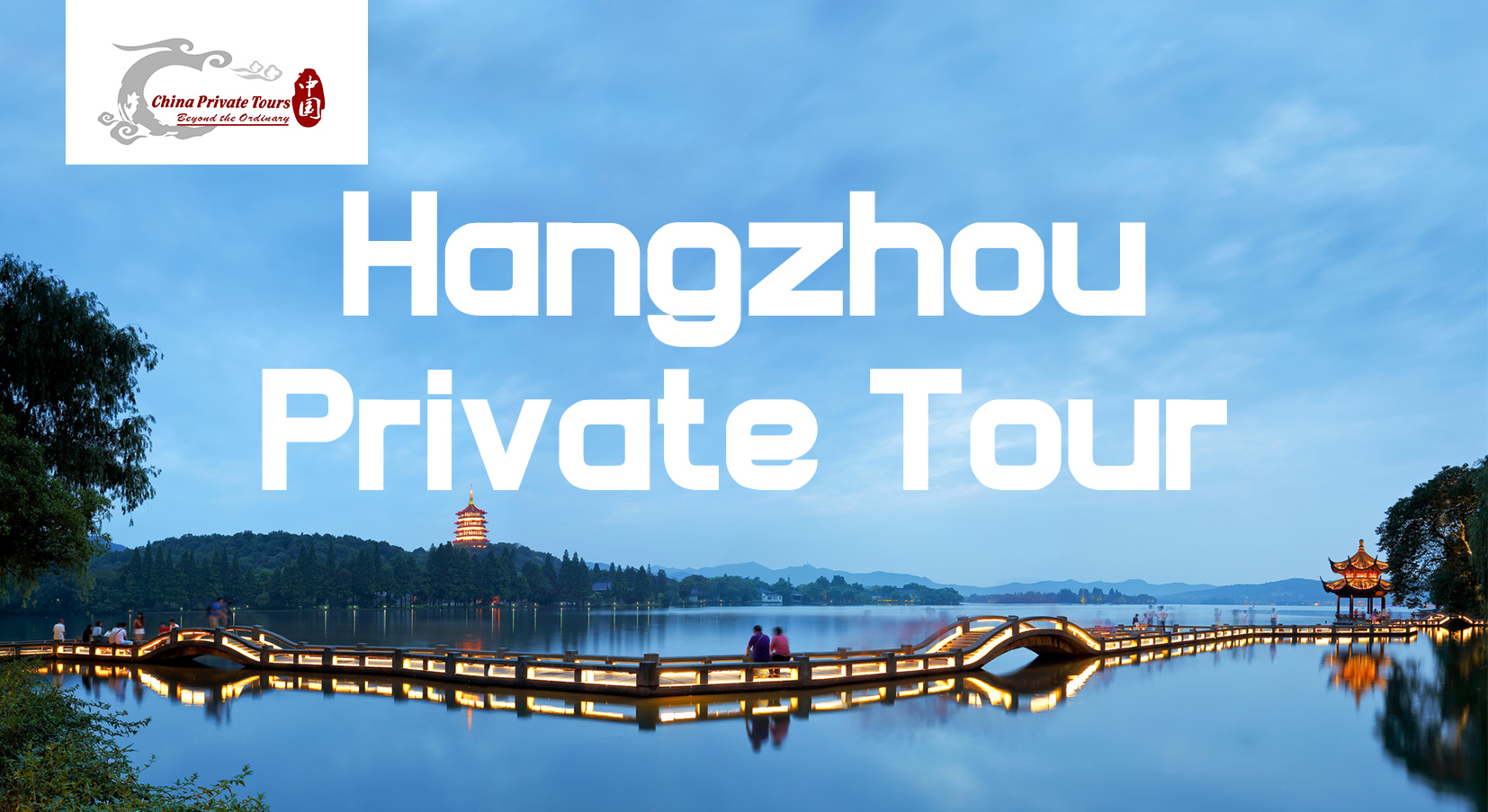 Our pick up sign "Hangzhou Private Tour"
First you will go to West Lake, it is a freshwater lake in Hangzhou, the capital of Zhejiang province in eastern China. There are numerous temples, pagodas, gardens, and artificial islands within the lake. West Lake has influenced poets and painters throughout Chinese history for its natural beauty and historic relics, and it has also been among the most important sources of inspiration for Chinese garden designers. Traditionally, there are ten best-known scenic spots on the West Lake, boat ride on West Lake to tour around the lake and you have a chance to see some of the top ten views of the lake, Viewing fish at the flower pond, this area now has been made into a 22 hectare (54 acre) park with many varieties of trees and flowers, featuring a peony garden which blooms in April and a goldfish pond which is the famous site for viewing fish.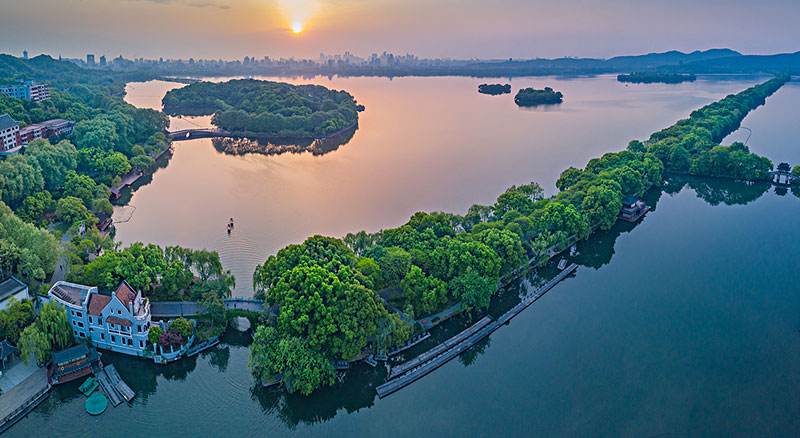 Then continue the tour to Guo Garden, Guo Gaeden is located in Hangzhou Xishan Road, Wolong bridge, adjacent to breeze-ruffled Lotuses Beside which is one of the top Ten Views of the West Lake .This beautiful classic garden was built in the 1851 by a rich merchant nearby the lake, the whole garden covers an area of nearly 10000 square meters and you will have a further understanding about the local people's life in this garden,
After lunch, you are recommended to go to Meijiawu Tea Plantation, It also called Dragon Well Tea Plantation & Village, which is the original place for the most famous green tea - Longjing in china with beautiful natural scenery. There are many tea houses in the village, and you will have a chance to test the local tea. Sit in Meijiawu village farmhouse, brew a cup of tea, chat with your family (or your friends), it will be enjoyable and relaxing.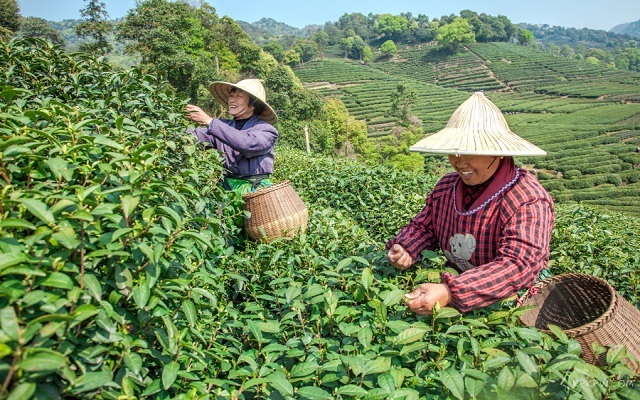 Then visit Bamboo lined path at Yunqi (Ideal quiet place to get away from the crowds to enjoy a nice gentle stroll and seeing through the bamboo forest).
The last spot you visit is Qinghefang Old Street, the street is the only historic street in Hangzhou city, it is a good place to experience the life of Old Hangzhou, because it is the epitome of historic Hangzhou. It is a place for shopping, eating, and sightseeing. You can see the well-preserved old buildings, explore the interesting stores, and buy some souvenirs, there are also many traditional food stalls, such as green cypress package, stinky tofu, crisp cake, etc.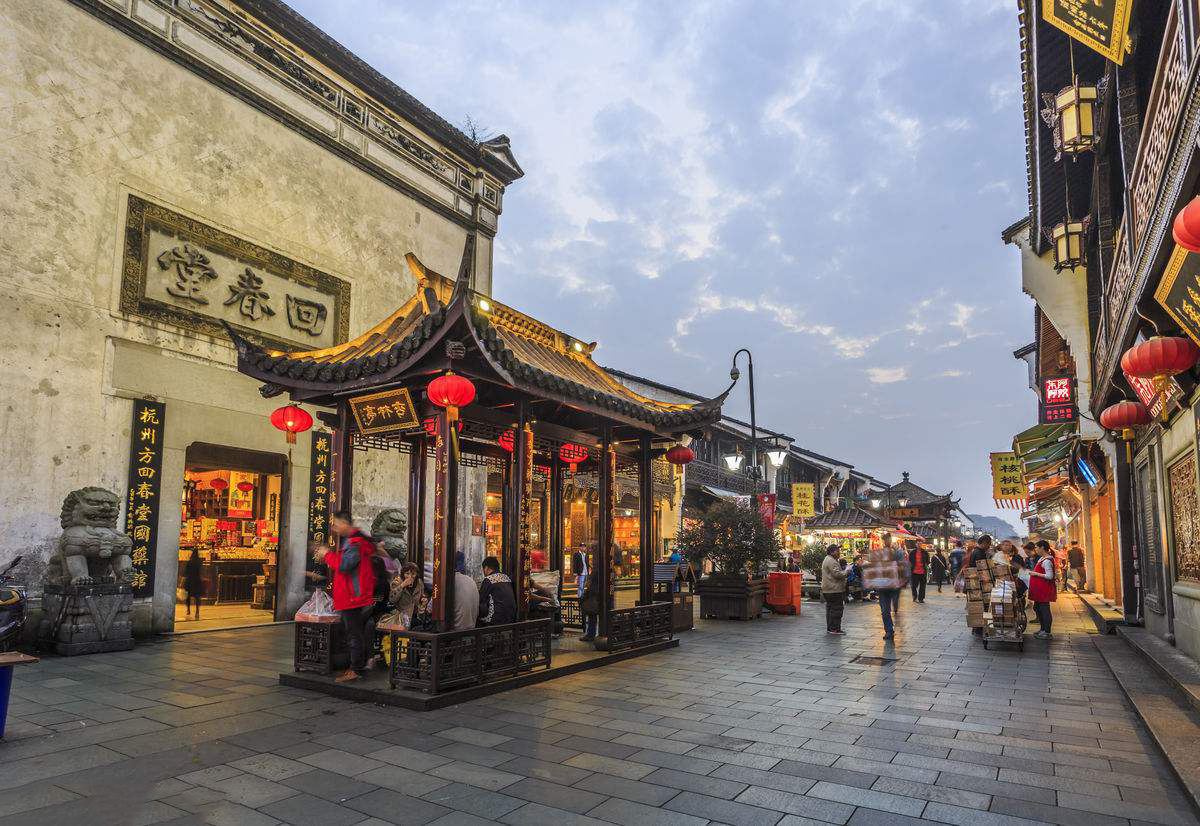 After finished that, drive you to train station or your hotel in Hangzhou and your 3 days Shanghai Suzhou Hangzhou tour come to the ends.
Price Per Person in US Dollars