Day 1 Shanghai to Suzhou by Train
Place&Transport: Shanghai to Suzhou by train
Today's Activities: Lingering Garden, Canglang Pavilion, Panmen Gate, Shantang Street, Suzhou No.1 Silk Factory
Accommondation: N/A
Meal: N/A
In the morning, our local Suzhou tour guide will pick you up at the exit of Suzhou train station, you will find a welcome signage "Suzhou Private Tour". (WE PROVIDE TRAIN TICKET BOOKING SERVICE AS WELL OR YOUR CAN BOOK IT ONLINE 'WWW.TRIP.COM', FEEL FREE TO LET US KNOW IF YOU HAVE ANY SPECIAL REQUIREMENT, THIS TOUR IS 100% CUSTOMIZABLE.)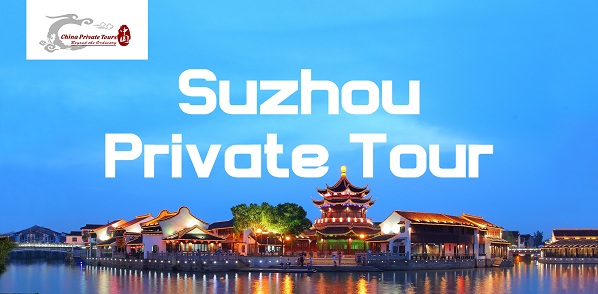 Our Suzhou Pick Up Sign "Suzhou Private Tour"
Your first destination is Lingering Garden, also refer to Liuyuan Garden, which is located in the southern city of Suzhou Chang outside, it is a famous tourist scenic spot, is the world cultural heritage. It is with the humble administrator's garden, the Summer Resort Palace, Chengde summer resort are called China most famous four gardens. Landscape architectural space processing is very exquisite, using a variety of artistic techniques, built a unique space system, becoming one of the world civilization examples of architectural space art processing. The garden of the space 23300 square meters, the main style of Qing dynasty style. Liu Lingering Garden looks concise and rich forest of. Building looks a lot, but does not lose the feeling of quiet.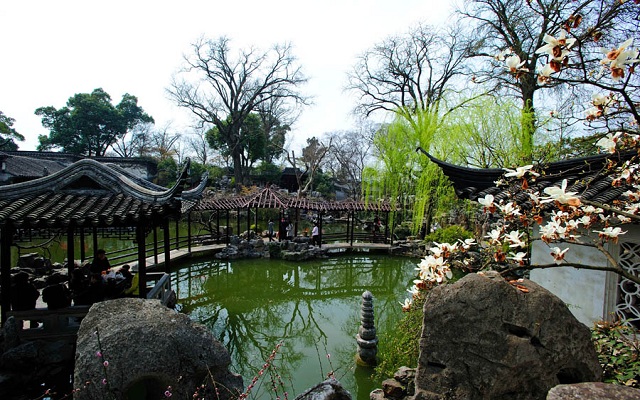 Continue your tour to The Canglang Pavilion, it variously translated as the Great Wave Pavilion, Surging Wave Pavilion, or Blue Wave Pavilion, is one of the Classical Gardens of Suzhou that are jointly recognized as a UNESCO World Heritage Site. It is the oldest among the existing classical gardens in Suzhou and also one of the most famous four gardens in the city -- the others being the Shizilin (Lion Grove), Zhuozhengyuan (Humble Administrator's Garden) and Liuyuan (Lingering Garden). Situated in the southwest quadrant of the city, it is located directly to the west of the Confucian temple. The garden underwent numerous renovations in the centuries to follow, but retains its essential form.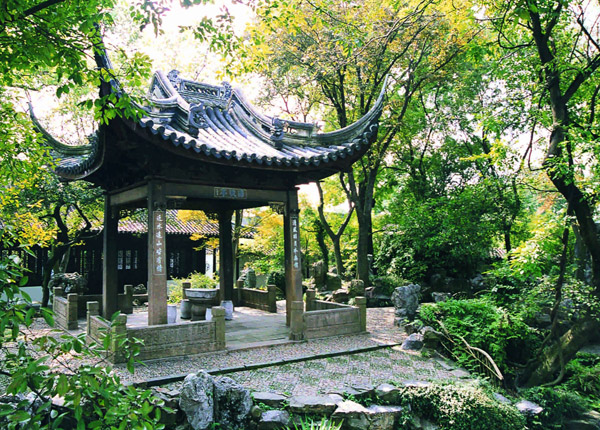 Move to Panmen Gate, also known as Pan Gate. It is a famous historical landmark in Suzhou.It is Located in the southwest of Suzhou city, It was first built in B.C.514 as one of eight city gates in the Spring & Autumn Period (770-476 BC) when Suzhou was the capital of the Wu Kingdom, that surrounded and protected Suzhou. It was the only entrance through the wall to ancient Suzhou. The architecture of the wall is truly amazing.The present gate was reconstructed in 1351, and consists of Water and Land Gates. It is also known in China for its architecture complex of both land and water city gates. Therefore it is also often called the "Land and Water Gate".On the top of the gate, you can see the Wumen Gate Bridge and the Auspicious Light Pagoda, which are popularly known as the Three Scenes at Panmen Gate together with Panmen Gate. The Auspicious Light Pagoda is the oldest Buddhist pagoda in the area, on the top of which you can enjoy a panoramic view of the picturesque Yangtze River Delta.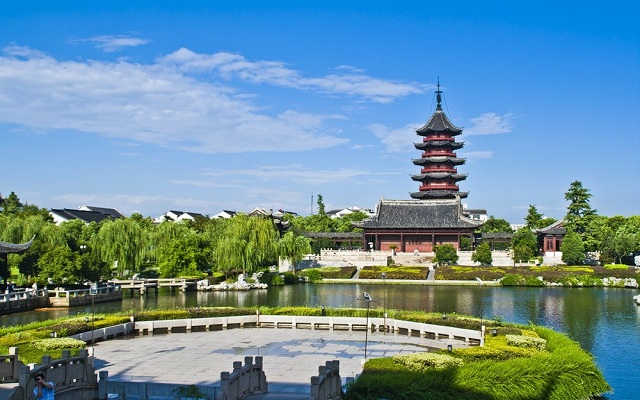 Continue your tour to Shantang Street. It also called Seven-mile Shantang, is located in the northwest of Suzhou, and the total length of it is about seven li (3.5 kilometers). Shantang Street in Suzhou attracts many tourists from home and abroad. Most of them prefer traveling along the canal, enjoying beautiful scenery. Owing to its distinguished geographic location and convenient water and land transportation, Shantang Street was one of the streets which trade and culture were most highly developed in Ming and Qing dynasties, regarded as "the No.1 Ancient Street in China". The renovated Shantang Street becomes the place which shows the essence of natural views and human landscapes of Suzhou, which is rated as "the miniature of old Suzhou and the window of Wu culture". There is a folk song, singing "There is a paradise in heaven, but there are Suzhou and Hangzhou on the earth. Hangzhou has the West Lake while Suzhou has Shantang. Both are good places with boundless sceneries", which is the vivid image of Shantang.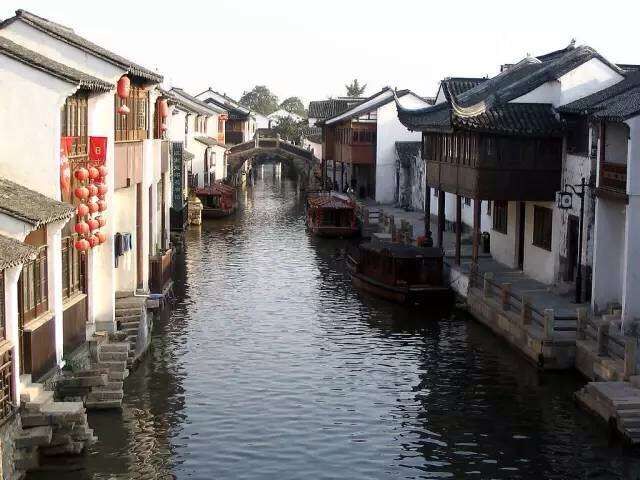 After the visit of PShantang Street, you will go to Suzhou No. 1 Silk Mill. Suzhou has a long and rich history of silk culture, including mulberry tree and silk worm cultivation and turning raw silk into beautiful fabric. Suzhou's climate and soil are perfect for silk production, and the city has been a center of China's silk trade for many centuries. The Suzhou No. 1 Silk Mill has been a proud steward of this heritage for over 80 years. It's more like a museum which shows you how the silk is made from cocoons from the beginning and the whole silk process. Not to be missed.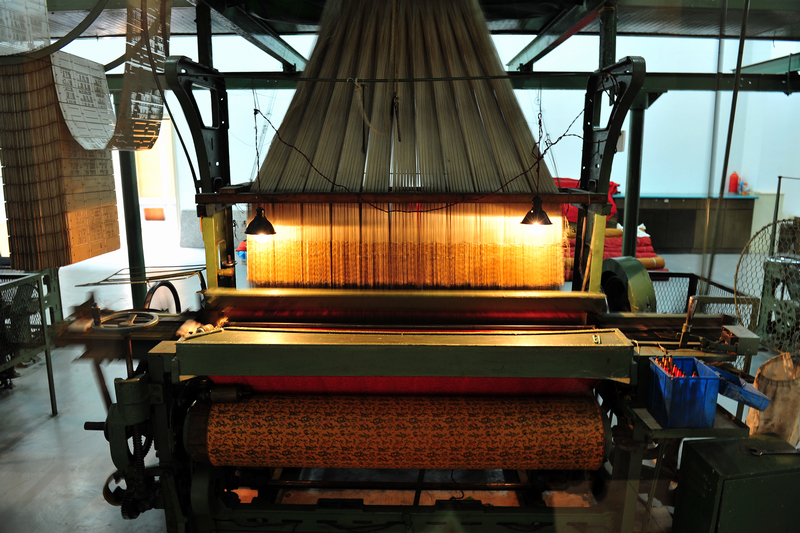 Drive you to your hotel in Suzhou.
Day 2 Tongli Water Town
Place&Transport: Suzhou to Tongli Water town
Today's Activities: Tongli Water Town
Accommondation: N/A
Meal: N/A
After breakfast, you will be transferred to Tongli Water Town, it takes around 50 minutes for one way. Below are the attractions inside the Tongli Water Town, you have the options to visit all of them or just few, up to you.
Residential House: Tongli Water Town deserves its name of a "museum of ancient architectures" as there are many homes and temples dating from the Ming and Qing Dynasties. Designed along the riverside and embellished with carved windows, porcelain furniture, figured clay bricks, flying eaves, dapper gardens and tiny stairs leading all the way down to the water, these complexes named Tongli Water Town could be a shining pearl among the water townships south of Yangtze.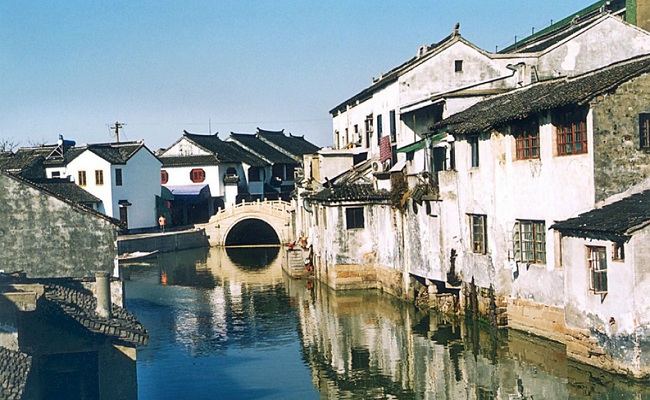 Retreat and Reflection (Tuisi) Garden: designed by the retired official Ren Lansheng throughout 1885 and 1887, is that the most spectacular in Tongli Water Town. Its name, Tuisi, suggests being meditative upon the previous faults when away from officialdom. The ingenious style for Tuisi Garden conforms to the native landforms and conditions and covers 700 square meters. Compact and harmonious, the garden is made from two parts. The garden within the east has verandas, ponds, waterside pavilions, Marble Boats, halls, kiosks, rockeries and bridges. In conjunction with flourishing trees and colorful flowers the garden greets guests with its beauty and charm regardless of the season. The residential area to the west consists of an outer house and inner house together with the tea hall, the sedan hall, 2 buildings forming the particular dwelling and a main reception hall.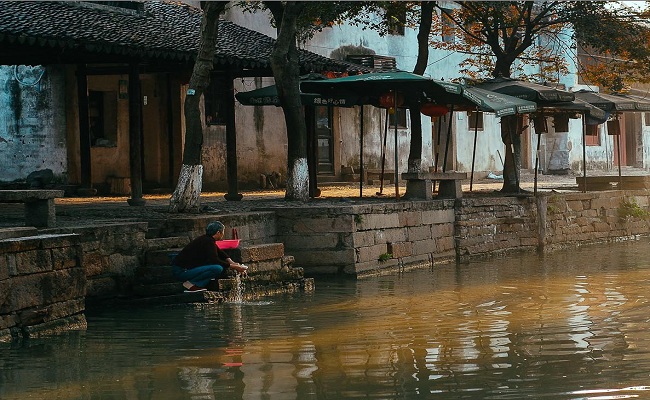 Have luch at the local restaurant.
Ancient Bridge: Taiping Bridge was built in 1747 during the Qing dynasty. Changqing Bridge, also named Guangli Bridge, was rebuilt by Xiezhen in the Ming dynasty. Siben Bridge, built in the Southern Song dynasty, is the oldest bridge in Tongli town. Dubu Bridge, 5 feet in length and 3 feet in width, is the smallest bridge in the town.As a character of Tongli, these ancient bridges today is reputed as the witness of the history, telling the story of the past.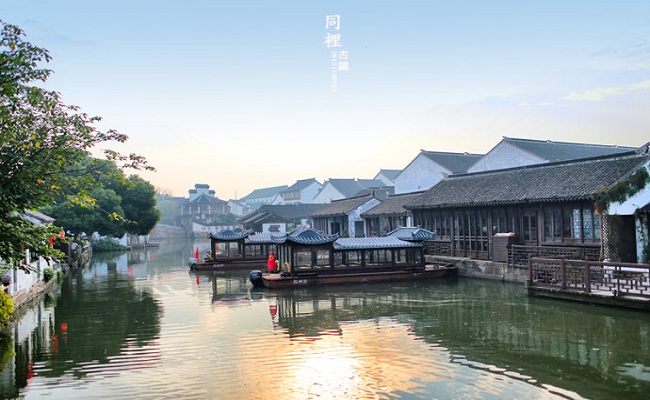 Free on your own for a while and you will be transferred back to your hotel in Suzhou or train station in Suzhou. And your tour in Suzhou ends.
There are some useful Tips for you to Puchase Train Ticket between Suzhou and Shanghai:
From Shanghai to Suzhou:
Option 1: G7104 Shanghai Hongqiao Station to Suzhou Station: Depart at 08:54AM and arrive at 09:30AM
Option 2: G7006 Shanghai Station to Suzhou Station: Depart at 09:00AM and arrive at 09:25AM
Please choose one of the above options according to your hotel location
From Suzhou to Shanghai
Option 1: G7119 Depart at 17:56 from Suzhou Station and arrive at Shanghai Hongqiao Station at 18:32
Option 2: G7243 Depart at 18:02 from Suzhou Station and arrive at Shanghai Station at 18:27
Note: you can ask your Shanghai hotel help you book the train tickets or you can book them online by your own (www.trip.com). By the way, we provide train ticket booking service as well.
Optional Activities
We provide off the beaten track Suzhou activities as below to enhance your tour experience. You can choose some of them to customize the above tour. Or if time permits, you can add one or two of them in the above itinerary (Only additional entrance fee required. And some are free charge of entrance fee).
A Touch of Life in Suzhou - Morning Wet Market Experience (Free of Charge)
Visit the local wet markt is an oppotunity to experience the local's life in the hidden parts of the city, avoiding the beaten tracks or fully packed tourist sites. You will be immersed in the local culture as we make our way through the hustle and bustle of narrow alleyways surrounded by the buzzing of vehicles and yelling of street vendors. For the time being the Wet Market scene in Suzhou is all still very much "old China"and is very much alive.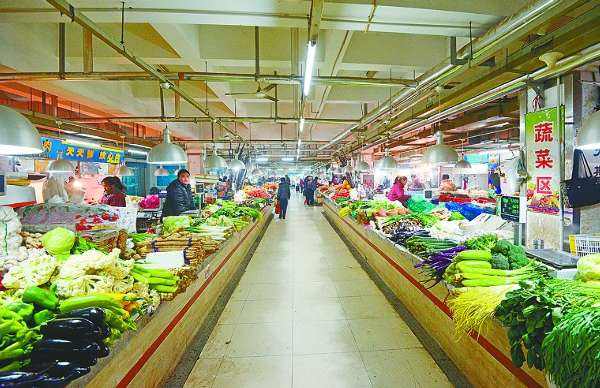 Getting into Suzhou Tiger Hill Wedding Gown Street (Free of Charge)
If you want to look gogorgeous on your wedding day but don't want to splurge your entire life savings on your wedding, then Suzhou Tiger Wedding Gown Street is a paradise for you. It is a street after street of endless shops selling nothing but wedding stuff with affordable price but good design & quality. Think of it as a one stop solution to all your wedding day needs.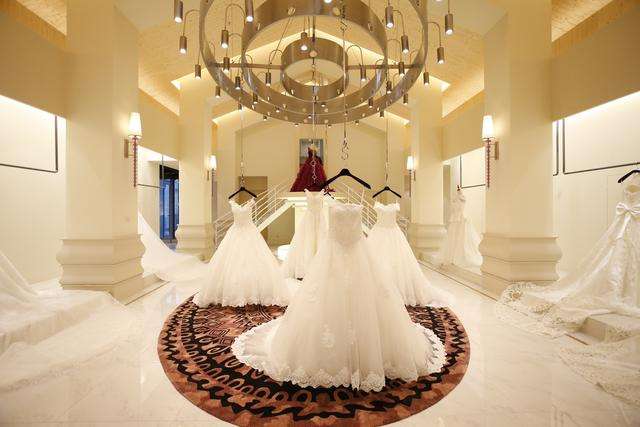 Delvo into the brillant culture of Su Embroidery (Free of Chagre)
Gian a comprehensive cultural introduction of Su Embroidery with your guide by visiting the Su Embroidery Research Institute. Su Embroidery is one of the four major styles of Chinese embroidery. Here you'll be able to learn the process of how to make the most exquisite silk hand embroidery - Su Embroidery.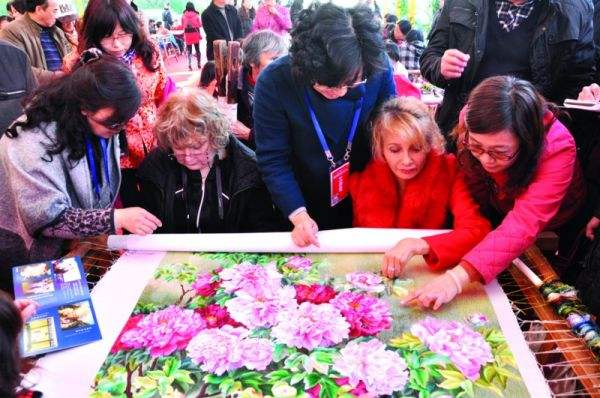 Shopping Like A Local (Free of Charge)
Shopping at Suzhou is not only enjoy the materials, but also to receive a kind of taste and culture. The rivers and lakes at the south of the Yangtze River bring intelligence to the Suzhou people, which make them produce particularly delicate goods. Just follow your tour guide, enjoy your shopping in Suzhou, you'll get a feeling of leisure.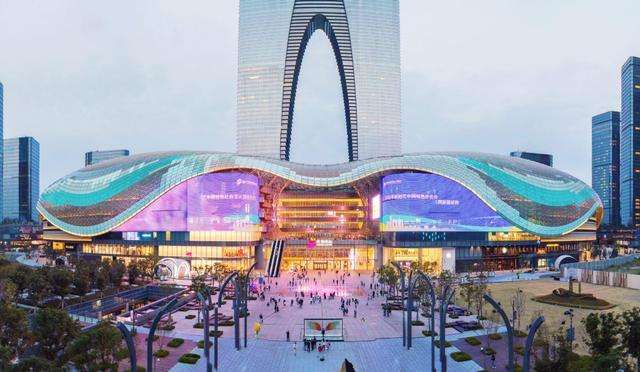 Experience Chinese rickshaw ride at Suzhou old Town (100RMB/rickshaw, max: 4 people)
If you want to travel Suzhou in-depth, riding on a rickshaw at Suzhou old town is fantastic. See the narrow lanes, the open markets and the local people's life more clearly. And the professional rickshaw pullers are often familiar with Suzhou's history, culture and folk customs, from whom you will gain a more understanding of traditions and cultures of this famous garden city.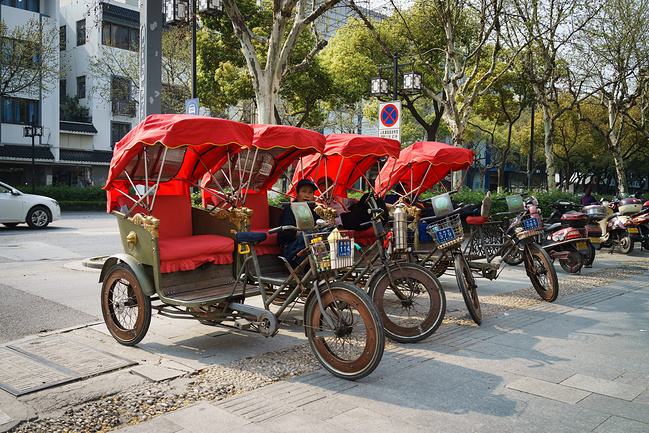 Night Show: Kunqu Opera & Pingtan Show in Master of Nets Garden (100RMB/person)
Do you like Kunqu Opera & Pingtan Show? Are you a fan of Chinese architectures? Spend one night and follow your guide to the Master of Nets Garden, a UNESCO World Heritage Site boasts animpressive garden and nightly Kunqu opera performances, and it's best known for its architectural splendor, let you be amazed by Chinese Opera and Suzhou unique culture.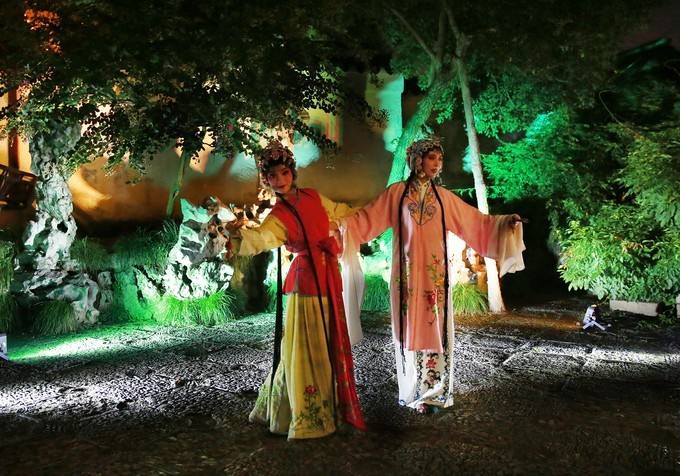 The Guanqian Pedestrian Street - The Most Bustling Night Snack Street in Suzhou (Free of Charge)
A local saying goes: "Suzhou is a paradise on earth, and Taijian Lane provides the best food". Stroll down the street to find the best of Su-style cuisine. Taijian Lane in the middle of Guanqian street has become a famous food street in Suzhou with more than 10 renowned restaurants, such as Songhe Lou Restaurant, Deyue Restaurant, Wangsi Restaurant and Wufangzhai Restaurant.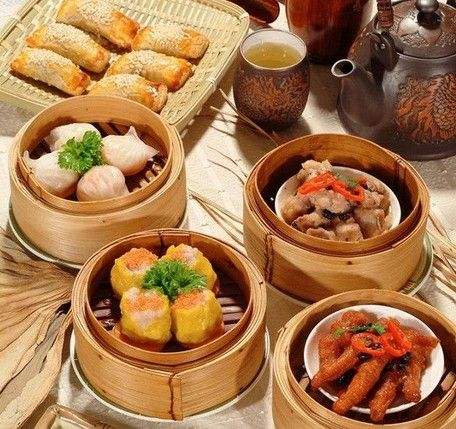 Private Boat Ride on Grand Canal (180RMB/boat, max: 6 people)
Enjoy a private boat ride on Grand Canal in Suzhou to appreciate the ancient black-tiled-roof houses, old bridges, and get a fell for the life of the locals. Tranquil, peaceful and historical, just like a time machine to take you back to the old era when ancient people communicated mainly by shipping on the waterway.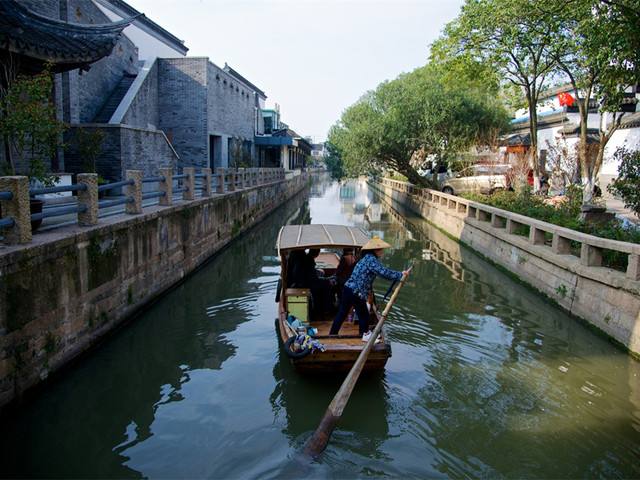 Act as A Local - Enjoy A Cup of Tea at Local Teahouse (80RMB/person on average)
Drink tea and enjoy the Suzhou opera in an old-world ambience is a prat of local's life. The local teahousw is famous for its tea and "Ping Tan" (a Chinese form of storytelling accompanied with music played by stagers.) You'll definitely be attracted by the architecture and the Ping Tan nice sound from inside. It is a good way of appreciating the Suzhou culture by drinking tea and listening to the traditional Ping Tan.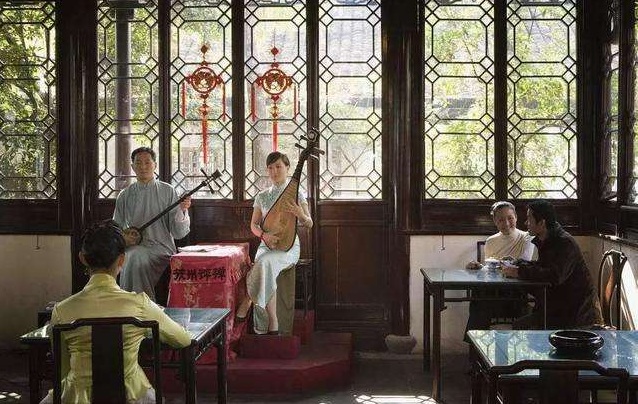 Experience Pottery in Suzhou (100RMB/person)
If you are interested in Chinese ceramics culture, why not take a short class to learn how make a pottery in your way. Your teacher will teach you how to make a good pottery artwork even you are the first time to experice the ceramic pottery making, our tour guide will translate to you.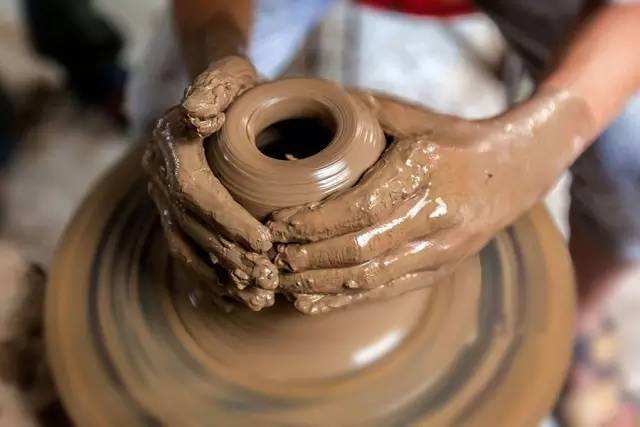 Learn How to Perform Suzhou Kunqu Opera (Price is TBA)
Kunqu Opera in Suzhou is one of the oldest extant forms of Chinese opera. Under the guidance of your teache, get your own way to know how to use Kunqu style body language to show your emossion. you'll wear the Kunqu dress and learn how to act the Kunqu Opera. Also, you could have chance to learn how to do Kunqu Opera style make-up.
Price Per Person in US Dollars