Suzhou Silk Embroidery Research Institute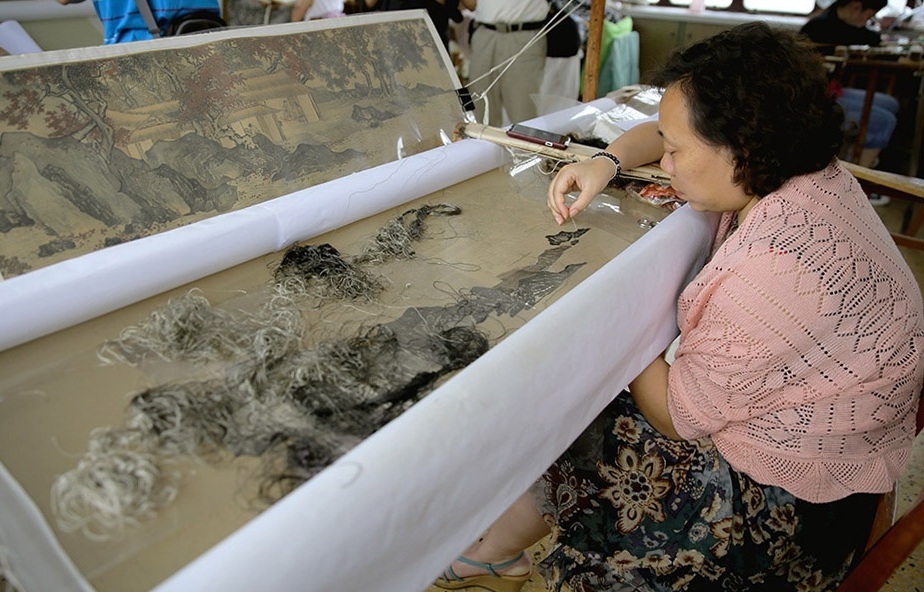 Su Embroidery (??)
Suzhou Silk Embroidery Research Institute
Suzhou, famous as Chinese classic gardens with the history of over 2,500 years. The mere name of Suzhou brings many beautiful images to people's mind: wonderful gardens, peaceful water towns, beautiful ladies, soft Suzhou accent, delicate embroidery art, amazing silk double sided embroidery and delicious Suzhou food.
Suzhou is one of silk capitals in China, Su Embroideries, the artworks made of silk, is crafted in areas around Suzhou, having a history dating back 2,000 years. The silk production and trade flourished. In the 14th century, the Chinese silk embroidery production reached its high peak. Several major silk embroidery styles had been developed, like Song Jin (Song embroidery) in Suzhou, Yun Jin (Cloud embroidery) in Nanjing and Shu Jin (Shu embroidery) in Sichuan.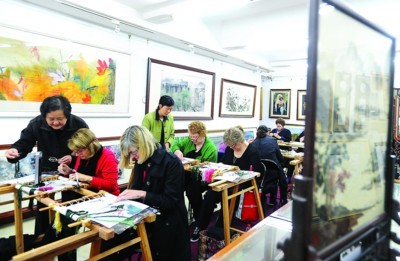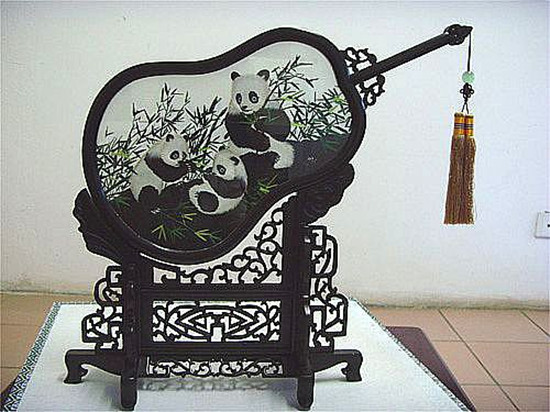 Suzhou Embroideries is famous for its beautiful patterns, elegant colours, variety of stitches, and consummate craftsmanship. Its stitching is meticulously skillful, coloration subtle and refined. Suzhou artists are able to use more than 40 needlework and a 1,000 different types of threads to make embroidery, typically with nature and environment themes such as flowers, birds, animals and even gardens on a piece of cloth. A rare subset is Su double-sided embroidery which requires ultimate skill and artistry. The front and back of the piece may have different designs, but the ends are not knotted but woven in so the back can't be distinguished.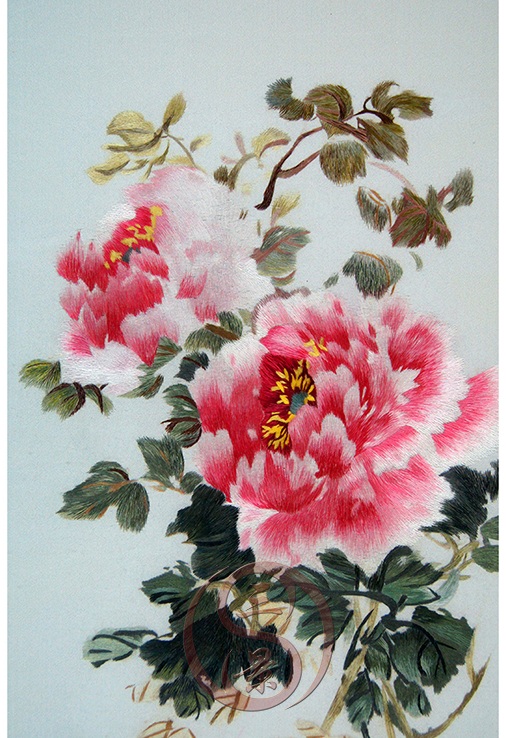 In Suzhou, there is a Suzhou Embroidery Research Institute where you can many artworks made of silk. Suzhou Embroidery is situated in the Mountain Villa of Secluded Beauty, a famous garden in Suzhou, which was built in the Qing Dynasty. Covering an area of only 0.2 hectares, the mountain villa of Secluded Beauty is celebrated for its elegant architecture and beautiful scenery. Its major attraction lies in the artificial mountain which is made up exclusively of Taihu rocks. While wandering through the mountain caves, you will feel as if confronted with a full mountain range. Established in 1957, Suzhou Embroidery Research Institute now has over 100 specialized experts including senior craftsmen and highly qualified artists. Many silk embroideries found in the Embroidery Research Institute are fashioned from top quality silk. With a long history, Suzhou embroidery is characterized by beautiful patterns, elegant colors, and rich and meticulous stitching. It is like an actual painting when observed at a distance, but upon close inspection the individual silk threads can be seen.
There are hundreds of thousands of embroidery masters and specialists, including more than 100 Chinese Arts and Crafts Masters, Senior Arts and Crafts Masters, in order to preserve and develop the intangible cultural heritage of Suzhou embroidery. When travelers visit the Suzhou Embroidery Research Institute observe the artists at work. The atmosphere is focused, and each piece in progress is completely different from the others. Travelers will chance across birds, landscapes, patterns, even the thinnest calligraphy, stitched, meticulously. Needles and threads are so unbelievably fine, that it is easy to understand why the pieces take months, if not years to complete.
Information

Admission Fee: Free
Address: No. 272 Jinde Road, Suzhou
Tel: 0512-65222415