Lion Grove Garden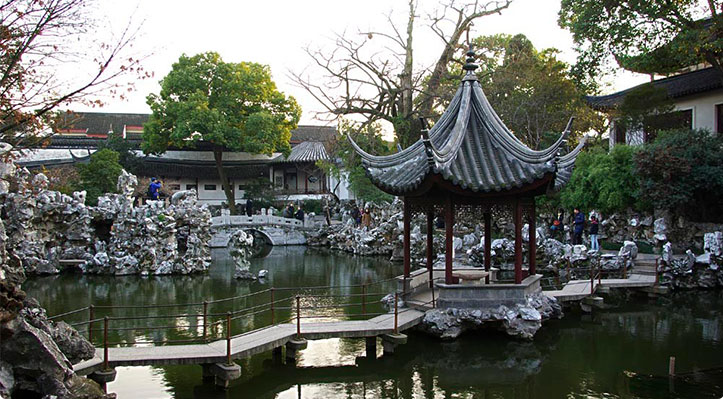 Lion Grove Garden (Shizilin)
Brief Introduction of Lion Grove Garden
The Lion Grove Garden is a garden located at 23 Yuanlin Road in Pingjiang District, Suzhou, Jiangsu, China. The garden is famous for the large and labyrinthine grotto of taihu rocks at its center. The name of the garden is derived from the shape of these rocks, which are said to resemble lions. The garden is recognized with other classical gardens in Suzhou as a UNESCO World Heritage Site.
History of Lion Grove Garden
"Of all the famous rock-gardens in history, only one has survived. This is the so-called 'Lion Garden' in Soochow." The construction of the Lion Grove Garden began in 1342 during China's Yuan Dynasty, by a monk Tianru and a group of Zen Buddhists as a memorial of their master and teacher Zhongfeng.
The garden is approximately 10,000 square meters and contains 22 pavilions, 71 steles, and numerous other works of art. The garden is famous for its rockery, which is mostly made of limestone taken from Taihu Lake. The original name of the garden was "Shizi'lin Si"(The Lion Grove Temple), later called "Putizhengzong Temple" and then "The Holy Grace Temple". At that time the garden was part of the Bodhi Orthodox Monastery. The name of the garden is derived from the lion-shaped taihu rocks, which in turn were built as a reference to the symbolic lion in the Lion's Roar Sutra. The name also refers to the Lion Peak of Mount Tianmu in Lin'an City, Hangzhou, Zhejiang, where Abbot Zhongfeng attained nirvana. At that time, the garden was 6,670 square metres and was covered in rock and bamboo.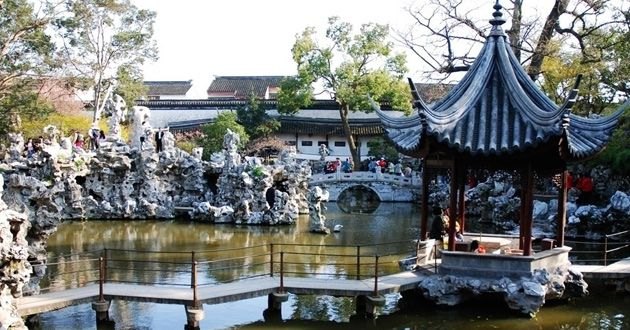 After Wen Tianru's death, the garden fell into disrepair, but in 1589 another Buddhist monk, Mingxing, rebuilt the garden. The magistrate of Hengzhou bought the garden, and his son Huang Xi rebuilt the garden in 1771. Starting in 1850, the garden fell into disrepair once again. The Lion Grove Garden had been repaired and renovated between 1917 and 1926. Many buildings and rocks in the garden have been preserved since the restoration. According to official signs posted in the garden, the Bei family "donated" the garden to the Chinese government in 1949. This words on the signs seem curious because all private property was nationalized by the Communist Party in the same year. The garden was not opened to the public until 1956.
The garden's design attracted the attention of notable visitors, such as the painter Ni Zan, who created the painting Picture Scroll of Lion Grove in 1373. In 1703, the Kangxi Emperor visited the garden, and in 1765, the Qianlong Emperor also visited the garden and left a tablet True Delight personally inscribed by him as a gift. He also had a replica of the garden constructed in the Changchun garden of the Summer Palace and at the Chengde Mountain Resort.
Transportation
- Bus Routes: No.518?112?55?262?202?Y2?50East Line?50West Lin?Y5 South Line?811?529?Y1?Y5 North Line?Y1 North Line?Y1 South Line?309 get off at the bus station of Suzhou Museum(Humble Administrator Garden/Lion Grove Garden).
- Subway Routes: Recommend time for a visit: 1-2hours
Information
1. Opening Time: 07:30am-5pm.(11OCT-29FEB.next year);
07:30am-5:30pm.(1MAR-10OCT), the garden closed 30 minutes prior to stop selling tickets
2. Admission Fee: RMB30(16APR-10OCT); RMB20(31OCT-15APR.next year)
3. Tel: +86 512—67272428
4. Address: No 23,Yuanlin Road,Suzhou