Hanshan Temple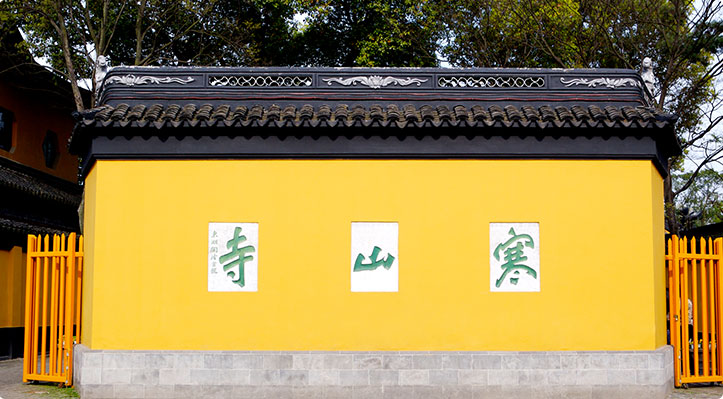 Hanshan Temple, Suzhou attraction
Brief Introduction
Hanshan Temple (Cold Mountain Temple) is a Buddhist temple and monastery in Suzhou, China. It is located at the town of Fengqiao (lit. Maple Bridge), about 5 kilometres west of the old city of Suzhou. Traditionally, Hanshan Temple is believed to have been founded during the Tianjian era (502–519) of the reign of Emperor Wu of Liang, in the Southern and Northern Dynasties period. More than thousand years ago, a poet had described the midnight bell rings of Cold Mountain Temple. The temple is famous for its bell rings at night. It took its current name from a monk named Cold Mountain, which meant Cold Mountain in English. The temple can be traced back to 6th century, and it was destroyed and repaired for times in history. A sitting statue of Buddha is in the main hall of the Hanshan Temple. On each side of the statue there are nine gold-plated arhat statues, each with a different facial expression. If you come to visit them, you will definitely be touched by their life-like designs.
Hanshan Temple was constructed during Tianjian era in Liang Dynasty with a history of more than 1400 years. It was originally called "Miaoli Puming Temple". The current name of the monastery derives from Hanshan, the legendary monk and poet. Hanshan and his disciple Shide are said to have come to the monastery during the reign of Emperor Taizong of Tang (627–649), where Hanshan became the abbot.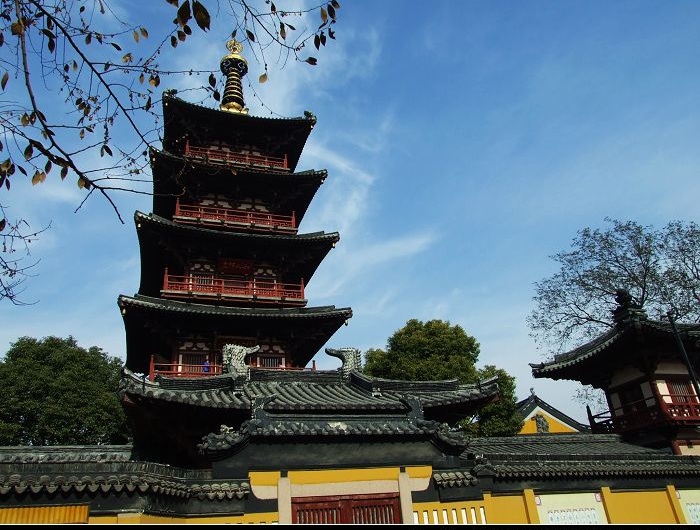 Currently, the temple consists of Grand Prayer Hall, Bell Tower, Sutra-Collection Building, Fengjiang Pavilion, and Tablets Corridor and so on. In 1995, a new building named Puming Pagoda was constructed in the temple. The pagoda is a Buddha pagoda. It has a pagoda of five stories. After its construction, it became the symbolic building of the temple. Besides, many historical relics are preserved well in the temple, such as the statue of Han Shan and the stone tablet inscriptions written by well-known scholars in the past time of China.
Cold Mountain Temple is often known for its bell rings. The bell had been destroyed for centuries in history, and the bell in the tower now was modeled. On every Chinese Lunar New Year's Eve, the bell is ringed to pray for safety, peace and happiness when the New Year comes. Thousands of visitors from home and abroad are attracted there. Every year in the Chinese New Year's Eve, people from home and abroad is gathering together to listen to the sound of the bell. It is said that all your trouble in one year will be driven away by the bell.
Its total area is 10,600 square meters (about 3 acres). The existent temple was rebuilt from 1906 to 1911, including the sutra hall and the bell tower. In 1995 a Buddha tower was built behind Hanshan Temple, ending the history that this temple had no Buddha tower for more than 600 hundred years.To the south of the Sutra Collection Pavilion, there is the Bell Tower, with the shape of hexagon. Hanshan Temple is famed in East Asia because of the poem "A Night Mooring by Maple Bridge" (????), by Tang Dynasty poet,Zhang Ji. The poem describes the melancholy scene of a dejected traveler, moored at night at Fengqiao, hearing the bells of Hanshan Temple:
Hall of Hongfa, which means to spread the Buddhism, is a hall to display the bronze statues of three well-known monks, namely Xuanzang, Jianzhen and Konghai. Xuanzang is not only a monk but also a good translator over thousand years ago. He translated many Indian Buddhism books into Chinese. Jianzhen is a monk who once went to Japan to preach Buddhism in 9th century. Konghai is Japanese who came to China to learn Buddhism in 9th century. After his study in Cold Mountain Temple, Konghai went back to Japan to preach Buddhism.
How to get to Hanshan Temple
Bus Routes: No. 6, 9, 17, 21, 31, 301 and tourist bus Line 3 to get off at the Heshan Daqiao stop (Heshan big bridge)

Travel Guide
1. Address: No.24 Hanshansi Lane, Fengqiao Town, Suzhou City
2. Opening Time: 7:30 a.m. – 17:00 pm
3. Admission Fee: CNY 20
4. Time for Visit: 1 hour
Most Popular Suzhou Trips including Hanshan Temple
1. Suzhou Classic Day Trips from Shanghai
2. One Day Suzhou Trip to Explore Buddhism Culture
3. One Day Suzhou Classic Tour
4. 2-Day Suzhou Tour From Shanghai By Bullet Train
For more tours includes Hanshan Temple, please refer to Suzhou Tour Packages.