Taste the spring in your food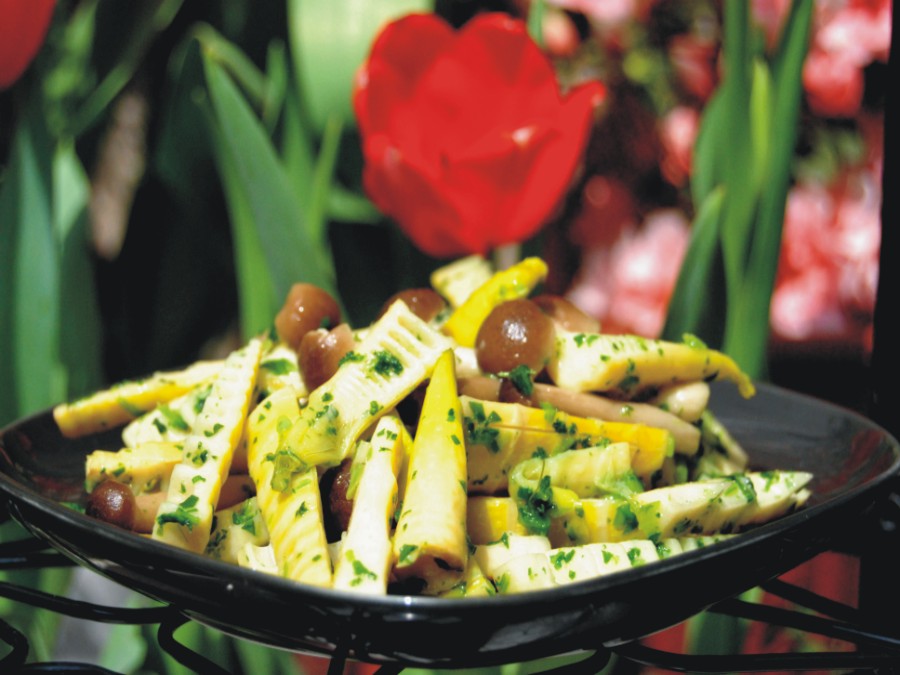 SPRING is the season for germination and blooming, and for fresh vegetables after the long cold winter.
On traditional Chinese tables, spring dishes are full of wild vegetables, especially Chinese toon and bamboo shoots. For the Western menu, spring is the best season for black truffles.
In spring, low fat and cholesterol-free is the cuisine trend. Chinese seasonal wild vegetables full of fiber and Yunnan Province mushrooms rich in amino acids can be used in a combination of Chinese and Western recipes.
IDEALShanghai has selected several restaurants with innovative spring menus, with distinctive food, culture and charming views of the city's hotspots.
Enjoy different mushrooms
Different mushrooms grow in different seasons, and spring is the best season for several rare kinds, especially truffles. This spring, the Crystal Garden at the Westin Bund Center Shanghai presents seasonal mushrooms that are rich in amino acids and dietary fiber, and are low fat and cholesterol-free. The spring menu features sashimi mushroom, sous-vide New Zealand salmon with matsutake sauce, sauteed chicken with fresh boletus aereus (a highly prized and much sought-after edible mushroom) in a glutinous rice sesame ball and much more.
The special sashimi mushroom includes fresh antler mushroom, fresh cauliflower fungus and fresh yellow ear mushroom, with a feeling in the mouth like abalone, which is extremely smooth and tasty. Recommended are the steamed buns, with black truffle in the traditional pork filling, full of Shanghai style. The dessert on this spring menu is also worth tasting. The pastry chef stuffs the steamed sponge cake with a rare kind of white mushroom, covering it with a creamy sauce, a great combination of Chinese and Western dishes.
Address: 5/F, 88 Henan Rd M.
Tel: 6103-5048
Beef with seasonal greens
How to add some spring flavor on your daily beef? The Meat at Kerry Hotel Pudong, Shanghai is famed for its steaks and seafood. It is kicking off this culinary season with everything beef. Inspired by rare cuts and exquisite flavors from around the world, chef Otto Goh has introduced a new seasonal six-course beef menu. To match it, a trio of wines will be hand-selected by the sommelier.
The most special spring dish is the tri- tip and rib cap appetizer, a tribute to the bountiful mountains in the northeast of China, balanced with Yunnan morel mushrooms, truffle mashed potato, chive dip and pureed seasonal greens.
Address: 1388 Huamu Rd
Tel: 6169-8886
Spring dishes in Yuyuan Garden
When you visit Yuyuan Garden, the Nanxiang Steamed Bun Restaurant is one you cannot miss. It gathers a number of seasonal ingredients, such as fox nut, Chinese toon, bamboo shoots, kalimeris, Chinese chives and mushrooms.
Two special new dishes worth tasting are fox nuts and Chinese toon cheese balls. Fox nuts are known as "Ginseng in water" in China. The restaurant selects raw materials grown in Suzhou and matches them with fresh shrimps. Chinese toon cheese balls combine golden crispy mozzarella cheese with fresh Chinese toon. You will smell strong cheese and pure toon, and have fun while biting into it.
Address: 85 Yuyuan Classic Street
Tel: 6355-4206
A balance of delicacies and views
This spring, Vue Restaurant at Hyatt on the Bund, on the banks of the Huangpu River, adds to its elegant assortment of fine food with the introduction of special new dishes. The freshly created spring menu includes delicacies from soft octopus with fennel, orange salad and rouille sauce to pan-fried "rougie" foie gras with corn mousseline and port wine cherry glace, and a renewed Vue flaming sensation. Both food and presentation are exquisitely arranged to suit the season.
Address: 30/F, West Tower, 199 Huangpu Rd
Tel: 6393-1234 ext 6328
------Article From Shanghaidaily