Suzhou embroidery exported along canal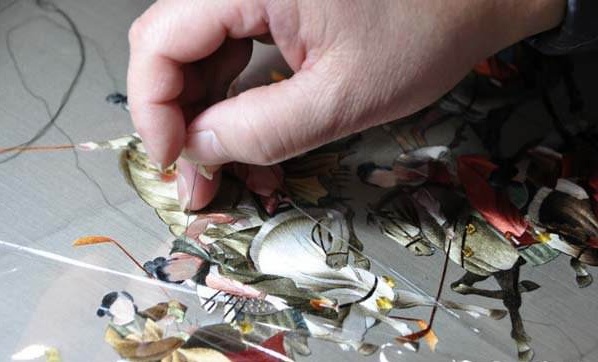 SUZHOU aristocrats were so enamored of embroidery that it's said they changed robes three times a day, each garment with a subtle variation in the same pattern. Yao Minji spins the yarn.

As the needle flies in and out of the red fabric, yellow threads are stitched along the already embroidered white threads that are patterned like clouds. The refined patterns, sewed meticulously with threads of different shades and thickness, glitter under the winter afternoon sunshine.

Zhou Gendi, a retired 66-year-old worker, is embroidering a pillow case for newlyweds as she sits on her balcony in Suzhou City in Jiangsu Province. Like many Suzhou natives her age, Zhou learned the skills from her mother and made money from her embroidery, helping to support the family along with her mothers and sisters.

"It's not difficult, but it's tedious and needs a lot of efforts, so only girls like us, poor village girls, learned it because we needed the skill to make money," Zhou says. "Girls from the city didn't have to do this. And most young girls today, whether in village or city, don't know how to do it anymore," she tells Shanghai Daily.

"Now that I'm retired, I've picked up the skill again and I have time to play with it and make some pocket money."

Zhou won't say how much she can make, but says it's not much, adding that once a hand embroidered pillow case could earn the family a half kilogram of pork. Now, merchants prefer machine embroidery that's much faster and cheaper.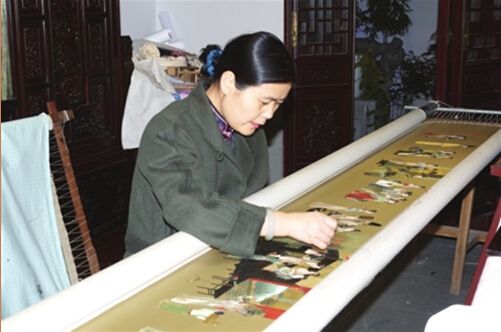 In ancient times, especially in the Ming (1368-1644) and Qing (1644-1911) dynasties, the Grand Canal made it possible for merchants to trade nationally and even overseas. Porcelains, tea and silk were among the most traded goods and Suzhou was an important commercial center especially known for its refined, double-sided Su-style embroidery.

Silk trade contributed greatly to commerce and was a big part of overseas export back then.

Suzhou has always been known for its meticulous craftsmanship and embroidered works are characterized by delicacy and refinement. "Su embroidery encapsulates the essence of Su craftsmanship," local historian Xu Gangyi tells Shanghai Daily.

According to legend, ancient embroidery skills and demand for them reached such an extreme that an aristocrat would change his embroidered silk robes three times a day. At first glance, the costumes appeared to be the same, with similar embroidery of birds in trees, for example. But on closer inspection, the types and colors of birds are different, indicating different times of day and costume changes.

Xu says these legends are difficult to confirm, but believes they are credible since double-sided embroidery skills can be traced back more than 1,000 years. And the city of Suzhou was known for its extreme refinement and demand for the finest crafts.

Using special types of stitches, craftsmen can sew different patterns on each side of a piece of fabric, creating a magical effect with, for example, flower buds on one side and blossoming flowers on the other.

Embroidery with human hair is an ancient skill. People's hair was considered sacred and they were discouraged from cutting their hair. Giving a lock of hair to someone was considered a sign of deep respect.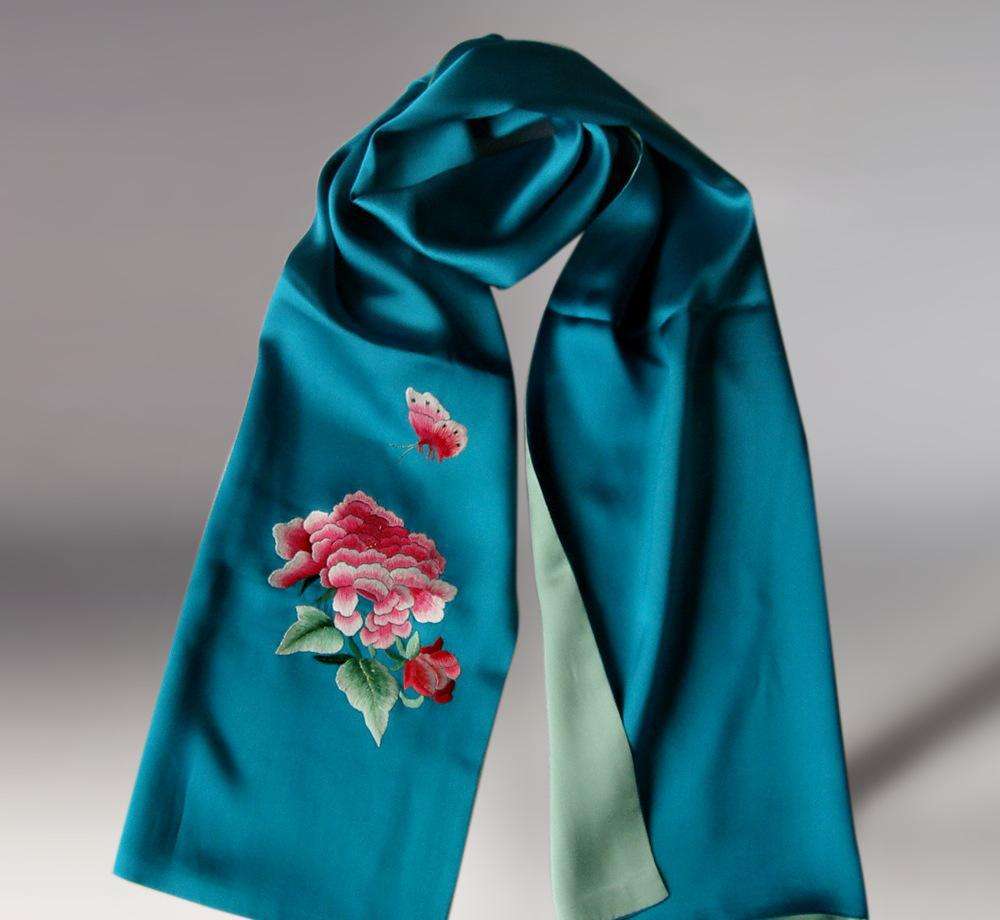 In the Tang Dynasty (AD 618-907), when Buddhism became very popular around the country, some women started twisting their hair into threads to embroider Buddhist images, to show their reverence.

Su embroidery dates back nearly 2,000 years and its patterns and stitches were elaborated in the Qing Dynasty, when the government set up special bureaus in Suzhou, Hangzhou and Nanjing to produce fabrics for the imperial family and for foreign export.

The three prosperous cities each recruited more than 2,500 embroidery craftsmen.

The bureau's head was not high ranking but it was very important because he was responsible for overseeing production of an important national industry.

"He was also the emperor's eyes and ears in the area," Xu says. "The emperor with his court in far off Beijing was concerned about this wealthy distant part of the country. He needed all possible information to ensure that this important economic area was stable."

Zhou and her husband Li Rennan moved to an apartment three and half years ago, from their old house along the canal in Suzhou, just a few minutes' drive away. Today the canal area is filled with tall apartment buildings, broad avenues, department stores and supermarkets. Five or six years ago, it was an area of farm fields.

"You see those rows of five-story apartments? That's where we used to live and farm our fields," says Li, pointing to the other side of the canal.

"I work in a glass factory, but I always missed the farming I did when I was young in the village. So my wife and I planted some vegetables in a small plot as a hobby and way to make some pocket money."

But those little plots are gone as well, covered by concrete and residential buildings.

To find any farmland today, Li says he has to drive for an hour.

Li's current and former homes are in Huqiu District, to the west of the ancient Suzhou. We are standing on a bridge over the canal that was expanded in the 1980s.

Suzhou has been a water town since it was built almost 2,500 years ago, with a sophisticated water system including numerous rivers and streams inside and a "guardian" river outside, says historian Xu. The canal joins the local water system, so more routes were possible.

The major course of the canal changed three times in history, all due to increased demand because Suzhou has always been an important stop. Some of Suzhou's famous commercial areas, such as Changmen, became prosperous precisely because the canal ran through them.

Below are most popular Suzhou tours of Silk Culture
1. Half Day Suzhou Silk Culture Tour
2. Private Suzhou Day Tour: One Day Suzhou Profound Culture Tour
3. Suzhou Silk Day Tour to Appreciate the Soft Oriental Fabric From Shanghai