Former French President Francois Hollande visits Suzhou
Accompanied by Liang Jianquan, vice chairman of Chinese People's Institute of Foreign Affairs, Francois Hollande, former president of France, visited Suzhou recently.
Hollande said he's impressed by Suzhou's urban development, he said the city has achieved great results during the opening-up and reforms and the city's urbanization and modernization are beyond his imagination. Also, Hollande learned about Suzhou's environmental protection, labor pool and the local residents'welfare programs.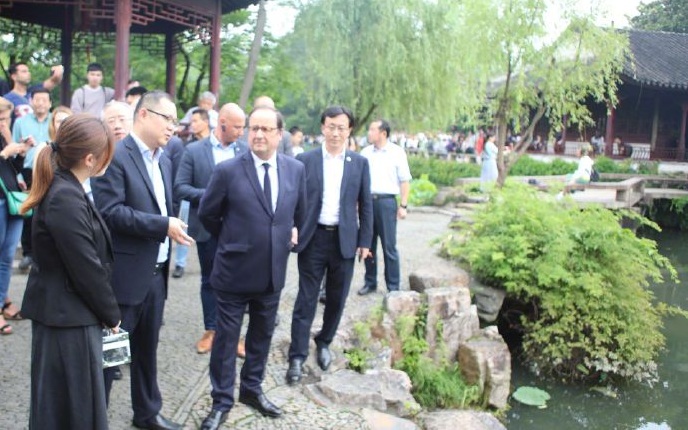 Francois Hollande, Former President of France, visits the Humble Administrator's Garden in Suzhou

Suzhou established sister city relationship with Grenoble, a city in southeastern France and known as the country's "Silicon Valley," in 1998. The two cities have carried out extensive cooperation in education, medicine, cultural industries, tourism, and environmental protection in the past 20 years.
During his trip, Hollande also visited Suzhou's Humble Administrator's Garden, showing great interest in Suzhou's gardens, landscape art, and traditional culture.
----From Living Suzhou