China Fact
List of China's Country Profile

| | |
| --- | --- |
| Area | 9,596,961 km2 (3,705,407 sq mi) Water (%) 0.28% |
| | |
| --- | --- |
| Population | 1,357,380,000 (2013 Est.) |
| | |
| --- | --- |
| Official Language | Standard Chinese |
| | |
| --- | --- |
| Time Zone | China Standard Time (UTC+8) |
| | |
| --- | --- |
| Currency unit | CNY, RMB, Yuan(Chinese) |
| | |
| --- | --- |
| Airport | 182 commercial airports ( 2012) , 82 new airports planned to open by 2015 |
| | |
| --- | --- |
| Neighbour countries | Russia, India, Japan, Vietnam, Taiwan, Pakistan, Myanmar (Burma), North Korea, Mongolia, Laos, Kazakhstan, Afghanistan, Nepal, Bhutan, Kyrgyzstan, Tajikistan |

A brief introduction of china
Currently, China is probably the safest and the most interesting country in the world.
China, officially the People's Republic of China (PRC), is a unitary sovereign state in East Asia and the world's most populous country, with a population of over 1.381 billion. Covering approximately 9.6 million square kilometres (3.7 million square miles), it is the world's second-largest state by land area and third- or fourth-largest by total area. Governed by the Communist Party of China, it exercises jurisdiction over 22 provinces, five autonomous regions, four direct-controlled municipalities (Beijing, Tianjin, Shanghai, and Chongqing) and the Special Administrative Regions Hong Kong and Macau, also claiming sovereignty over Taiwan. China is a great power and a major regional power within Asia, and has been characterized as a potential superpower.

Location of china
China is situated between latitudes 18° and 54° North and longitudes 73° and 135° East, which is located in Eastern Asia, between North Korea and Vietnam, China is bound by the East China Sea, Korea Bay, Yellow Sea, and South China Sea.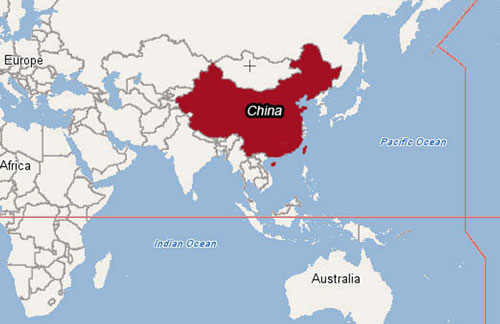 The 14 nations bordering China are as follows:
Laos, Vietnam, India, Burma, Nepal, Bhutan, Afghanistan, Pakistan, Kyrgyzstan, Tajikistan
Russia, Kazakhstan, North Korea, Mongolia
China flag
The Chinese flag denotes its Communist heritage. It is a vibrant red representing the revolution, with a large yellow star on the top left denoting the Communist Common Program and four smaller stars in an arc representing the workers , peasants , the bourgeoisie and the patriotic capitalists . The National Anthem is the 'Yiyonggjun Jinxingqu' or the March of the Volunteers , and was adopted in 1949 when the Communist Government came into power. The song expresses the Chinese people's desire to dedicate themselves to their country and for national liberation. The anthem is more popularly known as 'Zhonghua Renmin Gongheguo Guoge' or the Song of the People's Republic of China.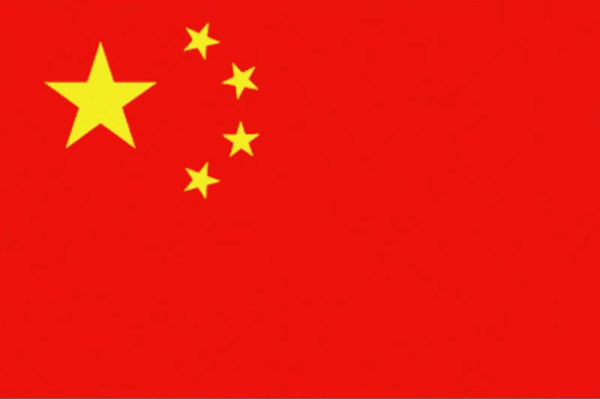 Offical Language
The official language of the PRC is Mandarin, a tonal language in the Sino-Tibetan family. Within China, however, only about 53 per cent of the population can communicate in Standard Mandarin.
Other important languages in China include Wu, with 77 million speakers; Min, with 60 million; Cantonese, 56 million speakers; Jin, 45 million speakers; Xiang, 36 million; Hakka, 34 million; Gan, 29 million; Uighur, 7.4 million; Tibetan, 5.3 million; Hui, 3.2 million; and Ping, with 2 million speakers.
Dozens of minority languages also exist in the PRC, including Kazakh, Miao, Sui, Korean, Lisu, Mongolian, Qiang, and Yi.