Suzhou Transportation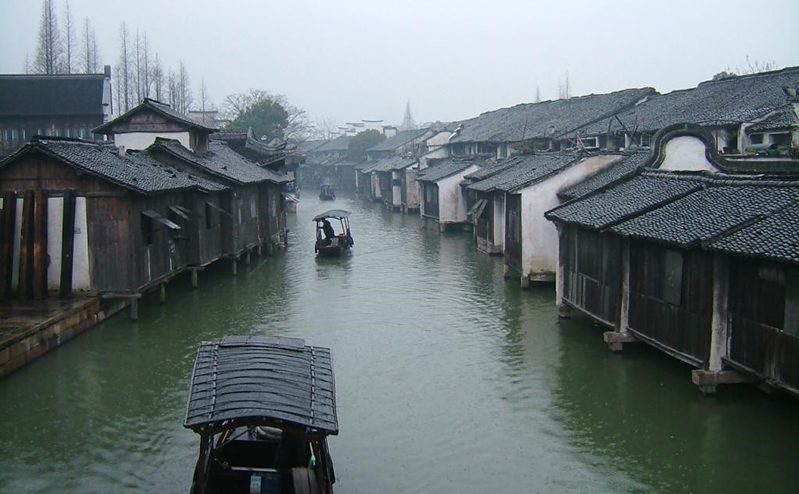 Overview
Suzhou has become a core city of China's Yangtze River Delta economic zone, given its high GDP contribution to China. More recently, it has been a center of the silk trade and a place of gardens and canals. Suzhou has long been a heaven for scholars, artists, and skilled craftsmen, and this is still the case today. As a major tourist city, Suzhou is easily accessible. With a highly developed network of transportation, Suzhou offers various convenient tools for its visitors, where buses and taxies are available as well as airplanes and trains connecting this city with other ones. The railway, highway and inland water transport are all quite convenient. Zhangjiagang port is the important gateway of Sunan's open policy, and big ships can be moored here. Travel in and around Jiangsu is a vacation in itself, whether by plane, train, bus, or even boat.
How to reach Suzhou
By plane
It is disappointing that Suzhou doesn't have a passenger airport so far. The closest airports with flights of use to most tourists are in Shanghai. There is a closer one in Wuxi, but it serves mostly domestic flights. Nanjing and Hangzhou are also good choices for transfer stop.
-Via Shanghai
Pudong International Airport has most international flights and Hongqiao Airport has mostly domestic flights. They are 120 km (75 mi) and 86 km (53 mi) away from Suzhou respectively but regular Shuttle buses run between Suzhou and the airports daily, spending about one hour and forty minutes to get you where you want to go. The shuttle bus between Pudong and Hongqiao leaves every 10 minutes from 6am-9pm and costs RMB30 per person.
-Via Hangzhou
There are intercity buses between Suzhou and Hangzhou airports. The location of the waiting room is North of Entrance 5 to the Arrival Hall, first Level of Terminal Building. Price range is RMB 20 to RMB 30 per person.
-Via Wuxi
Situated to the southeast of Wuxi, the airport has several domestic and few international flights . From airport to Wuxi city center (Wuxi train station) there are infrequent (every 30 minutes) buses, just on the right side when tourists exit the airport (see blue plate with chinese characters and timetable for 1,2,3 routes). Allow at least 40 minutes to ride to Wuxi center and about 15 minutes for a ride between Wuxi and Suzhou on a high-speed train.
By Train
There are four major train stations in Suzhou: Suzhou Station (Suzhou Zhan), Suzhou North Station (Suzhou Bei Zhan), Suzhou Industrial Park Station (Suzhou Yuanqu), and Suzhou Xinqu Station. Suzhou North Railway station is used for high-speed trains departing to/from Beijing. But it is situated a bit outskirts. A ride from Beijing to Suzhou usually takes 5 hours. Suzhou Railway Station is located in the northern part of the city and is a first-class station, providing about 270 trains passing through the city each day. Trains for major cities like Beijing, Shanghai, Nanjing, Chengdu, Xi'an, Qingdao, Xining and so on are available in the station. A train ride to Shanghai takes less than half an hour while Nanjing is about one hour away. The slower and lower class T- and K- services from other provinces on their way to Shanghai or Nanjing generally stop at Suzhou, but if traveling from anywhere within Jiangsu it is better to take a fast G-train.
By Bus
Suzhou provides long-distance buses for Shanghai and Zhejiang Province. Three long-distance bus stations are accessible in Suzhou, including the North Bus Station, located at the east of Suzhou Railway Station, the South Station, located at the corner of Nanhuan Eastern Road and Yingchun Road and the West Station, on Jinshan Road. As the largest station, Suzhou South Bus Station is a modern, clean terminal serving regular shuttles to Shanghai, Nanjing and Hangzhou as well as most other major destinations around eastern China. It is located at the south of the city centre and is connected by many local buses and taxis. Tourists can arrive at the bus station via buses 29, 30, 31 and 101.Suzhou North Bus Station is located next to the train station. The station mainly serves buses to nearby cities such as Wuxi, Zhangjiagang, Changzhou and Kunshan as well as less-frequent services to other cities including Nanjing. The station was recently completely rebuilt and is much cleaner and more spacious than before, and is a smoke-free zone now. All buses serving the train station also stop at the North Bus Station, and tourists can walk into the city centre in 20-30 minutes. Suzhou West Bus Station is on the far edge of the Suzhou New District (north of Suzhou Amusement Park) and mostly serves nearby towns of little interest to travellers.
In addition, the China Eastern Airlines City Air Terminal on the intersection of Renmin Road and Ganjiang West Road also has a small terminal for shuttle buses to Shanghai Hongqiao and Pudong airports.
Suzhou City Transportation
By Foot
It's possible to walk around the city although many will find the distances between some attractions too large to make walking an option. A leisurely walk may be one of the best ways to travel in the ancient city of Suzhou. Strolling along Pingjiang Road at dawn and Shantang Street in the evening, lingering at Huqiu Pagoda in a drizzle and Humble Admini-strator's Garden in twilight, visitors can enjoy the beautiful scenery of Suzhou and be in a peaceful mood. Besides, there are pedestrian streets such as Guanqian street, Shilu Pedestrian Street, Dongbei Pedestrian Street, Suzhou Shantang Street, Phoenix Street etc. Dozens of shopping malls stands along these streets, offering all kinds of products and satisfying people's various demands. Besides, tourists can enjoy the delicious Su-style dishes and delicate characteristic snacks in these areas as well.
By Bicycle
Cycling is a wonderful way to explore the lovely city. There are numerous places to hire a bicycle, and around the Pingmen Bridge which is on the east of railway station, many bicycle rental stores are in sight. Generally, the price is 2 Yuan for four hours, 3 Yuan for five to six hours, and 5 Yuan for the whole day. And deposits and identity cards are required for renting a bicycle. The city is laid out in such a way that several of the gardens and historic attractions can be taken in on a single tour. Arched bridges spanning the canals are open to pedestrians and bicycles as well, and there are equally as many cycling lanes alongside the city streets. And tourists should pay more attention at major intersections, as motorists are not likely to yield to cyclists. Travel agents in the city also offer planned multi-leg excursions that cross from Suzhou to neighbouring villages and towns such as Hangzhou.
By Bus
There are more than 200 city bus lines in Suzhou. The buses can be rather crowded during rush hours and some of them are not very clean. But buses running through busy shopping streets or those connecting major scenic spots are in a good condition and during off-peak hours it is a pleasure to use them. In addtion, the bigger windows of a bus will offer you a wider view of the city than taxis. In the tourist city, five special "tourist" buses, numbered from 1-5, make getting around much easier for tourists. Within the downtown area, there are more than 120 bus stops that can be easily recognized by their traditional old Chinese style pavilion shape, and brown color. Bus fares range from 1 yuan to 5 yuan, which depends on the length of your journey or whether the bus has air conditioning. Public buses may not be the most convenient transport method for foreigners trying to navigate their way around Suzhou. There is only one bus route with English service in Suzhou, bus No. 89 which runs through Hui Hailong Station to Zhujiang Community Service Center Station, from 5:30am to 8:30pm daily.
By Subway
Suzhou is building a subway network to ease traffic congestion and meet urban development demands. The city started building the subway in 2008 and the first line was officially opened on April 28, 2012. By October 2017, there were three subway lines in Suzhou: Metro Line 1, 2, 4 and its branch line. These metro lines extend a total length of 121 kilometers and have 97 stations including five transfer stations.
Suzhou metro lines are charged depending on distance. According to the price table, the price starts at 2 yuan for 6 kilometers; from 6 to 16 kilometers 1 yuan is added for every 5 kilometers; from 16 to 30 kilometers 1 yuan is added for every 7 kilometers; above 30 kilometers 1 yuan is paid for every 9 kilometers. Passengers taking metro lines for more than 120 minutes should pay the overtime charge.
Special groups of people can enjoy beneficial policies on ticket prices. For example, disabled persons, the blind and students within the compulsory education age can take the metro trains for free. Aged passengers over 70 can take trains for free except during rush hours (7am to 9am, 5pm to 7pm). Besides, all the passengers who take Suzhou Traffic Cards, Educational E-Cards and Citizen Cards can enjoy a 5-percent discount in price.
According to the short-term planning, Suzhou will build Metro Line 6, 7, 8 and S1 with a total length of 148.5 kilometers and 111 stations, including three stations of the 5.1-kilometer Shanghai Metro Line 11's Huaqiao section. These four metro lines have 141.7 kilometers of underground part, 6.37 kilometers of elevated part, 430 meters of transition section, 107 underground stations and four elevated stations (including three elevated stations of Shanghai Metro Line 11's Huaqiao section); The planning also includes the construction of 78.6-kilometer extension work of Metro Line 1, 6, 7 and 9.
By Taxi
Taking a taxi is much more expensive than taking a bus, and taxis are a convenient way to travel in a city, for it may be easy to navigate on your own. Suzhou has about 4,000 taxis operated by more than 20 taxi companies, but still it's not easy to catch a cab during rush hours or on rainy days. In these difficult cases it's better to wait at hotspots like restaurants or bus stops for taxis. The most common taxi models in the city are Volkswagen Santana 2000, Santana 3000, Santana 4000 and Volkswagen Passat. Remember to avoid the unlisensed taxis, even if the driver solicits you. You have no rights if injured in an unlicensed taxi. The price starts at 10RMB (including 3 km), 3 kilometers after additional 1.8 RMB for one kilometer, and 5 kilometers after, 50% no-occupancy surcharge. Waiting for more than 5 minutes, the driver has to charge you by converting 5 minutes into 1 kilometer. Extra fees have to pay if you take taxi from 23:00 to 5:00.
By Rickshaw
Suzhou is the classic Chinese water town and many scenic spots are located in narrow streets and alleyways where it is hard for a bus or a taxi to pass through. But don't worry. The rickshaws will make the tour more convenient. Rickshaws keep the recommended transportation mode from one scenic spot to another in the old town, where it allows a slow pace of life among the tourist city's beautiful gardens and traditional waterside architecture. The starting price of a rickshaw is 2 Yuan per person and then 4 Yuan for every additional kilometer. If you want to hire a rickshaw, the price is 5 Yuan per person for an hour. Remember to negotiate the price before you get in and don't allow the driver to change it once you arrive at your destination.
By Boat
Suzhou is often dubbed the "Venice of the East" or "Venice of China". Thanks to its various rivers and the famed Grand Canal, Suzhou has formed its own network of water transportation, connecting with Zhangjiagang (a city in Jiangsu), Liujia (a famous historic old town located in the Wuzhong District), Changshou and Shimonoseki, Japan. Suzhou Ancient Canal Tour Company offers night cruises on the city moat. Over 20 historical attractions of Suzhou are united by it, making for an exquisite night tour. Although day time tours are wonderful, the colors and lights effects of night tours are incomparable. During the night tour, travellers can appreciate the lights from the ancient city walls, Couple's Garden, and Baodai Bride. The trip circumnavigates the entire ancient city and will take approximately 80 minutes. Besides, night cruises on Jinji Lake also provide excellent sights and photo opportunities of the entire area. Evening boats leave from the Lake Watching Pavilion and pass by eight top attractive sites: the Lake Side Avenue, Li Gong Di Commercial Water Street, Peach Island, Ferris wheel, Expo Center, Science and Culture Center, Linglong Island, and Music Fountain. The whole trip takes about 45 minutes.