Tour Itinerary
Pick you up at your hotel lobby or train station with a welcome signage"Suzhou Private Tour". One day tour in Suzhou includes the following activities: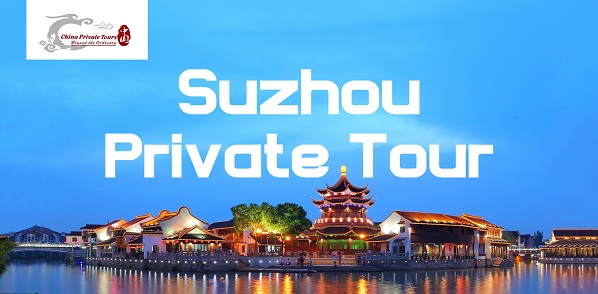 Our Pick up Signage "Suzhou Private Tour"
You'll start the day with the Master of the Nets Garden, it is the smallest of the Suzhou residential gardens,yet it is the most impressive because of its use of space which creates the illusion of an area that is much greater than its actual size. The garden is divided into three sections: a residential section, the central main garden and an inner garden.This12th century gem (later refurbished in the 18th century) and UNESCO World Heritage Site boasts an impressive garden and nightly Kunqu opera performances, but it's best known for its architectural splendor. The garden is especially fancied by overseas visitors and is praised as the most ornate and intact private gardens in Suzhou. Some tourists even offer a huge amount of money to buy it.
Next visit Suzhou No. 1 Silk Mill has a long and rich history of silk culture, including mulberry tree and silk worm cultivation and turning raw silk into beautiful fabric. Suzhou's climate and soil are perfect for silk production, and the city has been a center of China's silk trade for many centuries. The Suzhou No. 1 Silk Mill has been a proud steward of this heritage for over 80 years. It's more like a museum which shows you how the silk is made from cocoons from the beginning and the whole silk process. Not to be missed.
Then have a visit to the Shantang Street, the street also called Seven-mile Shantang,is located in the northwest of Suzhou, the total length of it is about seven li (3.5 kilometers).Shantang Street in Suzhou attracts many tourists from home and abroad. Most of them prefer traveling along the canal, enjoying beautiful scenery. Owing to its distinguished geographic location and convenient water and land transportation, Shantang Street was one of the streets which trade and culture were most highly developed in Ming and Qing dynasties, regarded as "the No.1 Ancient Street in China". The renovated Shantang Street becomes the place which shows the essence of natural views and human landscapes of Suzhou, which is rated as "the miniature of old Suzhou and the window of Wu culture". There is a folk song, singing "There is a paradise in heaven, but there are Suzhou and Hangzhou on the earth. Hangzhou has the West Lake while Suzhou has Shantang. Both are good places with boundless sceneries", which is the vivid image of Shantang.
Finally we went to the most important shooting spots, Zhouzhuang, it is one of the most famous water townships in China, situated in Kunshan City which is only 30 kilometers (18 miles) southeast of Suzhou. It is noted for its profound cultural background, the well preserved ancient residential houses, the elegant watery views and the strong local colored traditions and customs.In the Spring and Autumn Period (770 - 476 BC), Zhouzhuang was a part of the fief Yaocheng and called Zhenfengli. After being donated to Full Fortune (Quanfu) Temple by Zhou Digong, a very devout Buddhist, in 1086 during the Northern Song Dynasty (960 - 1127), Zhouzhuang got its present name as a memorial of the donor.In an area of half a square kilometer (124 acres), 60 percent of the Zhouzhuang's structures were built during the Ming and Qing Dynasties, which is from 1368 to 1911. Taking the most convenient form of transport in Zhouzhuang, a gondola, we will present some of the breathtaking sights one by one.Zhouzhuang is a popular tourist destination, classified as an AAAAA scenic area by the China National Tourism Administration. It has been called the "Venice of the East"?Zhouzhuang has many spots:Shen House ?Zhang House ?Residence of Shen Wansan ?Twin Bridge ?Fuan Bridge ?Mi Building Quanfu Lecture Temple ? Nanhu Park ?)Pailou and Quanfu Pagoda ?Zhenfeng Bridge
If you visit Suzhou from Shanghai
There are some useful Tips for you to Puchase Train Ticket:
From Shanghai to Suzhou:
Option 1: G7104 Shanghai Hongqiao Station to Suzhou Station: Depart at 08:54AM and arrive at 09:30AM
Option 2: G7006 Shanghai Station to Suzhou Station: Depart at 09:00AM and arrive at 09:25AM
Please choose one of the above options according to your hotel location
From Suzhou to Shanghai
Option 1: G7119 Depart at 17:56 from Suzhou Station and arrive at Shanghai Hongqiao Station at 18:32
Option 2: G7243 Depart at 18:02 from Suzhou Station and arrive at Shanghai Station at 18:27
You can ask your hotel help you book it or you can book it online by yourself. (Ctrip is ok)
Note: Plz book the train ticket in advance in case sold out, especially on weekend or public holiday
Early in the morning and evening in the water town has a quiet beauty, the most suitable for photographic creation of water town is Zhouzhuang, followed by Tongli and Luzhi. Most not to be missed is Zhouzhuang night. When the lights lit, the sky is not completely dark down for the best shooting night time, the scenery and the sky is the contrast between light and dark, long time exposure can exhibit blue sky and the warm tones of light, the building of strong color contrast, the suitable composition can also make full use of the water reflection.
Price Per Person in US Dollars