Tour Itinerary
Place&Transport: Shanghai--Suzhou--Shanghai
Today's Activities: Lingering Garden, Panmen Gate, Hanshan Temple, Pingjiang Road, Suzhou Silk Factory
Accommondation: N/A
Meal: N/A
In the morning, our Shanghai local driver will pick you up at your hotel lobby, you will find a welcome signage "Suzhou Private Tour". And you will be transferred to Suzhou directly (around 1.5 hour for one way), our local Suzhou tour guide will wait you in Suzhou. (Our tour guide and driver will keep in touch.)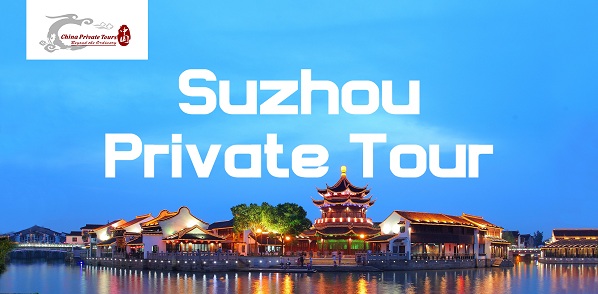 Our Suzhou Tour Pick Up Sign "Suzhou Private Tour"
Your day tour starts at the Lingering Garden. Lingering Garden is located outside Changmen Gate in Suzhou, it is one of the four most famous classic gardens in China with a history of over 400 years, the other three being the Summer Palace in Beijing, the Mountain Summer Resort in Chengde, and the Humble Administrator's Garden in Suzhou. Possessing typical Qing style, it is well-known for the exquisite beauty of its magnificent halls, and the various sizes, shapes, and colors of the buildings. It was recorded on the list of the world heritage by UESCO. Lingering Garden seeks to create stunning natural landscapes within limited space. In it, domiciles, ancestral temples and private gardens are included. Buildings, trees, and flowers blend harmoniously with their surroundings.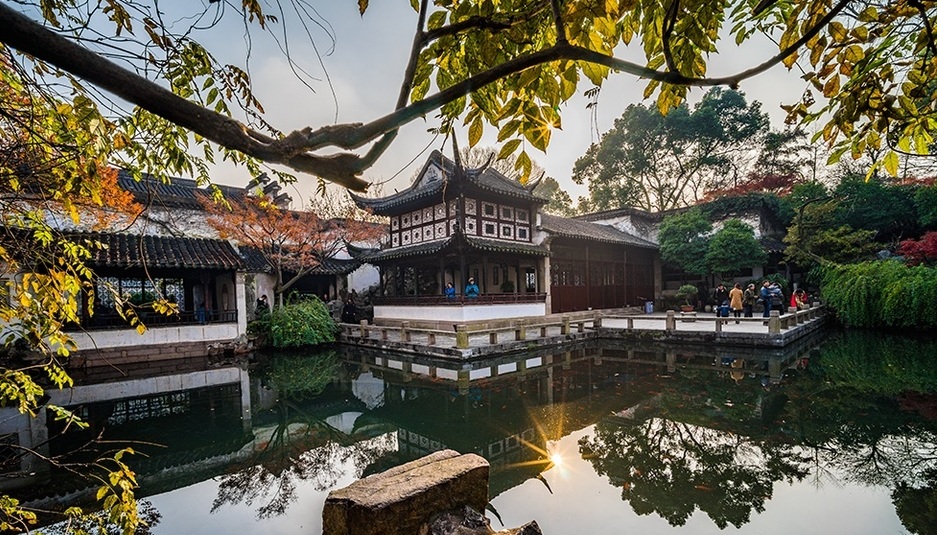 Next agenda is Panmen Gate. Panmen Gate is located on the southwest corner of the Grand Canal, Suzhou. With a history of 2,500 years, this city gate is the most completely preserved part of the ruins of the ancient city of Suzhou. The architecture of the wall is truly amazing. The gate is not only one, but many and includes an entire complex of both land gates and water gates. Therefore it is also often called the "Land and Water Gate". Stepping onto the top of the gate, you can see the Wumen Gate Bridge and the Auspicious Light Pagoda. Together, they are popularly known as the Three Scenes at Panmen Gate.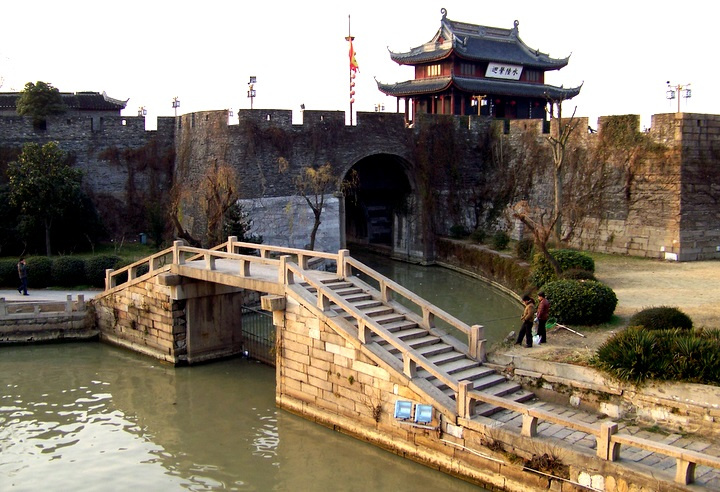 Enjoy lunch at a local Chinese restaurant
After lunch, pay a visit to Hanshan Temple. Hanshan temple's contemplative park-like atmosphere, its refined architecture and especially its famous bell have inspired both serenity and poetry since its founding 1,500 years ago. The temple houses a remarkable collection of stone tablets etched with Buddhist sutras and Chinese poetry. The temple, considered to be one of the 10 greatest temples in China, owes its fame to a classic Chinese poem called "A Night Mooring by Maple Bridge".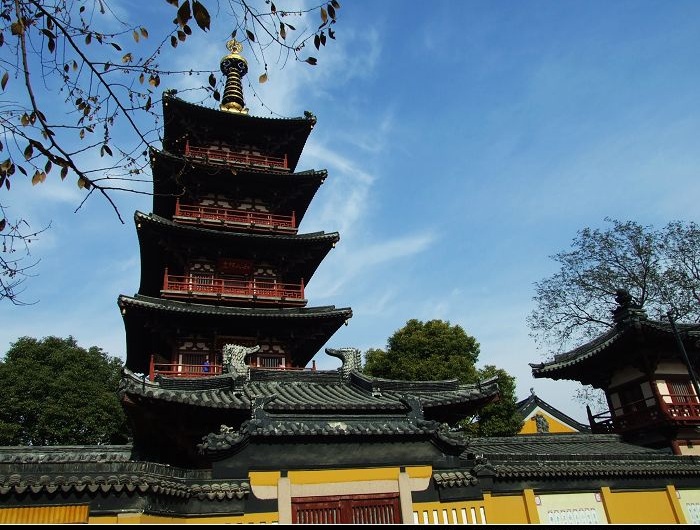 For an authentic taste of city life in old Suzhou, a stroll down Pingjiang Historic Street. Pingjiang Road is a historical street which dates back to the South Song Dynasty. With well-preserved blocks, it acts as an epitome of ancient Suzhou. Walking in Pingjiang Road resembles stepping the daily life of people in old times. The charming night view, delicious local, food, different kinds of handicrafts will give you a wonderful experience.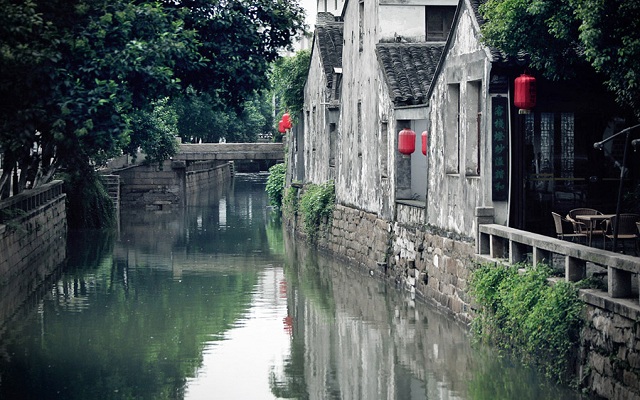 The last stop is Suzhou No. 1 Silk Mill. Suzhou No. 1 Silk Mill is a near 100-year old state-owned factory in Suzhou, the city of silk in China. Visit this ancient plan to see closely the real tiny silkworms & silk cocoons, the process of silkworm breeding, cocoon selecting, silk reeling, silk weaving, etc. and appreciate abundant types of silk scarves, garments, quilts and other items to know deeper about silk history and culture in Suzhou, China.
After the tour of Suzhou No. 1 Silk Mill, you will be transferred back to Shanghai and your day tour ends.
If you want to visit Suzhou from Shanghai by train, there are some useful tips for you to puchase train ticket:
From Shanghai to Suzhou:
Option 1: G7104 Shanghai Hongqiao Station to Suzhou Station: Depart at 08:54AM and arrive at 09:30AM
Option 2: G7006 Shanghai Station to Suzhou Station: Depart at 09:00AM and arrive at 09:25AM
Please choose one of the above options according to your hotel location
From Suzhou to Shanghai
Option 1: G7119 Depart at 17:56 from Suzhou Station and arrive at Shanghai Hongqiao Station at 18:32
Option 2: G7243 Depart at 18:02 from Suzhou Station and arrive at Shanghai Station at 18:27
Note:
1. You can ask your hotel help you book it or you can book it online by yourself.
2. Plz book the train ticket in advance in case sold out, especially on weekend or public holiday
Price Per Person in US Dollars