Summary
Day 1 Arrive in Shanghai
Day 2 Shanghai: Shanghai Museum, Nanjing Road, Bund, Old French Concession, Yuyuan Garden, Boat Cruise On the Huangpu River
Day 3 Shanghai: Yuyuan Garden, Yuyuan Bazaar, Old French Concession, Tianzifang, Xintiandi Area
Day 4 Shanghai--Beijing by Bullet Train
Day 5 Beijing: Tian'an men Square, Forbidden City, Summer Palace, Kung Fu Show
Day 6 Beijing: Ming Tombs, Mutainyu Great Wall
Day 7 Departure Beijing: Temple of Heaven, Leave Beijing
Day 1
Place&Transport: Arrive in Shanghai, the international flight is not included
Today's Activities: N/A
Accommondation: Four Stars Hotel (Can be customized) in Shanghai
Meal: N/A
Welcome to China! Upon arrival in Shanghai, our Shanghai local tour guide will pick you up at the exit of the airport, you will find a welcome signage "China Private Tour". And escorted you to your hotel directly. The rest of the day is free on your own.
Day 2
Place&Transport: Shanghai
Today's Activities: Shanghai Museum, Nanjing Road, The Bund, Old French Concession, Boat Cruise On the Huangpu River
Accommondation: Four Stars Hotel (Can be customized) in Shanghai
Meal: B, L, D
In the morning, our guide and driver will pick you up from your hotel. Firstly, you will visit Shanghai Museum, which is a museum of ancient Chinese art, situated on the People's Square in the Huangpu District of Shanghai, China. The museum was founded in 1952 and was first open to the public in the former Shanghai Racecourse club house, now at 325 West Nanjing Road, it was rebuilt at its current location in 1996, it is considered one of China's first world-class modern museums. The museum has a collection of over 120,000 pieces, including bronze, ceramics, calligraphy, furniture, jades, ancient coins, paintings, seals, sculptures, minority art and foreign art.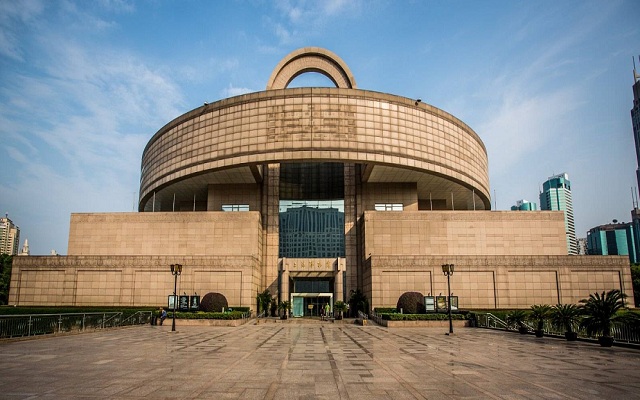 Shanghai Museum
You will have lunch at local restaurant, where you can enjoy some authentic Shanghai food.
After lunch, take you to visit Old French Concenssion in Xuhui District. If you want to see the city's best profile, the Frech Concenssion is Shanghai sunny side up, at its coolest, hippest and most elegant, cross Huangpu River and visit famous Bund area, which is teemed with the futuristic, avant-garde buildings - Oriental Pearl Tower, Jin Mao Building, Bank of China Tower. Completed in 1995 to a highly innovative design, Shanghai Oriental Pearl TV Tower has become a symbol of excellence in architecture and is a favourite sight for tourists in Shanghai. At 468 meters, it is the third tallest TV and radio tower in the World. On the TV Tower, to have a bird's eye view of Shanghai City.
Then proceed to visit the "Pedestrians only" Nanjing Road, a walking bustling street that is always packed with people waching other people. When people mention Shanghai's Nanjing Road, they're probably talking about East Nanjing Road, a pedestrian shopping street running for blocks between the northeast corner of People's Square and the Bund. Nanjing Road, 5.5 km in full length, enjoys the reputation as China No. 1 commercial center. It was the earliest commercial street in Shanghai since the city opened to the outside world.

Shanghai Old French Concession
After that move on to Shanghai Bund, the Bund is a waterfront area in central Shanghai. The area is in the eastern part of Huangpu District centers on a section of Zhongshan Road, which runs along the western bank of the Huangpu River, facing the high, modern skyscrapers of Pudong,Traditionally, the Bund begins at Yan'an Road in the south and ends at Waibaidu Bridge in the north, The Shanghai Bund on which you can embrace the best cityscape, feast on the rich architectural fashions ( Gothic, Baroque, Rome, Renaissance, Classic and Mixed Eastern and Western style, etc.)
You will have a dinner before cruise, the last thing for today is Night cruise along the Huangpu River. When traveling in Shanghai, you should not miss a cruise tour on the Huangpu River. It is the best way to admire Shanghai's classic skyline views of colonial architecture and modern skyscrapers along the river.
After the cruise, you will be taken back yo your hotel.
Day 3
Place&Transport: Shanghai
Today's Activities: Yuyuan Garden, Yuyuan Bazaar, Old French Concession, Tianzifang, Xintiandi Area
Accommondation: Four Stars Hotel (Can be customized) in Shanghai
Meal: B, L
In the morning, you will be picked up at your hotel lobby.
Firstly, visit Yuyuan Garden. The largest Shanghai ancient garden with Ming and Qing architectural styles decorated by beautiful pavilions, miniature lakes, bridges and rockeries. The garden was finished in 1577 by a government officer of the Ming Dynasty (1368-1644) named Pan Yunduan. Yu in Chinese means pleasing and satisfying, and this garden was specially built for Pan's parents as a place for them to enjoy a tranquil and happy time in their old age.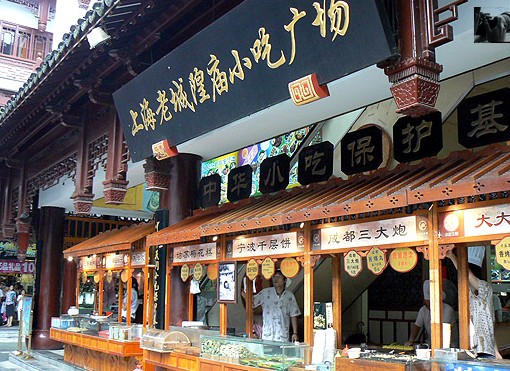 Shanghai Bazaar
Then walk to Yuyuan Bazaar, it is teemed with a great number of small streets and lanes where vendors sell their products and food stuffs to the tourists and local people.
Next, visit Old French Concession. A former foreign concession in Shanghai during the period of 1849 to 1946, including the area of Luwan and Xuhui District, dubbed as Shanghai's most charming district. This area is quiet, tree-lined and teeming with boutiques, bars and restaurants for Shanghai's hedonists. Visit of the Former Residences of Celebrities.
Move on to Tianzifang: Tianzifang is an artsy area that has developed from a renovated residential area (old Shanghai shikumen buildings) in the French Concession area of Shanghai. Now it houses bars, cafes, crafts shops, design studios, galleries and boutiques. Many local residents still live in the narrow lanes. Just be mindful and respect their privacy.
At last, you'll head to Xintiandi Bar Street: You are arranged to immerse yourself into the dazzling nightlife in "Xintiandi". Shanghai Xintiandi is situated at Lane No.181 of Taicang Road Shanghai. It occupies an area of about 30,000 square meters. It was a former old Shikumen which has been given restoration. Now it serves as book stores, cafes and restaurants, and shopping malls.
Drive you back to your hotel.
Day 4
Place&Transport: Shanghai to Beijing by Bullet train
Today's Activities: N/A
Accommondation: Four Stars Hotel (Can be customized) in Beijing
Meal: B
In the morning, our driver will drive you to Shanghai train station, you will take bullet train from Xi'an to Beijing, it takes around five and a half hour. Once you arrived, you will be pick up by our Beijing local tour guide will a welcome signage "China Private Tour" and escorted to your hotel directly. Our tour guide will help you check-in. The rest of the day is free on your own.
Day 5
Place&Transport: Beijing
Today's Activities: Tian'an men Square, Forbidden City, Summer Palace, Kung Fu Show
Accommondation: Four Stars Hotel (Can be customized) in Beijing
Meal: B, L, D
In the morning, our guide will meet you at your hotel lobby. Starting the day with a visit to Tian'an men Square, Tian'an men Square is the geographical center of Beijing City. It is the largest city square in the world, occupying an area of 440,000 square meters (about 109 acres), and able to accommodate 1,000,000 people at one time. Tiananmen Gate on the northern square was the site where the Chairman Mao announced the establishment of the People's Republic of China. The square is a conglomeration of splendid and beautiful flowers and the red national flag which flutters in the wind. The raising of the national flag is something which should not be missed by visitors to Tian'an men Square.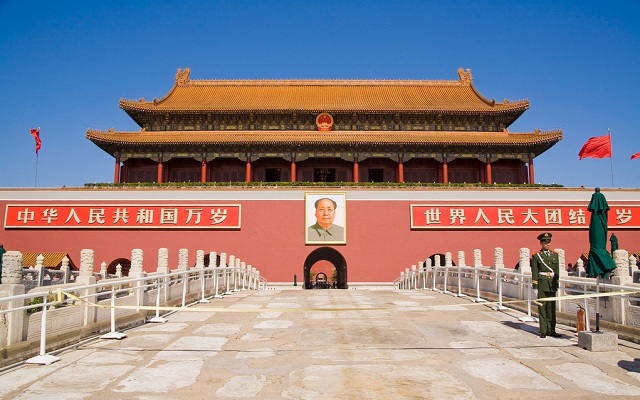 Tian'an men Square
Then go through an underground tunnel to the imperial palace, also known as the "Forbidden City", The Forbidden City, also named the Palace Museum, shares the honor of being one of five world-famous palaces with the Palace of Versailles in France, Buckingham Palace in England, the White House in the U.S. and the Kremlin in Russia.The palace, the most magnificent and splendid palace complex in China, was listed as a World Cultural Heritage Building in 1987. It was built in the Ming Dynasty (1368-1644) and the construction of this group of buildings took fourteen years from 1406 to 1420.
For lunch, you'll taste the traditional Mongolian food and take part in local activities. While listening to the melodious toasting songs and appreciating traditional Mongolian dances, you have the opportunity to taste Kumiss, roasted whole sheep and shouba rou.
After lunch, continue your tour to visit Summer Palace, which is an imperial garden and it integrates numerous traditional halls and pavilions, conceived by the Qing emperor Qianlong between 1750 and 1764 as the Garden of Clear Ripples. Using Kunming Lake, the former reservoir of the Yuan dynasty's capital and Longevity Hill as the basic framework, the Summer Palace combined political and administrative, residential, spiritual, and recreational functions within a landscape of lakes and mountains, in accordance with the Chinese philosophy of balancing the works of man with nature.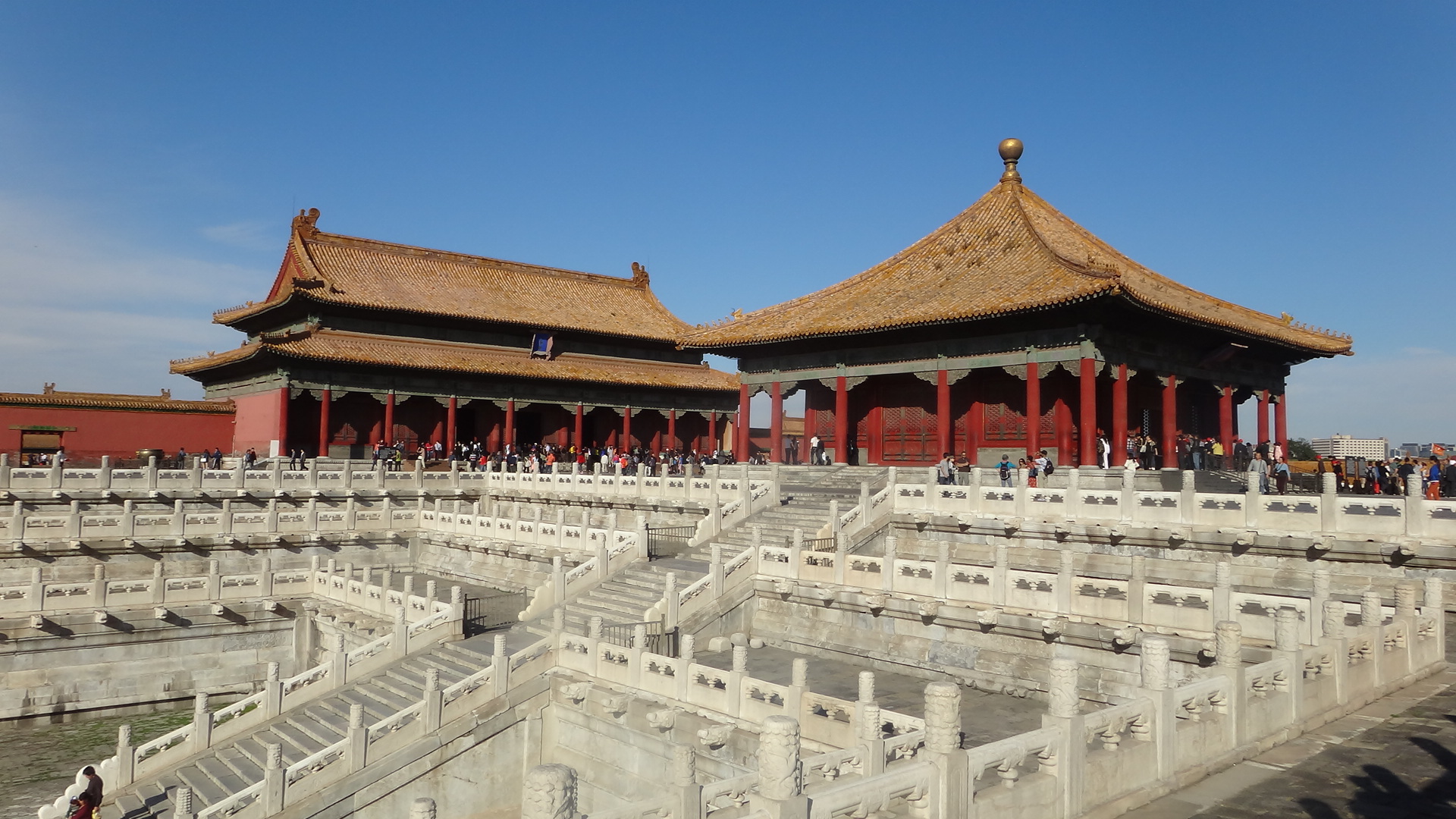 Forbidden City
After dinner, you will go for enjoying the Kung Fu Show at Red Theatre. It is one of famous show in Beijing and it tells a story of Chin Yu entering the monastery and making his way through life to finally becoming the Abbott. There are many demonstrations of Kungfu and strength throughout the show. The costumes and the choreography are great.The show lasts about one hour and 15 minutes.
After the Kungfu Show, you will be taken back to your hotel.
Day 6
Place&Transport: Beijing
Today's Activities: Muyuanyu Great Wall, Ming Tombs
Accommondation: Four Stars Hotel (Can be customized) in Beijing
Meal: B, L
After breakfast in the hotel, our tour guide and driver will meet your at your hotel lobby and keep going your Beijing tour.
Firstly, drive about 70km (1.5 h) to witness one of the Seven Wonders of the World – Great Wall. The less-crowded Mutianyu section. "If you haven't climbed the Great Wall, you haven't seen China." Many of your friends who visited China before might have told you this. It is indeed an experience of life. As one of the best-preserved parts of the Great Wall, Mutianyu section of Great Wall used to serve as the northern barrier defending the capital and the imperial tombs. It's known for its beautiful surroundings - dense woods and rich pastures changing colors with the seasons of a year. Good sightseeing with nature, take photos from different places and angles so you'll have plenty of memories you can share with your friends when going back home.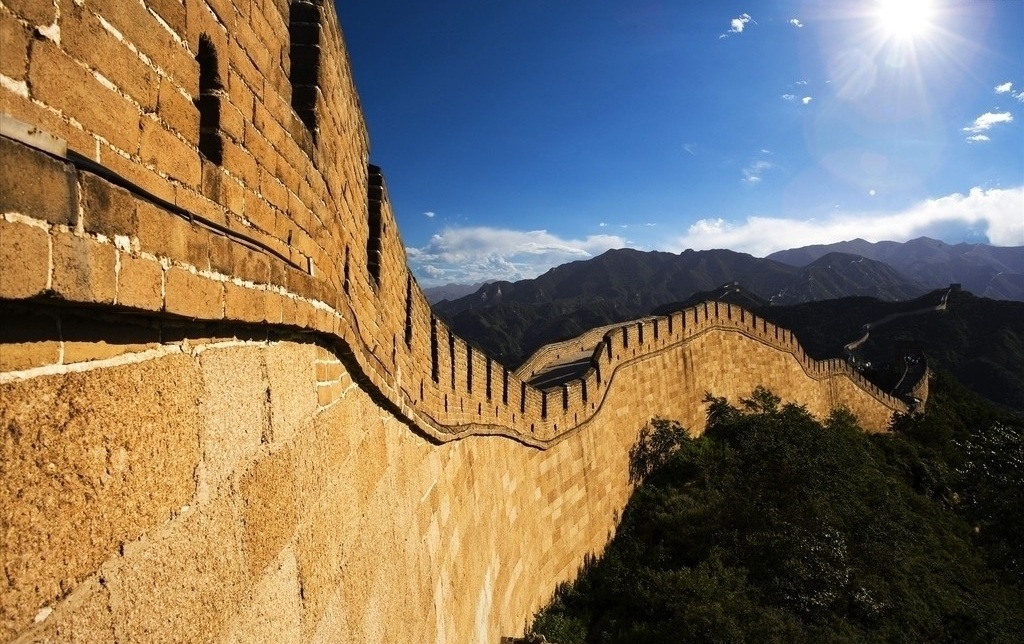 Mutianyu Great Wall
Your lunch is offered near the Great Wall in a local restaurant.
In the afternoon, the Sacred Way, affiliated with the Ming Tombs, is a main attractions arranged for you. The Ming Tombs lie in Changping County, about 50 kilometers (31 miles) northwest from the urban area of Beijing. It is actually a tomb cluster of the Ming Dynasty (1368-1644), including thirteen emperor's mausoleums, seven tombs for concubines and one grave for eunuchs. It was listed in the World Heritage List in 2003. Each emperor's tomb was constructed at the foot of a separate small hill, but they all share a main road called the Sacred Way.
After dinner, you will be taken back to your hotel.
Day 7
Place&Transport: Departure Beijing
Today's Activities: Temple of Heaven
Accommondation: N/A
Meal: B
After breakfast, you will visit Temple of Heaven, the temple was constructed in 1420 during the Ming Dynasty (1368-1644), and was enlarged during the Qing Dynasty (1644-1911). It is the grandest cult architecture complex in the world and a masterpiece of the Chinese people created in ancient times. It covers 2,700,000 square meters (667 acres). Emperors of the two dynasties used to worship the heaven and pray for rich harvests, as the feudal emperors thought they were the son of the heaven.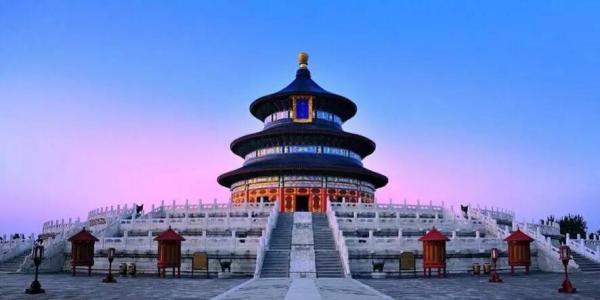 Temple of Heaven
After lunch, drive you to Beijing airport fly back home or your next destination. Your 7 days Beijing and Shanghai Highlights Tour come to the end. Have a pleasent trip!
Price Per Person in US Dollars