Ancient Canals, Futuristic Skylines, and Dumplings: Why Suzhou, the 'Venice of China,' Belongs on Your Bucket List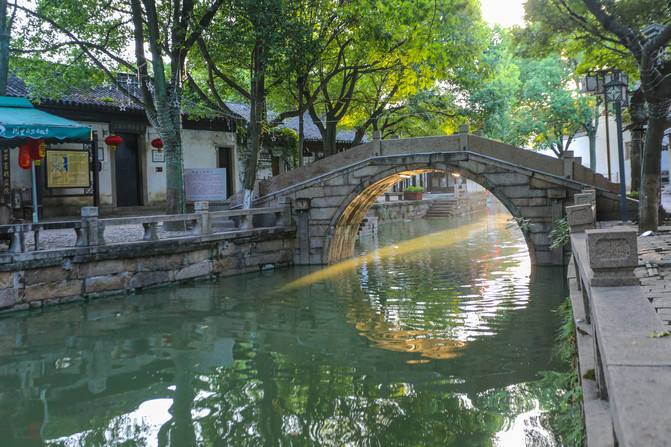 In travel circles, it seems every continent is quick to claim its own "Paris." Search for "Paris of the East" and you'll find cultural hubs like Beirut, Bucharest, Hanoi, Jaipur. "Paris of the North" conjures Belfast, Edinburgh, Salzburg. Replacing Paris with "Rome" or "Athens" surfaces even more cities that seem to be experiencing an identity crisis. But one "Paris of the East" stands out for also laying claim to a certain Chinese proverb: "In heaven there is paradise, on Earth there is Suzhou."
I've been to Paris, Rome, and Athens, and for me none of them are heaven. But Suzhou comes close thanks to its well-preserved ancient history, hyper-modern skyline, and some very historically significant dumplings.
A city of 13 million people, Suzhou is mainly known for its pristine UNESCO-designated gardens dating back to the 11th century and its ancient waterways spidering off of the world's largest manmade canal, China's Grand Canal. Suzhou's other signatures include a delicate cuisine of seafood and widely beloved soup dumplings, a futuristic industrial district funded by Singapore, a crooked hilltop pagoda known as the "Leaning Tower of China," and its long-held status as the largest silk producer in the world. All just an hour from bustling Shanghai.
An Overlooked Golden Age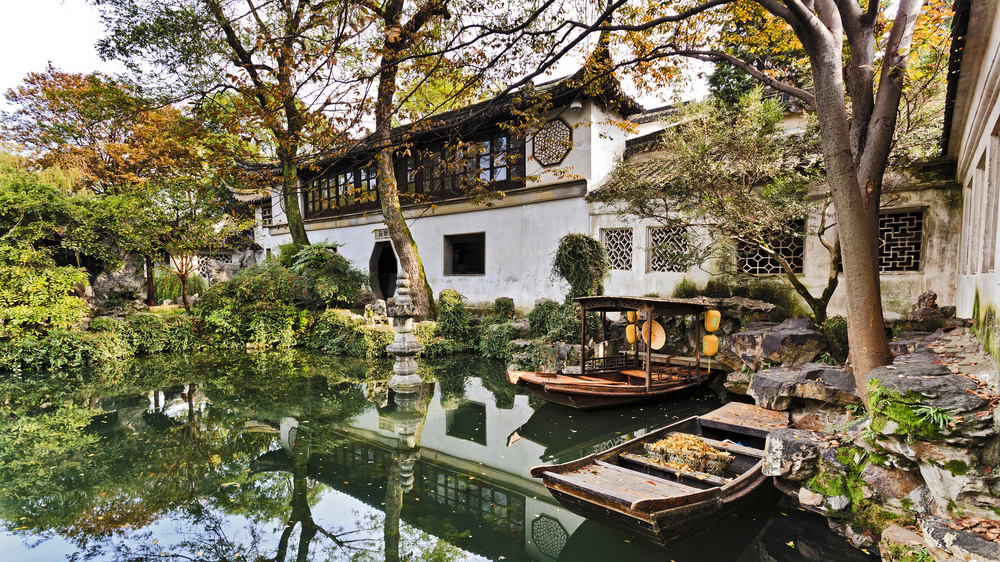 If America's idea of romance is Paris or Venice, then China's is Suzhou. The 2,500-year-old city was the cultural epicenter and largest non-capital city of China's Ming (1300s to 1600s) and Qing (1600s to 1900s) dynasties. Everywhere you look today, relics of the past commingle with the present: the 1,000-year-old water towns' ancient canals; the skyscraping Suzhou Industrial Park district's waterfront fountain shows; a new, sprawling shopping mall that's one of the world's largest. Frozen in time and simultaneously thrust into a smartphone-based future of its own making (read: DiDi in place of Uber, WeChat in place of Facebook, Instagram, and any mobile payment app, in one), Suzhou feels other-worldly.
Most people go to China for its megacities and its Great Wall, but I went for water towns and dumplings. And I was pleasantly surprised to find that by arriving through Shanghai and taking advantage of the region's bullet trains I'd get to experience much more in the spirit of both history and modernity: Shanghai's glittering skyline, the former Chinese capital of Nanjing for Ming tombs and other dynastic relics, and the grand finale that is Suzhou.
The Venice of China Is the Birthplace of … Pasta?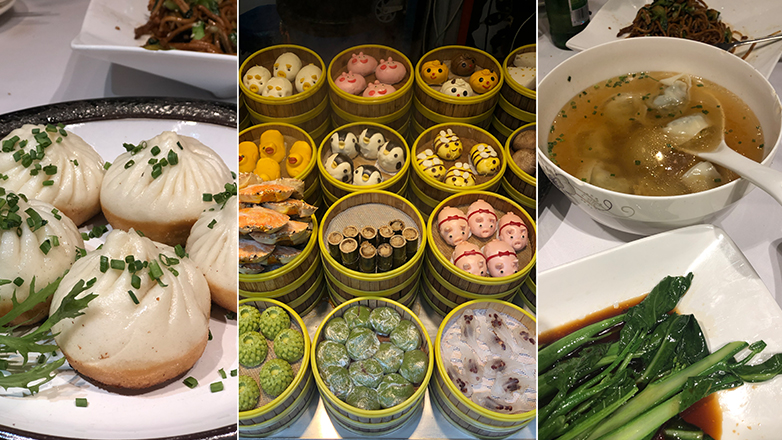 It's not just its status as a "Venice," or even that it's home to a landmark nicknamed the "Leaning Tower of China" (a la Pisa) that makes Suzhou home to incredible "pasta." The same way that some seek out Italy for spaghetti, more travelers should be heading to Suzhou for noodles and dumplings. If you don't believe me, take it from Marco Polo: The famed explorer is said to have introduced pasta—essentially noodles and the dough used to make dumplings—to Italy after a 13th-century trip to this area, the Jiangsu province of China. And he had lots to say about Suzhou (more on that below).
Shanghai and Suzhou's dumplings are still worth traveling for. The types are endless. Wonton soup in a light seafood broth is a Suzhou staple, while the heartier pork-based soup dumplings (xialong bao) that explode in your mouth and have become famous the world over originated in nearby Shanghai, and thus are popular throughout Jiangsu province. Steamed vegetable buns are commonly eaten for breakfast—but pan-fried varieties or smaller shumai are popular, too, simply labeled "dim sum."
If you want to elevate your dumpling game then seek out sheng xian bao, or pan-fried pork buns—a combination of soup dumpling and bao that are pan fried for extra decadence.
Old Town's Canals and Pagodas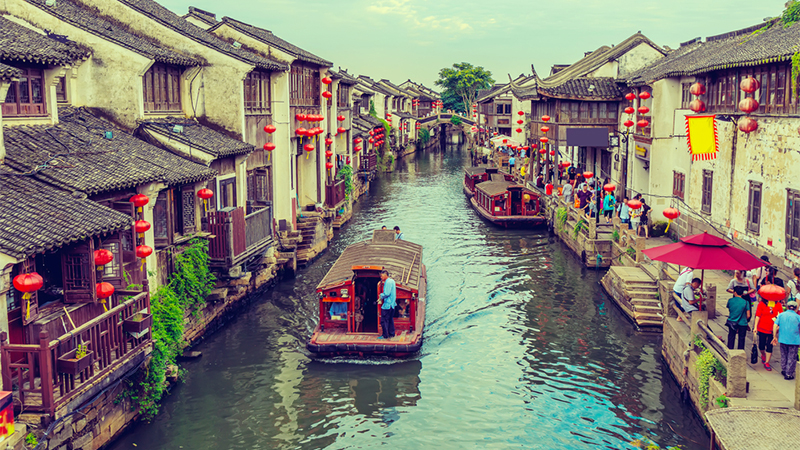 Dumplings are far from the only thing in Jiangsu province that impressed Marco Polo, however. "In this city there are 6,000 bridges, all of stone, and so lofty that two ships together could pass underneath them," Polo wrote of Suzhou. "It contains merchants of great wealth and an incalculable number of people. Indeed, if the men of this city and of the rest of the country had the spirit of soldiers, they would conquer the world; but they are not soldiers at all, only accomplished traders and most skilled craftsmen."
Everywhere you go in Suzhou are humble handmade wonders, from animal-shaped dumplings to embroidered silk, stone bridges, and cultivated gardens. Start at 1,200-year-old Shangtang Street to peruse the old town's canals by boat before taking to the artisan stalls of dumpling baskets and rows of restaurants serving piping-hot seafood delicacies. Eat at famed Song He Lou and order the local special of sweet-and-sour Mandarin fish, served whole yet boneless and deep-fried to the point of looking like a Bloomin' Onion slathered in orange sauce.
Pingjiang Road is a slightly more modern shopping and arts districts (at just 800 years old) where old meets new: sample tea and flower wines in trendy shops, or head to a traditional Kun Opera performance at the historic Fuxi Tea House to experience the same traditional singing and costumes that developed here during the Ming Dynasty.
Artful Gardens and the 'Leaning Tower of China'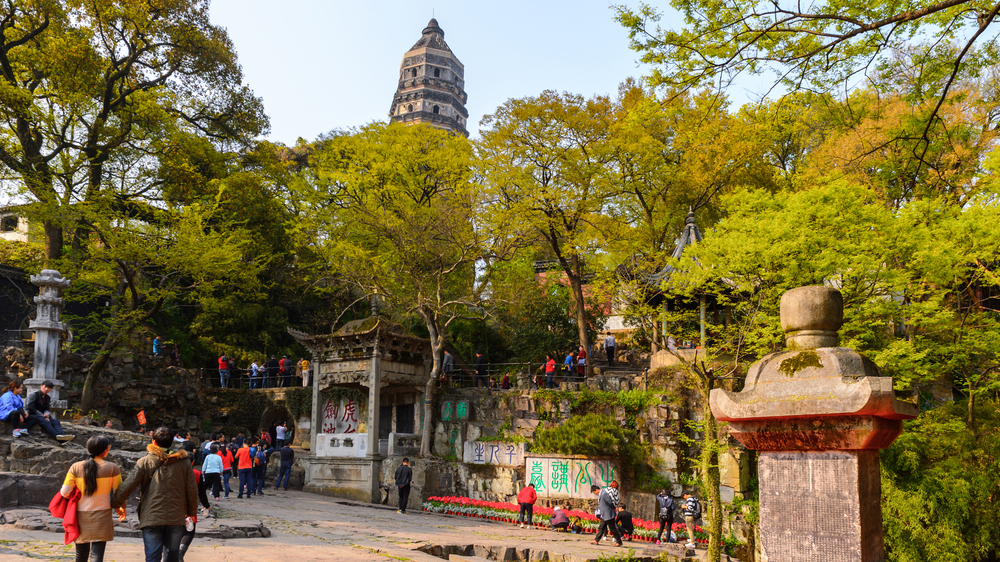 Suzhou's classical gardens date back to the 11th century and are meticulously maintained UNESCO-designated wonders. Classical Chinese gardens are an art form that has been cultivated over centuries and combines four elements: architecture, stone, water, and plants. Today these gardens are best visited early to avoid the crowds, and some are better known for certain elements over others: The Humble Administrator's Garden is the most famous for its sheer size, while Lion Grove Garden is known for its maze-like rock formations, Cangland Pavilion is Suzhou's oldest, and Master of the Nets is a smaller option that hosts nighttime musical performances.
Gardens are an ideal morning warm up for longer and more adventurous walks like Tiger Hill, a scenic area where visitors flock to see Suzhou's seven-story "Leaning Tower of China," and still more gardens. The climb is an easy but long one with plenty of stops like the Bonsai garden's centuries-old trees, colorful koi ponds, and bridged pathways perched high above the trees. Bonsai pruning is a Chinese art form that requires an art degree, and visitors can witness pruners hard at work on Tiger Hill's many potted varieties. The reward at the top is a 10th-century Buddhist temple that's taller than Pisa's leaning tower, and similarly began leaning thanks to softening ground, during the Ming Dynasty.
Where to Stay: Affordable hotel rates make an upgraded stay in Suzhou's Old Town a must for the best access to (and views of) history: The Pan Pacific Suzhou Hotel shares grounds with the city's famous Pan Men Gate and gardens, and admission to the historic landmark is included in your stay so you can explore the ponds and pagodas on early mornings before the inevitable crowds arrive. Upgrade to a Pan Pacific Club room for a luxe experience that still starts around $100 per night, and includes sweeping views of the Pan Men gardens' towering pagodas, plus an upgraded breakfast buffet that's rife with dumplings and Suzhou's world-renowned fine teas.
Day Trip to Tongli, Suzhou's Oldest Water Town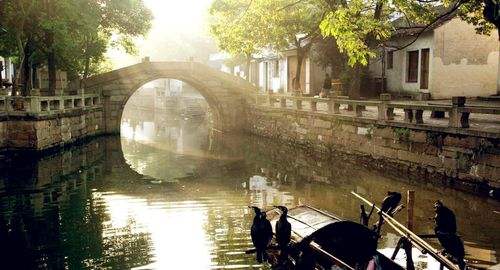 For the ultimate gondola ride in the "Venice of China," you'll need to visit the well-preserved ancient water town of Tongli. Accessible by public transit, Tongli still manages to feel like the flourishing Chinese village of 1,000 years ago, thanks to its location at the center of many convening Grand Canal waterways and its continued use of them today.
You can easily fill a day here visiting meditative tea houses, museums, and shops and restaurants. And, after enjoying one of the larger sightseeing cruises popular at Shantang Street and Pingjiang Road, this is where you'll want to take your hand-rowed gondola ride. Bring your best camera: Tongli's canals are adorned with red lanterns and pass through towering tree tunnels for once-in-a-lifetime photos.
Where to Stay: If staying the night in a tranquil tea house overlooking the ancient canals is more your pace, book a guest house stay at Xi Shantang Tea House's guesthouse property, Taimuting Renwen. Don't miss the tea house's delicious vegetarian lunch, or meditation classes upstairs in the historic property's minimalist tea rooms with window views of the canals.
It's worth noting that while you'll be able to get online and use your phone as you normally do in China, some Internet services are limited and many businesses don't have English websites—which means it's a good idea to use a seasoned China travel agent to book of your most guided activities and smaller lodging options like those in Tongli.
Larger hotels can typically be booked online, but the guidance of a Chinese-speaking travel agent will be crucial, and hiring a bilingual local guide is your best option for avoiding confusion and getting lost on a regular basis—unless you can read and speak Mandarin.
A Slice of Singapore in S.I.P.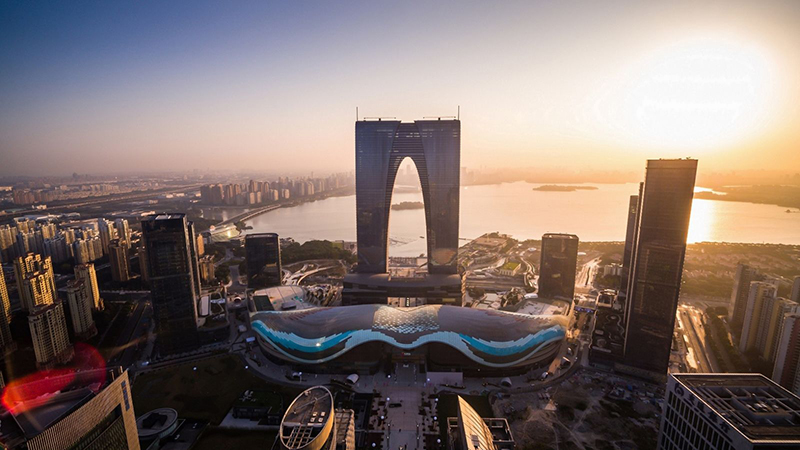 If you thought Suzhou was all water towns and pagodas, look to its modern skyline and the futuristic Suzhou Center Mall, the crown jewels of the lakeside Suzhou Industrial Park. Called S.I.P., the business district was co-funded by the government of famously luxurious Singapore in exchange for usage rights, and the ever-growing area draws visitors and locals alike to waterfront theatrics every Friday: a large-scale fountain and light show on Jinji Lake, the largest inland lake in China.
For a birds-eye view of the light show at night without the crowds (or just the sprawling lake and industrial district during the day), head to the W Suzhou hotel's 38th-story balcony bar for just the cost of a drink or appetizers. The massive Suzhou Center mall (at more than three-million-square-feet, it's one of the world's largest) and surrounding lake boardwalks incorporate public art, modern shops, and impressive architecture and green spaces that will have you feeling like you've been transported to Singapore or Dubai.
Tacking on Historic Nanjing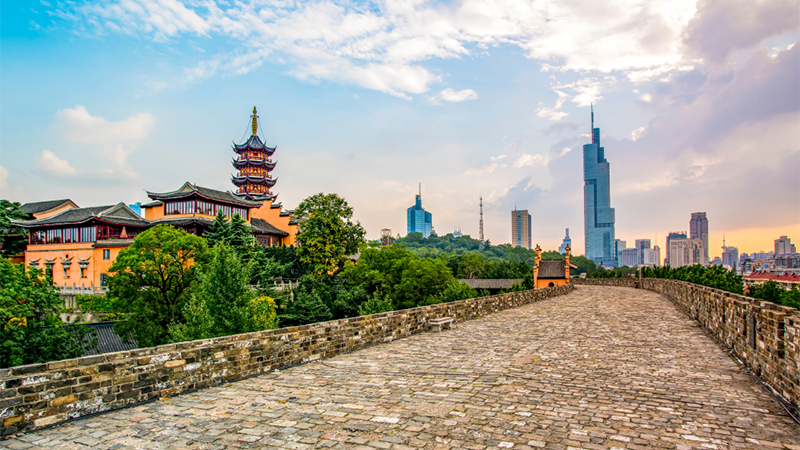 It's clear you can fill more than just a few days in Suzhou, but combining the "Venice of China" with another nearby hub makes it even more of a bucket-list getaway. Another 30 minutes from Shanghai on a high-speed bullet train is the former capital of China, Nanjing, literally meaning "South Capital," just as Beijing means "North Capital."
Although smaller than Suzhou, Nanjing's status as the former capital of China (and the center of the Ming and Qing dynasties) affords it some incredible historic sites, like Ming-emperor tombs and the largest remaining intact city wall in the world—Nanjing's Ming City Wall was built in the 1300s, and is designated by the Chinese government as "one of the great walls of China" for its sheer size and longstanding protection of the country's former capital city.
So if you're looking for a Great Wall experience without heading far north to the real thing, Nanjing's city wall is sprawling. At 46 feet thick and 13 miles long, it's also home to cultural sites like tea houses and fan-painting workshops. At the wall's Gate of China and Lao Cui Tea House, you can take part in the cultural activities that define the area this wall protected for seven centuries.
Ming-era tombs are a cultural mainstay in China, with the oldest one located at Nanjing's Purple Mountain. Xiaoling Mausoleum of the Ming Dynasty is a UNESCO World Heritage Site and the resting place of the founding emperor of the Ming dynasty, the Hongwu Emperor. Visit on a weekday to have the long scenic pathways leading to the tomb—which are lined with large sculptures of exotic work animals, from elephants to camels—all to yourself. This massive and ornate mausoleum is located in the foothills of Purple Mountain (named for its seasonal plum blossoms), about a 20 minute walk from the southern entrance of the reserve. Purple Mountain is also home to the tomb of Dr. Sun Yat-sen, the first president of China.
Nanjing is also home to its own canals, though they're bigger and more bustling than Suzhou's romantic waterways. Take a Quinhuai River cruise and visit the historic area around Nanjing's Confucius Temple for a larger take on the water towns and cities that line China's Grand Canal.
Made up of historic Buddhist temples and a much newer Buddhist landmark, Niushou Mountain houses temples, the contemporary Usnisa Palace (built in 2010), and a relic of the Buddha—a testament to both the historic grandeur of the country's former capital and Nanjing's willingness to expand. The grandiose architecture of Niushoushan Forestral Park's sprawling scenic area is topped with a palatial complex dedicated to the Buddha that's nestled among natural scenery and towering pagodas, making it equal parts outdoor adventure and architecture porn. And it's accessible for those who can't make the lengthy hike, thanks to the constantly-coming-and-going buses included with admission, and an escalator to the palace at its highest peak, for an ultra-modern touch.
Where to Stay: Nanjing is also home to plenty of affordable hotel options, but going for an upgraded, five-star option packs immense value. The Grand Mansion Hotel is a five-star Luxury Collection hotel that's as newly modern as it is historic: It was designed by the late I.M. Pei, the Chinese architect behind The Louvre who drew inspiration throughout his famous career from the gardens of Suzhou, where his family vacationed.
Shanghai Nights
Of course, there's no getting to Suzhou or Nanjing without arriving via Shanghai and staying a while. China's largest city and air hub is also a keystone for China's high-speed bullet trains—the best (and most futuristic) way to fit in multiple cities in less time than you'd expect: Suzhou is exactly 60 minutes via bullet train from Shanghai, and Nanjing is only another 30. Stay at least a night to stroll the main shopping artery of Nanjing Road, which should get you in the spirit of the rest of your journey. Also fit in a food market like Chenghuangmiao Old Street to sample still more dumplings, and peruse the free Shanghai Museum's jade and Ming Dynasty artifacts if your hours in town allow.
Where to Stay: Staying in a locally run hotel that boasts history, like the Yangtze Boutique Hotel, will keep you firmly rooted in the Golden Age. The 1920s-era hotel was built in an Art Deco style with touches like gramophones and a vintage piano bar atrium.
Shanghai is a necessary one-night-minimum stop on arrival to China: physically necessary because you'll be exhausted after the 15-hour flight, and metaphorically necessary thanks to its continued marrying of all things new and old.
The old-world feeling of Shanghai's Tianzifang Market alley shops give way to the luxe French Concession's high-end eateries and designer stores teeming with local customers. The glittering skyline of Shanghai's ultramodern skyscrapers is best viewed across the Huangpu River from the Bund (meaning embankment) on which sit the overtly colonial buildings of Shanghai's British-occupied past.
You only need turn your head from the selfie sticks and neon glow of Oriental Pearl TV Tower to see the old China, jarringly mirrored by the new.
---------Articles From traveltosuzhou