Suzhou Weather & Climate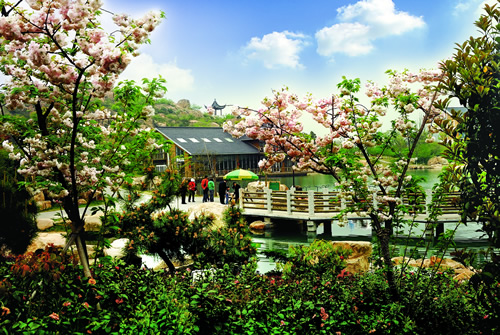 Overview
Suzhou, located in east coast of China to the sea, is in the Subtropical Humid Monsoon Climate Zone (30°47' - 32°2' North Latitude, 119°15' - 121°20' East Longitude). Suzhou experiences distinct four seasons. The summer in Suzhou is hot and humid, while the winter is cold and dry. North-westerly winds blow from Siberia during winter, and can cause temperatures to fall below freezing at night, while southerly or south-westerly winds during the summer can push temperatures above 35 °C (95 °F). The spring and autumn are much more pleasant. The average temperature of Suzhou in a year is about 15 to 17 degrees centigrade. The annual average rainfall is round about 1076 millimeters. Suzhou annual average snowy days are 5 days, but it has no snow for 8 years at present. Annual average non-frost days are about 233 days. Because of its pleasant weather and harmonious natural environment, Suzhou is generally considered as an ideal place to live. This city has a lot of mild days with sunshine and clean air and sufficient rain to support agriculture and maintain the natural beauty of its many scenic areas.
Four Seasons in Suzhou
Spring
The spring of Suzhou is from March to May with an average temperature of 14.2 °C. It is a pleasant season of recovery from the cold days. Although the average temperature is pleasant, there are sharp and frequent intervals of temperature changes, and early spring still has temperatures below 0 °C. Sweaters and coats are enough to deal with the weather, but also prepare long-sleeve shirts for the day when it gets warmer. Suzhou climate at this time is very suitable for a spring outing to enjoy the flowers and flowers are even in full bloom until June. A variety of flowers are in bloom in spring, such as plum blossoms, azaleas, peonies, tulips, etc. Besides flowers, there are rivers, ancient dwelling houses, stone roads, and green trees along the bank, all of these beautiful scenery will probably let you feel the flavor of this well-known ancient city in China. Visit the nearby water towns such as Zhouzhuang and Tongli will offer you great views as well.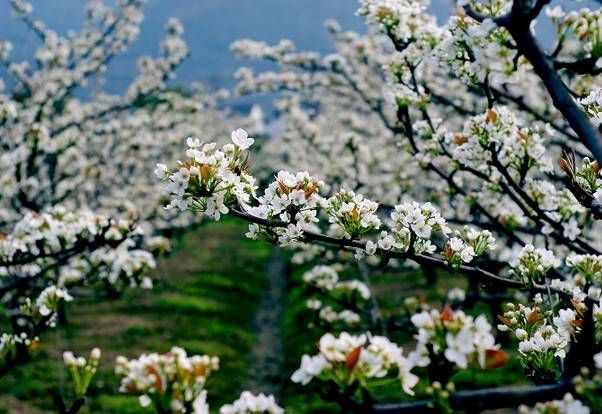 Summer
Summer is the hottest season with a lot of rainy days in June. Like other cities in Jiangsu Province, Suzhou also has a very long rainy period, called the "plum rains" season, which is from June to July. And 90 percent of the rainfall occurs in this period. The ground temperature of Suzhou in summer averages 30°C (95°F) and the number could reach as high as 35°C (104°F) in some extreme conditions. Wearing any summer clothes such as shorts, skirts and T-shirts made from cotton is much more comfortable than other materials. And wearing sunglasses and sun screen and drinking lots of water is recommended. Sudden heavy rains frequent in summer, so it is better to prepare raincoat or umbrella while traveling in summer. Given the hot and rainy Suzhou climate, tourists can visit some indoor sites, such as Suzhou Museum and the gardens such as Lion Grove Garden and the Humble Administrator's Garden. In July and August, when Lotus Festival is held annually in the Humble Administrator's Garden, travellers can enjoy the lotus flower scenery as well as taste lotus roots. And Tongli and Zhouzhuang water towns are good choice for tourists to escape the heat in summer days.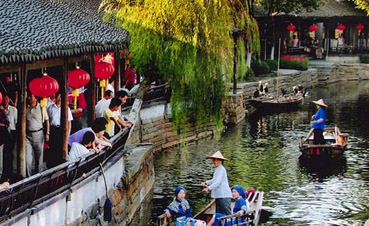 Autumn
Autumn begins in October and lasts to mid-November. Although short comparing with the other three seasons, autumn is comfortable and is also the best travel period for the city. The Tiger Hill Fair usually starts in late September and ends in late October, which is the symbol activity of autumn tourism in Suzhou. November is a good month for enjoying the autumn colors in Suzhou, while the Tianping Autumn Leaves Festival is held in November. Moreover, taking a Grand Canal cruise in autumn is also an enjoyable choice to know more about the ancient culture of Suzhou. And also, autumn is a China domestic hot travel time so it may be a little crowded for foreign visitors who have an autumn Suzhou trip. Autumn starts off quite wet, but November is the driest month of the year, so tourists probably won't need to take an umbrella for a late autumn trip in Suzhou. Both the fresh fruits and the seafood will surely whet your appetite. For those born and raised in Suzhou, the rich meaty smell of fresh wu xiang xiao rou (deep-fried minced pork with five-spice such as anise and cinnamon) sold in food stores indicates the coming of autumn. Some delicacies are only available around the Mid-Autumn Festival, including famous Suzhou-style mooncake with pork filling and flaky pastry.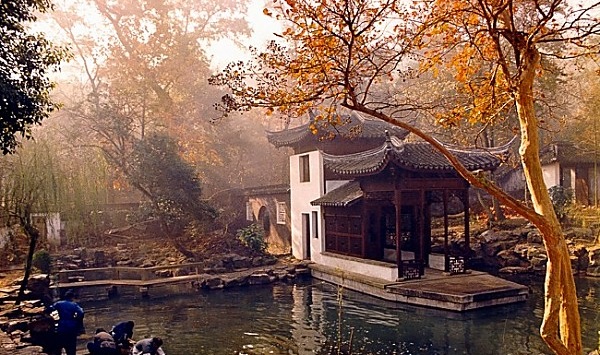 Winter
Winter steps into Suzhou in December and the cold air from northwest may bring the city cold rain and even snow, although Suzhou is southerly. If fortunately, tourists will have chance to appreciate the enthralling white snow of Suzhou. January is the coldest month with a temperature dropping as low as -7C (19F) sometime. It may be snowy on some days while most of the winter days in Suzhou are comparatively warmer with an average temperature of 4.4 °C. In winter, hot springs are the most popular tourist destination. Although hot springs are not exclusively owned by Suzhou, bathing in a hot spring surrounded by Suzhou's beautiful scenery is a uniquely Suzhou experience. Besides bathing in hot springs, appreciating flowers in winter is also a great way to experience Suzhou. There are many flower exhibitions during winter, including an azalea exhibition in the Humble Administrator's Garden, a plum blossom exhibition in Lion Grove Garden, a Camellia japonica exhibition in the Lingering Garden and a plum blossom festival in Taihu Lake. Winter is also a suitable time to taste Suzhou-style delicacies. And the local people prefer to eat seasonal foods prepared in a healthy way. The top recommendation is mutton, which is one of the best foods to eat in winter.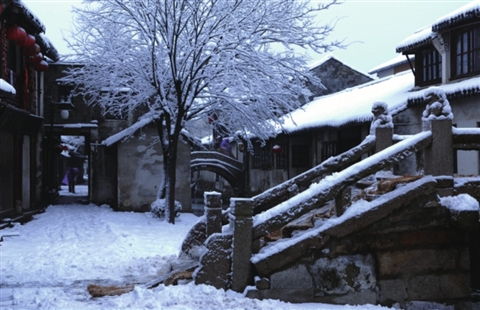 Best time to visit Suzhou
Suzhou's pleasant climate and perennial happenings make this place a year-round destination. However, the best time to travel to Suzhou is April to October, when the trees and flowers of this garden city are green and in full bloom. Then tourists will enjoy the colorful natural scenery and seasonal local products of peach, tea and candied lotus root. During this period, the travellers can not only enjoy the amazing natural landscape of pink peaches and green willows set each other off, but also taste the various fruits such as peach, Biluochun Tea and candied lotus root. The red bayberry, loquat, candied lotus root, hairy crab and Salted & Fresh Pork Soup emerge on the market one after another, to allow you enjoy the gourmet meals after feasting on your eyes.
Wearing tips to cope with the climate when traveling in Suzhou
If visiting Suzhou during the summer tourists will need to be prepared for rain, whether that means simply carrying an umbrella or waterproof coat to aviod the raindrops. In the hot summer months light clothing is more than enough, but long-sleeve clothing is recommended for the cool or rainy days. In winter, especially in January tourists will need lots of thick winter clothing to deal with the coldness both inside and outside. And gloves, a hat, and a scarf are helpful to stay warm. Since it rains a little and Suzhou climate is relatively dry, wearing some soothing moisturizer is necessary. In spring and autumn long-sleeve shirts and trousers is sensible to bring. And it is better to pack a coat with a light wool sweater to cope with the temperature changes.
Scenic spots and seasonal activities recommended
West Hill Plum Blossom Festival in Wu County - March, 1st to 10th
The Humble Administrator's Garden Flower Festival – March to May
The Tiger Hill Flower Festival - March to May
Visit the nearby water towns Zhouzhuang, Tongli, Luzhi or Nanxun to enjoy plansant views in spring.
Luzhi Apparel Cultural Tourist Festival - in April
Appreciate the beautiful landscape of Suzhou gardens and see the lotus in Humble Administrator's Garden in hot summer
Have a cruise along the Grand Canal is very relaxing in Summer.
The Tiger Hill Fair - September to October
The Humble Administrator's Garden Flower Festival – September to November
Tianping Hill red Maple art Festival - in November
The Festival of Listening to the Bell of the Cold Mountain Temple on New Year's Eve - December, 31st