Something special about Suzhou cuisine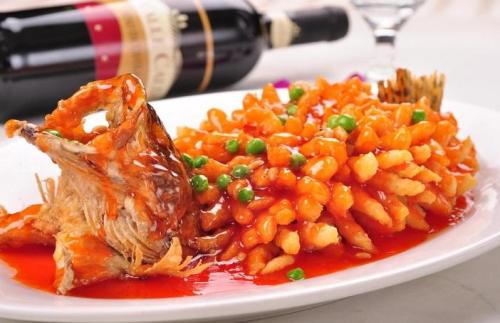 CLASSICAL gardens, Kunqu opera and embroidery, Suzhou is a treasure house for arts and crafts. Apart from living, entertainment and clothing, Suzhou is also a paradise for gourmets.
Even Emperor Qianlong, the sixth emperor of the Qing Dynasty (1644-1911), was obsessed with Suzhou cuisine. During the emperor's fourth southern inspection tour in 1765, he asked a Suzhou chef named Zhang Dongguan to serve as a royal chef at the Forbidden City in Beijing.
Over the following 19 years, Emperor Qianlong took Zhang everywhere in order to eat Suzhou cuisine at any time. When Zhang retired due to ill health, more Suzhou chefs entered the palace.
Rather than rare and expensive ingredients such as shark fin and sea cucumber, those of Suzhou cuisine are common, mainly featuring vegetables, freshwater plants and animals. However, the requirement for their quality is extremely high as Suzhou cuisine puts an emphasis on retaining the natural flavor of the ingredients.
Places of origin, varieties, seasons, freshness, size, parts of food, and methods of picking, catching and butchering, all need to be taken into consideration.
"At the very beginning, I didn't quite understand Suzhou food. I asked chef Shi Junsheng about the brand of food additives like monosodium glutamate and chicken powder. He answered me straightforwardly that he knew nothing about them and never used them," said Sha Peizhi, the 69-year-old head of the Wumen Renjia restaurant.
Decorated with Chinese furniture, the restaurant is near Lion Grove Garden, one of Suzhou's four most famous gardens.
Ieoh Ming Pei, a world-renowned architect, had a happy childhood in the Lion Grove Garden which his family used to own. Pei found the place to be "an ideal playground." Returning to Suzhou in 2002, Pei wanted to trace the flavors of his childhood. Chef Shi prepared a banquet which would have been familiar to the Pei's family.
One of the dishes was cherry pork, named for its reddish color. Instead of cherry sauce, the color comes from red yeast rice, a traditional Chinese medicine that is said to lower cholesterol. The meat needs to simmer for seven to eight hours.
"One of the significant characteristics of Suzhou cuisine is health maintenance. Red yeast rice is common in Suzhou dishes, cooked with pork, duck, rice cake and wine. Besides, gorgon fruit seeds, another valuable traditional Chinese medicine, is often cooked with other ingredients. It tones the kidney," said Sha. "Suzhou cuisine allows diners to take medicine happily and unconsciously."
The culinary arts of Suzhou cuisine embody the craftsmanship spirit. That is, making dishes as perfect as possible. Take sweet congee as an example. Its main ingredients are quite simple — just red beans and rice — but the cooking method is much more sophisticated.
Making congee smooth and soft while retaining the granular form of rice, boiling and mashing red beans, then removing the husk by sieving, frying the paste along with lard, sugar candy and brown sugar, adding the processed paste to congee and finally sprinkling some sweet-scented osmanthus, the preparation of sweet congee takes around five hours. The price of this slowly cooked dessert is only 28 yuan (US$4).
"Regardless of time and cost, Suzhou cuisine, somehow, can be regarded as luxury," said Sha.
A devoted advocate of Suzhou culinary culture, Sha is secretary-general of a Suzhou food culture research society. Before becoming a gourmet, Sha was an accountant. Her relationship with the food industry began with a TV play called "Kangxi Travels Incognito" which featured a tale of eight-treasure congee.
"It reminded me of the congee that was given by our landlord in my childhood," said Sha.
After that, she started to gather materials for Suzhou cuisine. Over two years, Sha collected more than 300 recipes for congee. After she retired from a company job in 2000, Sha opened a popular eight-treasure congee shop on Guanqian Street.
Later, she took responsibility for presenting the culture of Suzhou cuisine at the folk branch of Suzhou Museum. Establishing Wumen Renjia in 2003, Sha intends to restore traditional Suzhou cuisine.
After repeated requests from Sha, Shi agreed to work at Sha's restaurant.
"The chef taught the young cooks one dish every day, referring to the choice of ingredients, their characteristics and cooking skills. He also passed on the techniques learnt furtively from his teachers. For example, the river shrimps need to be stir-fried with shrimp oil rather than other kinds of oil," said Sha. "The chef died at the age of 83 last year. He handed me over 500 hand-written recipes."
As Spring Festival, an occasion for family reunions, is approaching, the restaurant offers three set menus. Apart from the specialties, they also feature some dishes with auspicious meanings.
The dish bok choy stir-fried with bean sprouts, for example, is included. With its long stalks, bok choy stands for longevity. The bean sprouts are nicknamed ruyi, which is a long curved decorative amulet symbolizing power and good fortune.
Oenanthe javanica, or water celery, is another essential ingredient. The pronunciation of celery in Chinese — qin vegetable — is similar to diligence, or qinfen in Chinese. The older generation would ask the young people to eat more of the vegetable, encouraging them to be hardworking in the coming year.
Other necessary dishes include spring rolls which represent gold bars, egg dumplings which stand for yuanbao, or boat-shaped gold ingots, glutinous rice dumplings symbolizing reunions and eight-treasure rice puddings.
"For me, the restaurant is a school. Visitors come here to get a glimpse of Suzhou cuisine while I encounter many experts in different fields and learn from them," said Sha.
To the sound of cutting meat and stir frying, I left the restaurant while Sha joined a group of 10 people and introduced the culture of Suzhou cuisine to them.
Wumen Renjia
Opening hours: 6:30am-9:30am, 11am-3pm, 5pm-8:30pm
Tel: 0512-6728-8041
Address: 88 Yuanlin Rd, Suzhou