Barge-women help to promote water town culture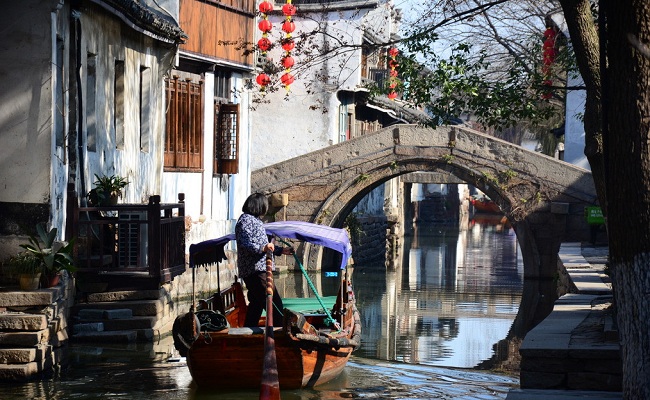 Watching a group of barge-women in bamboo hats and blue prints clothes sing folk tunes and row along the river is a highlight for anyone visiting Zhouzhuang, the beautiful water town in East China's Jiangsu province.
Zhouzhuang, an ancient water town with thousands of years of history, features well-preserved ancient residential houses, elegant watery views and strong local traditions and customs.
To present the town's stories in a better way, Zhouzhuang has trained a batch of barge-women to promote local culture and customs to visitors.
With professional training, they not only know well about the history of the town, but can sing folk songs, dance and speak English.
Wu Juan, born in 1977, in Gaoyong village, Zhouzhuang, is one of them. After she graduated from junior high school, Wu became a welder to earn money for her family.
With the rapid development of the tourism in Zhouzhuang, Wu took the chance to apply for the post of cultural barge-woman.
After several rounds of selection, she was lucky to be selected in the first batch.
"As the cultural symbol of Zhouzhuang, We will present an original water town for visitors with our sweet smiles, folk songs and polite service," Wu said.
----From China Daily